Given the international practice, it is inexplicable why the government is going ahead with anonymous electoral bonds, says Jaimini Bhagwati.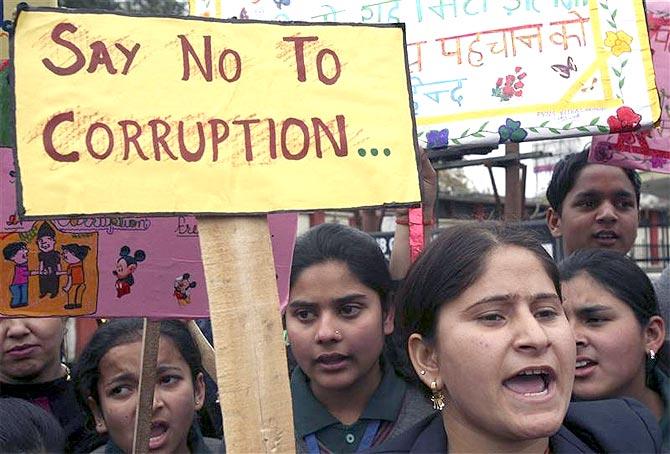 A political bombshell in the past months was the 'ghar-wapsi' (home-coming) of Bihar Chief Minister Nitish Kumar's Janata Dal-United to realign itself with the Bharatiya Janata Party.
It is a welcome development since the issue on which the splitting of the 'mahagathbandhan' (grand alliance) of Kumar's JD-U, Lalu Prasad Yadav's Rashtriya Janata Dal and Sonia Gandhi's Congress took place was on probity in public life.
However, it was an example of the 'theatre of the absurd' that the JD-U had agreed to form a grand alliance which included the RJD in the first place.
The RJD is headed by Lalu, who was convicted in October 2013 of corruption in a 17-year-old fodder scam case. Lalu was sentenced to five years in jail and debarred from contesting elections for 11 years.
Well, as they say better late than never.
Kumar should stop pursuing prohibition and focus on dredging Bihar's major rivers and repair the embankments to prevent the recurrent human misery caused by floods.
It is not enough to take a one-time decision to distance JD-U from a corruption-tainted RJD. The JD-U and the other major parties -- the BJP and the Congress -- also need to walk the talk on political funding.
As we all know well, one of the principal drivers of corruption is how funds are sourced for elections.
We recently celebrated our 71st Independence Day. It is timely then to remind ourselves about the cleaner political funding mores in the 1950s.
For one, adjusting for inflation and higher incomes, candidates spent far less on elections in that era. Candidates for assembly or parliamentary seats were well known in their constituencies because of their record of public service.
Since then the standards of probity in politics have slipped dramatically.
For instance, a number of parties registered with the Election Commission never contest elections. Why is it rocket science for the EC to strike such parties off its books and publicise this action?
The Union finance minister mentioned, on July 22, that the 'EC (has) failed to check invisible money in polls'.
However, the EC did ask for individual cash donations to be brought down from Rs 20,000 to Rs 2,000. It is not clear why any cash donations to political parties should be allowed.
It cannot be that those who make smaller contributions do not have bank accounts and hence make their donations in cash. The EC should recommend plugging this loophole.
As for this so called 'invisible' money funding elections, contrary to what the central government maintains, it would be encouraged by the government's decision to allow anonymous (ie, the donor's identity is kept secret) electoral bonds with no limits on amounts donated.
The government's position in defence of such bonds is that the bonds can only be bought by a bank transfer and hence unaccounted cash cannot be used to purchase such bonds.
Plain and simple, this assertion is wrong.
For instance, a corporate entity could purchase bonds from a bank and donate these 'anonymously' to a political party registered with the EC.
To say the least, it is highly unlikely that private firms and others would make donations to political parties without letting recipients know who has made the donations.
Or is it the intention that political parties and donors would know who is gifting to whom but the EC and voters would be kept in the dark?
In practice once such bonds are deposited in a political party's account, cash could be withdrawn in instalments and funnelled back to donors, individual politicians or third parties.
That is, donors, political parties or individuals could use the funds for personal purposes and not necessarily for legitimate political activities.
It could be argued that such involved transactions are unlikely because of fear of detection.
However, the evidence from Tamil Nadu politics is to the contrary.
Given the concern about bias in the courts in Tamil Nadu, the corruption cases against former chief minister Jayalalithaa dating back to 1991 were moved from Tamil Nadu to Karnataka.
Finally, in September 2014 a special court in Karnataka convicted all four accused namely Jayalalithaa, V K Sasikala, Ilavarasi and V N Sudhakaran and sentenced them to four years of imprisonment and levied fines on them.
In May 2015 the Karnataka high court (no less) overturned the special court's judgment.
In February 2017 -- after Jayalalithaa had passed away in December 2016 -- the Supreme Court overruled the Karnataka high court and restored the special court's judgment.
It has to be bizarre by any standard that now the leaders of the All India Anna Dravida Munnetra Kazhagam factions (before they merged) were being wooed by national parties.
In the United States, there are restrictions on campaign finance if any government funding is accessed. And, all contributions towards election purposes can be traced to donors if the government so decides.
In the United Kingdom, there are no provisions for anonymous donations.
Given such international practices it is inexplicable that the Union government is taking a stand that anonymous bonds would not be misused and would be an improvement on current practices.
According to the Union government about 5,40,000 new taxpayers have come into the tax net after demonetisation.
This is a welcome development on direct taxes and, hopefully, a similar buoyancy would be evident on indirect taxes thanks to the goods and services tax.
To sum up, it would be a travesty if the Union government were to go ahead with electoral bonds.
Plus, cash donations up to Rs 2,000 should be done away with. It is for the EC to take the initiative on both these issues.
Jaimini Bhagwati is RBI chair professor at ICRIER.