'With this it is clear who stands with India in the international community and who doesn't and this enables India to take counter measures without being seen as overly pro-US,'says Rajeev Sharma.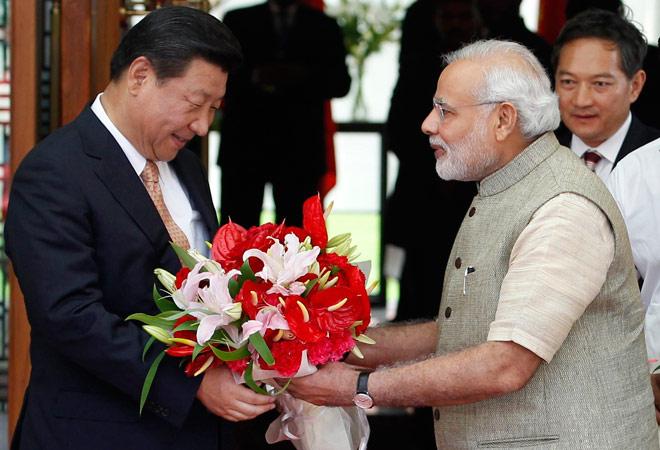 Prime Minister Narendra Modi greets Chinese President Xi Jinping, September 2014.
Despite the apparent bonhomie between the two leaders, China has increasingly taken hardline positions against India. Photograph: Press Information Bureau
China coming out in the open in opposing India's entry into the super elite club like the 48-nation Nuclear Suppliers Group is tactically good news from the Indian point of view.
There are multiple reasons for this. One, with this development it is as clear as daylight as to who stands with India in the international community and who doesn't and this enables India to take counter measures without being seen as overly pro-US.
Despite the Chinese 'no,' the United States has maintained that India is 'ready' for NSG membership.
Consider this on-the-record remark by US State Department Spokesman John Kirby on Friday, May 13: 'I'd point you back to what the president said during his visit to India in 2015, where he reaffirmed that the US view was that India meets missile technology control regime requirements and is ready for NSG membership.'
This won't be music for the Chinese ears as it confirms their worst fears about the India-US relationship -- that the US is now no longer fighting shy in its support for India at the high table of international diplomacy.
Obviously, with this frank admission the Americans have made it clear that they look upon India as a bulwark to counter balance China.
Two, India now knows very clearly that it can expect only zilch from China in any big international forum.
In any case, India has not been under any illusion about the Chinese stand when it comes to a major policy decision in an international forum.
At the same forum, China tried to torpedo India some eight years ago when the NSG had been approached for its waiver to facilitate smooth passage of the India-US civil nuclear agreement.
At that time, China had finally relented in view of immense pressure from the US-led international community. This time, it has struck back at India with vengeance.
Three, the Chinese move may facilitate just the opposite of what Beijing is trying to achieve. China has been blocking India at such international platforms thinking it will eventually frustrate the Indians and New Delhi will eventually appeal to Beijing for help.
But the Chinese action may well prove to be counter productive and may trigger more intense India-US strategic cooperation at China's expense!
After all, China has already squeezed the lemon too hard and too much!
China has openly taken such positions at international platforms which blatantly favour its all-weather friend Pakistan and hurts India.
This is what China has done repeatedly on the terror issue and blocked again and again Indian efforts at the United Nations to brand Pakistan terrorists Muhammed Saeed, Masood Azhar and Zaki-ur Rehman as outlaws.
The NSG move against India once again displays the Chinese mindset.
With such repeated diplomatic provocations, China is doing itself more harm than good. Such actions would only nudge India even closer to the US -- the opposite of what China actually wants.
Moreover, the Chinese move has come at a wrong time. It comes barely three weeks before Prime Minister Narendra Modi undertakes his fourth visit to the US in two years.
It is inevitable that during Modi's US visit (June 6-8), China will be the elephant in the room during Modi's talks with the Americans.
The Chinese opposition to India's entry into the NSG allows New Delhi to make up its mind on what kind of relationship it wants with the US.
Though India may not be a baby kangaroo to the US the way Pakistan has been to China, it would definitely help the Modi government in taking difficult strategic decisions more easily and quickly.
Rajeev Sharma, an independent journalist and strategic analyst, tweets @Kishkindha