'Unlike Trump, who has an isolationist approach, Bolton would like to roam around the world, trampling upon any sign of dissent,' says Ambassador T P Sreenivasan.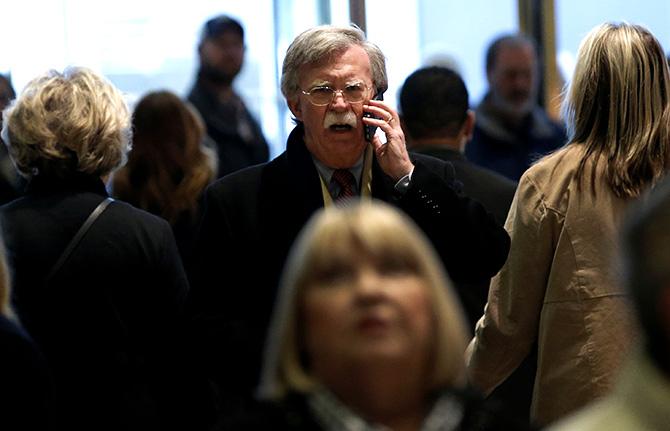 IMAGE: John Bolton arrives for a meeting with then US President-elect Donald J Trump at Trump Tower in New York, December 2, 2016. Photograph: Mike Segar/Reuters
When news of the appointment of my contemporary at the United Nations, Ambassador John Bolton, as President Donald J Trump's national security adviser came, I tweeted, 'Appointment of John Bolton as National Security Adviser casts a shadow on the scheduled talks between the US President and the President of DPRK.'
I got an immediate response from Nina Tankina: 'It casts a shadow over international peace and security.'
The reaction of other America watchers, including traditional conservatives, was similar or worse to the report of his appointment.
Bolton's reputation is that he believes in war as an instrument of peace in all circumstances.
His appointment as the US' permanent representative to the UN (2005-2006) by then president George W Bush was astonishing in itself as, for the UN, war is the last resort.
Preventive diplomacy rather than preventive war is the desired instrument of peace at the world body. In fact, Bolton left the post as his was a recess appointment and he was not likely to be confirmed by the US Senate.
The exits and entrances into Donald J Trump's cabinet have ceased to surprise the world, because each change indicates further hardening of the American president's postures.
The struggle is not between the hawks and doves, but among the hawks themselves and each time the reasonable hawks give way to more formidable ones.
A small group of soft conservatives, known as 'adults' were the guardians of moderate conservative policy, but they are dwindling fast in the cabinet.
Jim Mattis, the secretary of defence, is the only remaining 'adult'. He had wanted NSA General H R McMaster out of the job because of the latter's extreme views, but in Bolton, he got the ultimate hawk.
Bolton is currently a senior fellow at the American Enterprise Institute and a member of a law firm, in addition to being active in various conservative forums. He has been called a war hawk and is an advocate of regime change in Iran and DPRK and has repeatedly called for termination of the Iran deal.
He was a supporter of the second Iraq war and he has continuously supported military action and regime change in Syria, Libya and Iran.
Bolton had several diplomatic assignments including as under secretary of state for arms control and international security.
He campaigned against the constitution of the international criminal court and stopped the US from joining it. India too found Bolton's arguments against the ICC credible and had kept itself out of it.
His views on the United Nations was revolutionary. 'There is no United Nations. There is an international community that occasionally can be led by the only real power left in the world, and that is the United States, when it suits our interests and when we can get others to go along,' he said.
Bolton was opposed to any expansion of the permanent membership of the UN Security Council and opposed India's candidature on different occasions.
He led a drive to strengthen the UN human rights commission by turning it into a council, but he succeeded only in changing the name, not in giving it vast powers. Eventually, the US had to vote against its own resolution.
When he failed to change the rules of the council, he had famously said, 'We want a butterfly. We don't want to put lipstick on a caterpillar and call it a success.'
The irony of the timing of Bolton's appointment is that his known position is opposed to the twin approaches of the present administration to campaign for sanctions against North Korea and to hold direct talks with North Korea at the summit level on denuclearisation.
Bolton is ready to risk a nuclear war by bombing North Korea to denuclearise it. It remains to be seen whether Bolton will change or he will change President Trump.
The preliminary conversations have already begun and Bolton's appointment will throw a wet blanket on the summit proposal.
Bolton had extended tactical support to the Trump-Kim Jong-un summit not because he expected that it would lead to peace, but would prove North Korea's true intentions, clearing the way for an armed attack against it.
If Bolton endorses the pressure and engagement policy even with this purpose, it will be a consolation for many. His lack of faith in South Korea could be another hurdle during the negoatiations, given the fact that the prime mover of the summit is South Korea.
Bolton's concept of security is elimination of all threats by war, if necessary.
Unlike Trump, who has an isolationist approach, Bolton would like to roam around the world, trampling upon any sign of dissent.
His erstwhile colleagues in the US state department say he is skilful enough to push his way through the labyrinth of bureaucracy and that makes him even more dangerous. He filters out reports and recommendations from his colleagues to push his own agenda.
Trump will find him useful to get his ideas implemented smoothly once he sells it to Bolton. Their chemistry has not been tested, but the fear is that they will become a formidable duo.
Rex Tillerson's exit as secretary of state and Mike Pompeo's entrance as his replacement are also ominous as Bolton may find a soulmate in Pompeo who wanted Kim Jong-un to go and supported the abandonment of the Paris Agreement.
Trump cannot be dissuaded from doing anything just because he is advised about the difficulties in implementation. It is believed the quickest way to get Trump to do anything is to tell him that he cannot do it.
Bolton is likely to instigate Trump to press ahead with his agenda with regard to North Korea, Iran and China.
As a protege of then US vice-president Dick Cheney, Bolton will also be in favour of the trade war against China, which has been initiated.
Bolton called his book, Surrender Is Not An Option, which suggests that he is uncompromising in his diplomatic pursuits.
That is the trait that makes his appointment a bolt from the blue.
T P Sreenivasan, (IFS 1967), is a former Ambassador of India and Governor for India of the IAEA Chairman, Academic Council and Director, NSS Academy of Civil Services, Director General, Kerala International Centre.