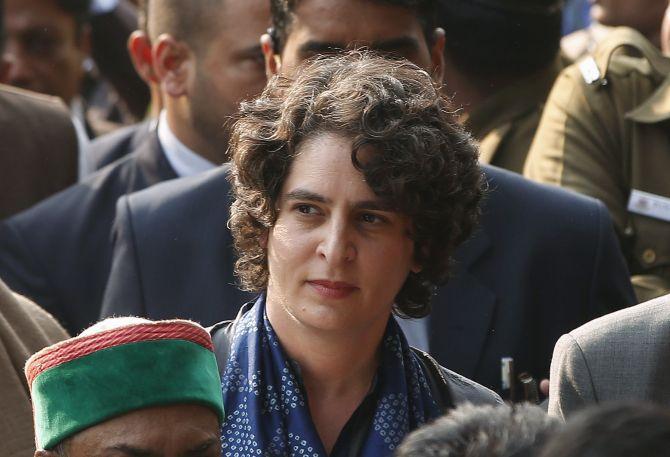 Undoubtedly, 2014 was Narendra Modi's year.
2015 was a year Modi would surely like to forget given the back-to-back assembly defeats his party suffered in Delhi and Bihar.
Who are the political players to watch out for in 2016?
Whose political stock is likely to rise? Which leaders are likely to make an impact this coming year?
Shehzad Poonawalla predicts the leaders who may well define the next 12 months of political activity.
---
Feroze Varun Gandhi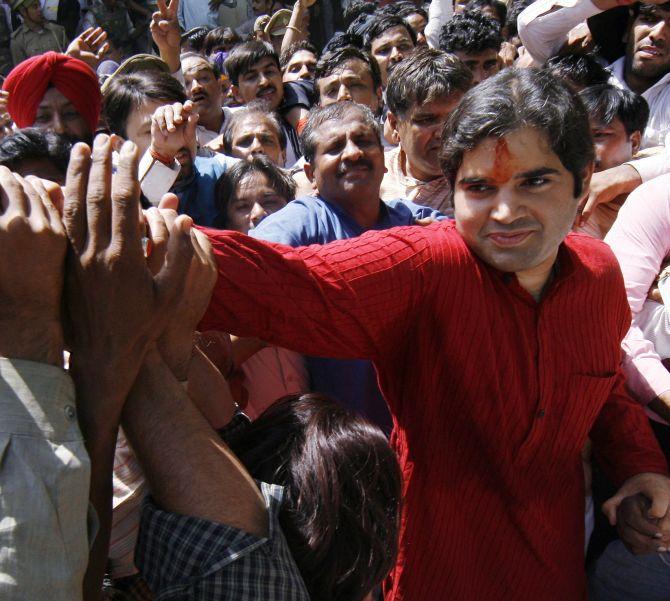 IMAGE: Feroze Varun Gandhi greets supporters as he leaves a court in Pilibhit, Uttar Pradesh. Photograph: Adnan Abidi/Reuters
The eloquent politician, who has the distinction of being the youngest general secretary in the Bharatiya Janata Party, has been patiently biding his time even as Narendra Modi and Amit Shah's control over the BJP unravels.
Known for his humility and his ability to fit into all the big factions in the BJP including Sushma Swaraj's, Rajnath Singh's and L K Advani's, the two-time MP, now elected from Sultanpur, has been carefully re-casting himself in a liberal, left of centre space in a party that is increasingly infamous for its hot heads, particularly from Uttar Pradesh.
Having put the controversy of his first election behind him after a clean chit from the courts, Varun Gandhi has assiduously built up his image that can find acceptability with the conservative and liberal sections.
He has kept himself busy articulating his policy positions as a commentator for various newspapers and in building a base amongst farmers and young students, particularly in UP, through his almost 'Bernie Sanders-isque' brand of welfarist politics.
He has combined the cultural right and the economic left which would be a unique experiment in Uttar Pradesh and perhaps the only reliable key to power for a party that seems to have no political plank as of now, but to fall back on the Ram Mandir issue.
As assembly elections approach in UP in 2017, the BJP, which lacks a face in the state, could consider projecting Varun Gandhi as a young chief ministerial candidate against Akhilesh Yadav, an idea that would no doubt find endorsement with Varun's backers in the RSS too.
---
Mayawati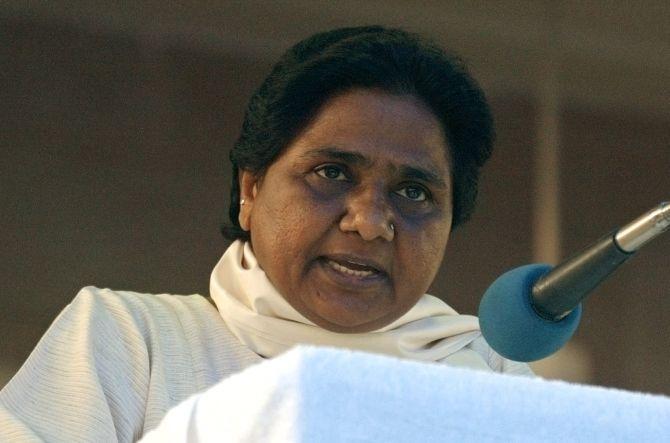 IMAGE: Mayawati at the Bahujan Samaj Party headquarters in Lucknow. Photograph: Pawan Kumar/Reuters
Many in the media often underestimate Mayawati -- who was India's first Dalit chief minister.
Notwithstanding her party's no show in the Lok Sabha election in 2014, the Bahujan Samaj Party seems to be in the best position to replace the Samajwadi Party government in UP in 2017.
The BSP and its Dalit voter base may not always hog the headlines, but Mayawati -- like her late mentor Kanshi Ram -- has mastered the art of building and running perhaps the most effective and well oiled party network and communication structure.
As Akhilesh Yadav's tenure enters its final year, anti-incumbency is on the prowl and many UP residents compare the current law and order situation in the state with Mayawati's regime where she checked the rampaging Goonda Raj.
The key lies in the social coalition she can form with the Muslims and upper castes in the course of 2016 -- that could lead to her capturing power in Lucknow. And who knows, if a national coalition is formed in 2019 with the BSP in the pack, against the BJP, then Mayawati may well be a contender for PM in 2019.
---
Priyanka Gandhi Vadra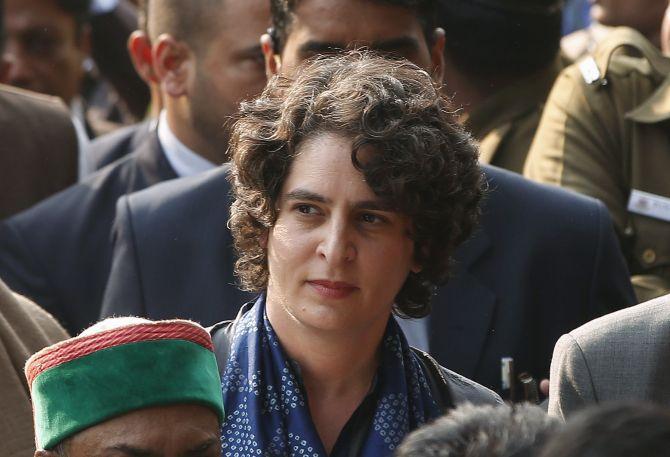 IMAGE: Priyanka Gandhi Vadra arrives at the Patiala House court in New Delhi. Photograph: Adnan Abidi/Reuters
Her superior oratorical skills in Hindi, her ability to charm the media and her affability give her wide acceptability within the Congress party's rank and file.
The allegations against her husband Robert Vadra have not materialised into much though the BJP is in power in Rajasthan, Haryana and the Centre. It is obvious the BJP takes Priyanka's arrival on the scene quite seriously and part of the strategy to target Robert Vadra would be to delay her entry into active politics.
If she did take on responsibilities within the party, it is unlikely to undermine Rahul's position given that his elevation to the Congress presidency is a given and the brother and sister don't share a competitive relationship.
Priyanka could bring in her acumen into several areas including better media management for the party and its revival in states like UP.
But will the devoted mother of two be willing to take the political plunge? 2016 may hold the answer to that.
---
Asaduddin Owaisi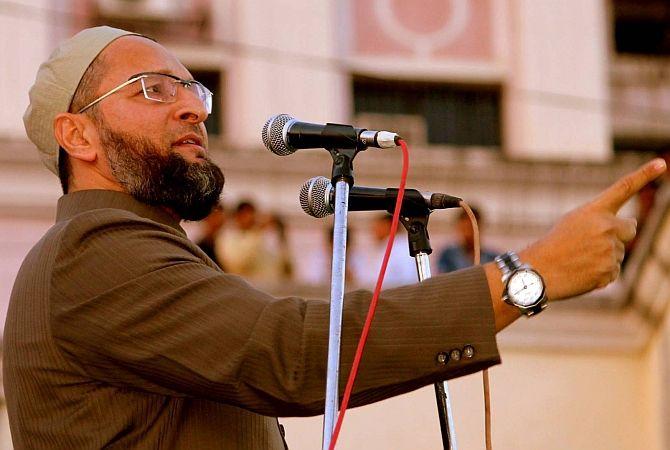 IMAGE: Asaduddin Owaisi at a rally.
The firebrand MP from Hyderabad has clearly made a mark on the national scene when it comes to articulating the Muslim point of view.
In urban areas, Owaisi's party has undoubtedly gained traction amongst young Muslims. Although his party failed to make a dent in Bihar, particularly in the rural areas, to write him off would be premature.
With elections due in West Bengal, Kerala and Assam -- states with a sizeable Muslim population -- in 2016, the MIM's political entry in these three states is anticipated.
And then there is the UP assembly election of 2017.
If the MIM forms an alliance with the Dalits in UP, it would be the first time a Muslim- dominated party is seriously attempting a social coalition with the Dalit community.
But the MIM needs to expand its base of supporters, modify its tactics and enlarge its agenda quickly.
It will also have to recalibrate its image from being a 'Muslims only' party to a more inclusive, secular choice for an entire range of disempowered people belonging to the lower castes, minorities and poorer classes.
---
Mamata Banerjee and Jayalalithaa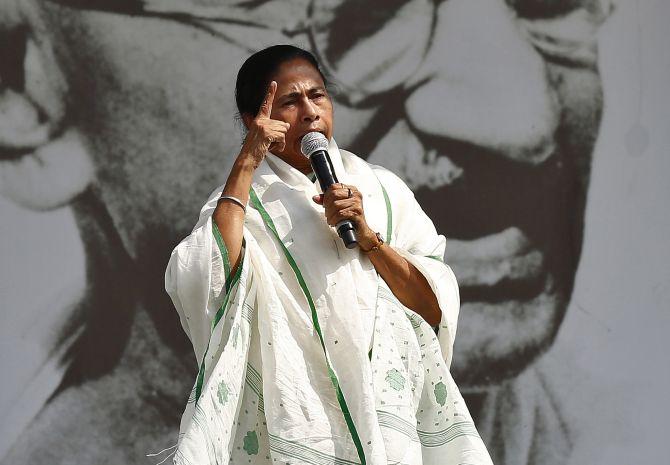 IMAGE: Mamata Banerjee addresses supporters. Photograph: Anindito Mukherjee/Reuters
Both Mamata Banerjee and J Jayalalithaa will face the electorate in 2016.
This past year has been an eventful one for Jayalalithaa. Having been convicted in a disproportionate assets case, she had to vacate the CM's chair, but an acquittal by the Karnataka high court saw her take back power in May.
In 2016, Jayalalithaa would hope that the new lease of political life she found in the summer of 2015 would galvanise public outpouring in her favour and accelerate her victory, past the seemingly under-performing, family feud-ridden and 2G scam-tainted DMK.
Jayalalithaa's 37 MPs and Mamata's 34 MPs make the AIADMK and Trinamool Congress the second and third largest Opposition parties in the Lok Sabha after the Congress.
Both Mamata and Jayalalithaa know that their performance in 2016 will help position them and their parties for the 2019 Lok Sabha polls.
The BJP is hoping to make an impact in West Bengal through a concerted Hindutva-cum- development campaign.
The counter-polarisation of the sizeable Muslim vote may benefit Mamata who has portrayed herself as a viable secular option.
With an election due in Kerala in 2016 the chances of a Congress-Left alliance in Bengal are slim. Will Mamata stitch up a pre-poll alliance with the Congress taking a leaf out of Bihar to avoid splitting the 'secular' vote?
It is likely that with a paralysed Rajya Sabha and the fast changing political situation Narendra Modi may enter a lame duck phase, well before 2019. Perhaps as early as 2017 itself.
In that scenario will either of the two ladies or maybe one of them bail Modi out at the Centre? Let's not forget that both Jayalalithaa and Mamata have worked with the BJP and the National Democratic Alliance before, but that was when Atal Bihari Vajpayee was around.
It would be interesting to see how Modi with his temperament will work with this Trimurti of Indian politics -- J Jayalalithaa, Mamata Banerjee and Mayawati, all of whom are certain to leave their mark on Indian politics in 2016.
Shehzad Poonawalla is a lawyer-activist and founder-member of the governing body of the think-tank, PolicySamvad.