The CPEC poses a clear and imminent danger to Indian security interests, says Kulbir Krishan.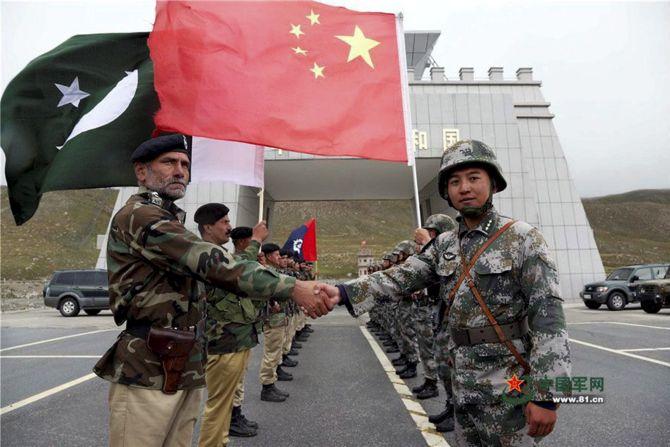 The announcement on April 12 that China has approved additional financing for infrastructure projects in Pakistan under the China Pakistan Economic Corridor, taking the total investment to $62 billion, has been largely ignored by the Indian media, even though it has serious implications for Pakistan, China and the region.
The CPEC, a collection of infrastructure projects originally valued at $46 billion in 2014, has seen a cost escalation of nearly 40 per cent.
The CPEC aims to develop the port of Gwadar in Baluchistan and link it with a network of highways and railways to western China passing through the whole of Pakistan and the Gilgit-Baltistan region of Jammu and Kashmir, which has been under Pakistan's illegal occupation since 1947.
Another goal is to add over 10,400 Mw of electricity generation in Pakistan, largely from fossil fuels, although hydroelectric, wind power and solar energy farms are also included.
There is also a plan for a network of pipelines to transport liquefied natural gas from Gwadar to consuming centres in Pakistan.
The CPEC is being funded through a mixture of loans and grants by the Chinese government or Chinese State-owned companies.
The cost escalation from $46 billion in 2014 to $62 billion in 2017 has raised fears of Pakistan walking into a debt trap.
Pakistan's financial situation has been precarious in recent years and the government had to take the IMF's help to escape bankruptcy a few years ago.
The Pakistani newspaper The News (November 13, 2016) projected that Pakistan's external debt could reach $110 billion by 2020, leaving it with no option but to go back to the IMF to avoid default.
Official Pakistani accounts allay such fears, but given the high T&D losses in Pakistan's power sector (about 17 per cent) and the reluctance to pay user charges, whether for electricity, water, roads or railways, it is doubtful if Pakistan will be able to escape a debt trap.
The CPEC makes eminent sense for China due to its strategic importance, and because it enables China to obtain petroleum and other products from West Asia without having to go through the chokepoint of the Straits of Malacca.
China is now the world's largest importer of oil. Its dependence on imported oil demands this kind of alternative route, which would also help strengthen its grip on the restive Xinjiang province.
Besides, with China's infrastructure development slowing down, it aims to use its excess capacity of steel, cement, engineering goods and labour to build the CPEC.
The CPEC also gives it an excuse to station over 10,000 Chinese troops in Pakistan.
Pakistan has already raised a special division of 15,000 troops to provide security to about 9,000 Chinese workers on the almost 1,300-km-long CPEC from Gwadar to Xinjiang.
The security costs are being embedded in the power projects, increasing the cost of power for domestic consumers in Pakistan.
While China may have good reasons for financing and constructing the CPEC, Pakistan also benefits through improved infrastructure and an end to crippling power outages.
The real reason why the Pakistani leadership is keen on the CPEC could be that public money is being used to enrich the Pakistani elite.
While most contractors for the CPEC are Chinese, the sub-contractors largely belong to the Nawaz Sharif family, the Dawood group and the military.
Ayesha Siddiqa in her book, Military Inc: Inside Pakistan's military economy, uses the term 'Milbus' to refer to 'Military capital that is used for the personal benefit of the military fraternity, especially the officer cadre, but is neither recorded nor part of the defence budget.'
In 2007, she estimated it to be about $21 billion. She revealed that the Pakistan military not only had security-related enterprises but also hotels, shopping malls, insurance companies, farms and an airline.
Since the Pakistani political, military and criminal establishment are making huge profits from the CPEC, they are more than willing to support it.
When a debt trap occurs, it will be the Pakistani State, and not the powerful ruling families, that will have to pay the price.
Pakistani Defence Minister Khwaja Asif informed the Senate (July 20, 2016) that the country had nearly 50 commercial entities that were run by the armed forces, including 15 projects by the Army Welfare Trust, 14 by the Fauji Foundation, 11 by the Shaheen Foundation, an LNG project by the Bahria Foundation and eight defence housing societies.
Companies linked to these foundations have allegedly been given major contracts in the CPEC.
The CPEC poses a clear and imminent danger to Indian security interests, particularly as it passes through parts of Jammu and Kashmir.
Indian defence planners will have to reassess their strategies to deal with these new threats. However, it is even more important that the United States sees through the double game which Pakistan has been playing with it since 1959, when it signed the CENTO and SEATO pacts.
Pakistan, like North Korea, has been the beneficiary of Chinese nuclear and missile technology which were supplied in violation of the NPT.
Instead of bailing Pakistan out through IMF loans and funding Pakistani terrorist activities through 'defence assistance,' it is time the US clamped down on Pakistan and treated it as a rogue State and a Chinese client, like North Korea.
Kulbir Krishan is a retired Director General of Police, Meghalaya.
IMAGE: Chinese and Pakistan troops jointly patrol the border connecting Pakistan occupied Kashmir with China's Xinjiang region last year. PTI Photo, Courtesy The People's Daily Online
MORE CHINA features in the RELATED LINKS BELOW...