'China refuses to talk to India on nuclear or ballistic missile issues and conclude any de-targeting agreement as Beijing did with Russia or a non-targeting agreement with the US.'
Srikanth Kondapalli, one of India's leading China watchers, looks at the likely outcome of Defence Minister Manohar Parrikar's visit to China.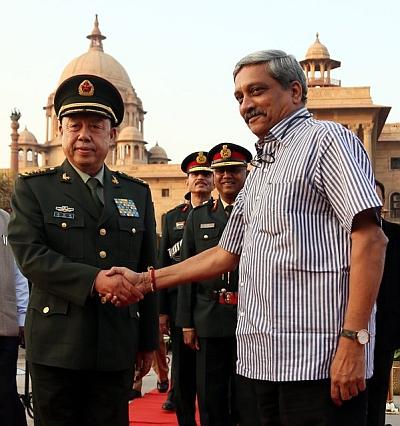 IMAGE: Defence Minister Manohar Parrikar and General Fan Changlong, vice-chairman of China's powerful Central Military Commission, November 16, 2015.
Defence Minister Manohar Parrikar has embarked on his maiden visit to China, with meetings at Shanghai, Beijing and Chengdu. Parrikar's visit could yield significant results in the bilateral military cooperation with China.
Significant aspects of the visit include furthering the modalities to implement the 2013 Border Defence Cooperation Agreement, BDCA, and control periodic border transgressions on the undefined borders, establishing regular communications at the strategic levels between the Director Generals of Military Operations and at the tactical levels on the borders, and other measures.
In Beijing he is expected to hold discussions with his counterpart Chang Wanquan. Unlike Parrikar, China's defence minister is not powerful and acts as a figurehead.
More significant meetings will be with the first Vice-Chairman of the Central Military Commission, General Fan Chanlong, who visited India reportedly at his own initiative last November.
The Chengdu visit is also significant as it has now become the integrated headquarters for the Western Theatre Command since December 2015 and has military operational jurisdiction over areas contiguous to the entire Indian borders.
Parrikar is not the first defence minister to visit China. K C Pant made a stopover visit from Pyonyang in 1987, followed by Sharad Pawar in July 1992, George Fernandes in April 2003, Pranab Mukherjee in May 2006 and A K Antony in July 2013.
During Pawar's visit the Chinese side proposal to sell military equipment was turned down with their quality problems. After making the 'potential enemy number one' statement preceding the 1998 nuclear tests, Fernandes' visit during the SARS epidemic earned him accolades also because he suggested that China is a 'friend.' Mukherjee's visit institutionalised ties with the annual defence dialogues, seven of them concluded by 2015.
On the Chinese side only three defence ministers thought it fit to visit India -- Chi Haotian in September 1994, Cao Gangchuan in March 2004 and Liang Guanglie in September 2012.
After the 'three consensus' -- border stability, economic cooperation and expanding people-to-people cooperation -- arrived at by Prime Minister Narendra Modi and President Xi Jinping in September 2014 and furthered in May 2015, and to reduce the misperceptions caused by the September and November 2015 border transgressions at Chumar in the Western sector, General Fan arrived at Delhi with a 26-member delegation.
Apart from expanding visits and enhancing communications, Parrikar's visit is also expected to enhance 'constructive engagement' between the two militaries. Given the 1962 border clash freeze, such cooperation, however, is expected to be incremental.
A few recent events have suggested to improving perceptions, though. First, the Indian annual reports of the defence ministry, which from 1962 labeled China as a 'long-term threat', relented in 2016 with no mention of threat, although it called recent Chinese border transgressions as 'assertive' in nature.
Secondly, Air Chief Marshal Arup Raha, the air chief, on November 28, 2015 said 'We do not look at China as an adversary anymore.' India and China, ACM Raha felt, should establish mature political relations. Parrikar himself in March 2015 expressed hopes of resolving the border dispute with China.
Cooperation is also expected to be reflected in furthering measures to expand hotlines, flag meetings and border personnel meeting (in order to 'conduct non contact games and joint celebration of festivals') and other measures. Already, the fifth border personnel meeting point in the Ladakh sector commenced in August 2015 soon after Modi's visit to Beijing in May.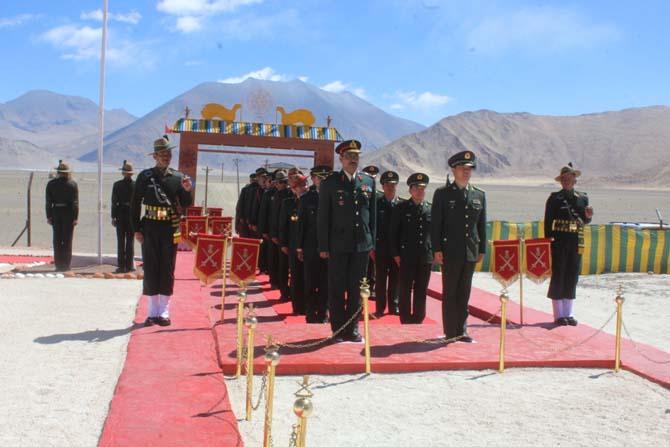 IMAGE: Ceremonial Border Personnel Meetings were held between the Indian and Chinese armies on the occasion of the 'Harvest Festival' in Chushul and Daulat Beg Oldi, Eastern Ladakh, April 14, 2016.
A nine-member Indian military delegation headed by Northern Army Commander Lieutenant General D S Hooda visited Beijing and the Lanzhou Military Regions in China from December 14 to 19, 2015. This is the first visit from this area after Lieutenant General B S Jaswal, the then Northern Army Commander, was denied a visa by the Chinese government in 2010 and that led to freezing of military relations between the two sides.
Between the two armies, five 'hand-in-hand' joint counter-terrorism operations were held till October 2015, although the content of these operations remain cosmetic in nature due to Chinese sensitivities towards Pakistan on the issue.
However, the recent Chinese 'technical hold' at the United Nations over Lashkar-e-Tayiba terrorist Zaki-ur Rehman Lakhwi or Jaish-e-Mohamed terrorist Masood Azhar could hardly figure in Parrikar's talks in China. This is a topic possibly reserved for National Security Advisor Ajit Doval to address during his visit to Beijing separately this week.
As China itself had expanded military cooperation with the United States during the Soviet occupation of Afghanistan and also during Xi Jinping's recent visit to the United States, the US-India Logistics Support Agreement could also hardly figure in talks with the Chinese.
The two navies also have instituted 'search-and-rescue' operations since November 2003, although they did not graduate towards intensive naval exercises. India had proposed 'rules of engagement' between the two navies to overcome any accidental fallout between their respective ships on the high seas. Also, constraining naval cooperation is that the 'joint maritime cooperation' mechanism exists under the foreign ministry's jurisdiction.
A major weak spot in the bilateral military cooperation is in the more offensive air-to-air and strategic forces. While both air forces observed aerobatic manoeuvres, these remain elementary.
On the other hand, China refuses to talk to India on nuclear or ballistic missile issues and conclude any de-targeting agreement as Beijing did with Russia or a non-targeting agreement with the US.
Another overall constraining feature in the bilateral military cooperation between the two countries is their strategic postures which while not explicitly pitching against each other still poses concerns for their long-term impact, specifically as both are 'simultaneously rising.'
Dr Srikanth Kondapalli, Professor in Chinese Studies at JNU, is Chairman, Centre for East Asian Studies.