India was U Thaung Tun's first port of call after his appointment, which should intrigue China and Pakistan, says Rajeev Sharma.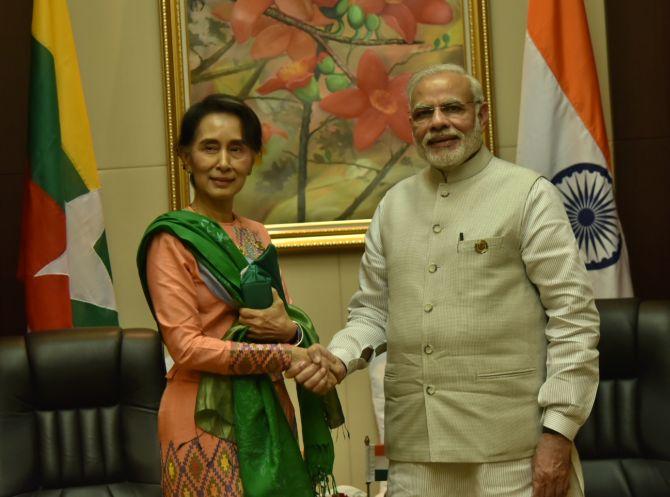 Myanmar's newly appointed National Security Advisor U Thaung Tun has just paid an official visit to India, a visit that must have raised many eyebrows in China and Pakistan and rightly so.
That's because the agenda of the Myanmarese NSA, who is a career diplomat and not a military officer which is incidentally quite a rarity in Myanmar's set-up, pertained to these two neighbours of India.
The Indian government hasn't come up with any press release or a read-out about the outcome of this visit or the nature of the discussions held.
In fact, it was unusual on the Indian government's part to have announced the Myanmar NSA's visit in the first place and issue a brief press release.
The MEA press release reads thus: 'The newly appointed National Security Advisor of Myanmar U Thaung Tun is currently on an official visit to India. U Thaung Tun is a career diplomat who has held diverse posts in the course of his long career in the Myanmar Foreign Office.'
'In his present capacity, he is expected to advise the Myanmar Government on internal and external threats by assessing situations from a strategic point of view.'
'We welcome him to India and are privileged that he has chosen to make India his first port of call following his appointment.'
'During his stay in India, he will be interacting at length with our own NSA, MOS (External Affairs), Foreign Secretary, Defence Secretary and others. We look forward to a productive association with U Thaung Tun and with the office of the NSA in the time to come.'
U Thaung Tun met his Indian counterpart Ajit Doval on February 2 and then also met Foreign Secretary Dr S Jaishankar and Defence Secretary G Mohan Kumar.
The Indian foreign office proudly underlined the importance of the visit by saying that U Thaung chose to make India his first port of call and the fact that he is expected to advise the Myanmar government on internal and external threats by assessing situations from a strategic point of view.
Normally, any senior civil or military official from Myanmar visiting India is thought to be engaging his Indian interlocutors with issues associated with the insurgency in India's northeast and India-Myanmar border management.
Yes, U Thaung indulged in these discussions too, but this time his talks with his Indian interlocutors went far beyond this.
One of the unusual issues discussed during this visit was the Pakistan factor.
And when you discuss Pakistan with Myanmar, China has to be in the frame too!
The Pakistan angle in India's bilateral relations with Myanmar was accentuated almost two years ago when Myanmar decided to buy 16 JF-17 Thunder multi-role combat aircraft from Pakistan in 2015.
The development got India anxious and India kept Myanmar-Pakistan defence ties under its microscope from thereon.
Indian anxiety over this development turned into major concern as India realised that Myanmar is now in advanced negotiations with Pakistan to also licence-build the third-generation fighter, the JF-17.
China has to be in the frame whenever one talks of the JF-17, more so in in the context of Myanmar because this fighter aircraft is co-developed by the Pakistan Aeronautical Complex and China's Chengdu Aerospace Corporation.
Myanmar getting into license production of the single-engine JF-17 combat aircraft can be an adverse strategic game changer for India as the only two neighbours India has fought wars with end up playing queer games right in India's backyard.
The Myanmar air force has justifiably been seeking to replace its over two-decades-old combat aircraft fleet obtained from China with modern flying birds.
The 16 new JF-17 fighters that Myanmar has acquired from Pakistan are expected to be operational later this year.
Though India does not perceive any credible strategic threat from Myanmar's Pakistani acquisitions, the nagging question from the Indian perspective remains about flowering Myanmar-Pakistan defence ties, with China not too far back in the entire zigsaw puzzle.
A few things can be safely presumed.
One, the strategic ties between India and Myanmar are definitely moving beyond border management and Indian northeast insurgency-related issues and are now encompassing much bigger strategic issues.
Two, Myanmar is playing ball that is reflected from the fact that it was the Myanmarese NSA's first-ever foreign visit and that too to India since he took over.
Three, the Myanmarese NSA is a career diplomat and not a serving or retired military officer which significantly confirms the transition in the mindset of the all-powerful military in Myanmar.
U Thaung's very appointment conveys that Myanmar's military leadership has an open mind on receiving strategic inputs from non-military officers.
Four, Myanmar is signalling a new approach of looking beyond its erstwhile traditional sole mentor China and that it is now poised to truly engage with foreign powers.
Whatever the scope of discussions between the Myanmarese NSA and his Indian interlocutors and whatever the difficulties, this visit marks a new chapter in strategic ties between India and Myanmar in the truest sense.
Rajeev Sharma, an independent journalist and strategic analyst, tweets @Kishkindha
IMAGE: Prime Minister Narendra Modi with Myanmar State Counsellor Aung San Suu Kyi in Vientiane, Laos, on the sidelines of the 14th ASEAN-India Summit, September 2016. Photograph: MEA/Flickr