Since the Mahabharata the Yadavs have been known for infighting.
And the 2017 UP election proved yet another example of that, says Nazarwala.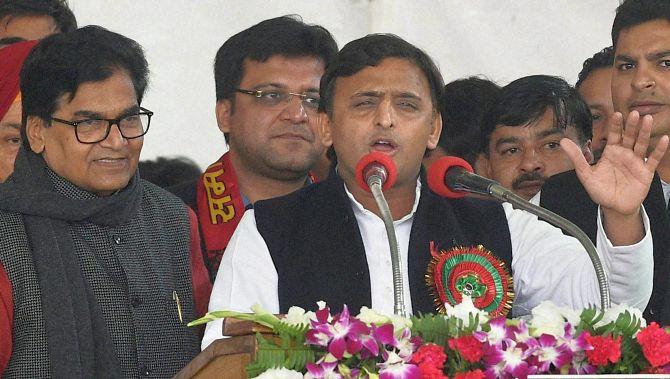 During his election campaign, Akhilesh Yadav had confidently declared, 'Whoever travels on the Agra-Lucknow Expressway will end up voting for the Samajwadi Party.'
'If we were getting more than 200 seats, now, with the Congress, we will get more than 300 seats,' he had further claimed.
On a party poster, Akhilesh was shown promising his father, SP patriarch Mulayam Singh Yadav, with folded hands, 'Aap ki cycle sada chalegi aap ke naam se. Phir pradesh ka dil jitenge hum milkar apne kaam se (In your name, the cycle will move forward. Together, with our work, we will win the hearts of UP's people once again.)'
Mulayam's photograph in the poster was much bigger than Akhilesh's.
Though Akhilesh himself did not contest the assembly election (he is a member of the UP legislative council), he was widely projected as leading the SP to power once again.
After all, he had several feathers in his cap: The Lucknow-Agra Expressway; cycle tracks along important roads; a small 'world-class' stadium in Lucknow; his development efforts in his constituency Kannauj; distribution of e-rickshaws; an ambitious 100-acre IT city, envisioned by IT tycoon Shiv Nadar, emerging near Lucknow; laptops, smartphones and subsidies to potential voters' families.
Moreover, the annual filmy tamasha at his paternal village Saifai; the grants, subsidies and tax exemptions given to filmmakers; security and safety during film shootings were steps that went down well with the film fraternity.
A Samajwadi-themed museum was in the pipeline. It was an ambitious project for which Akhilesh deserves credit.
The Lokvani scheme came as a relief to many an aggrieved person.
The Kanya Vidya Dhan Yojna reportedly claimed to provide Rs 30,000 each to 850,000 girls across the state.
The Lucknow Metro will be operational soon. Metros in Varanasi, Kanpur and Agra are in the offing.
Some government schemes like Police Control Room 'UP-100', the 1090 helpline for women, and the Dial 108 free ambulance service were marginally popular with the public.
All and said and done, Akhilesh could not escape the 'minority appeasement' charge.
His plans to open a Mughal Museum didn't go down well in the communally charged state.
However, not everyone was opposed to him only for this reason.
Akhilesh had been cradled in a party whose image is that of a 'nursery of goons.'
The spouse of one MLA was caught driving drunk in Hazratganj, the prestigious central market in Lucknow. She injured a few pedestrians grievously with her rash driving. When stopped by a traffic policeman, she thrashed him and threatened to get him suspended.
This and other such episodes, like the recovery of 39 mobile phones from Ghazipur jail and subsequent violence by prisoners, highlighted the law and order problem in the state.
Also, issues of corruption like the Public Service Commission 'scandal' in which it was accused of caste bias, the corruption case against chief engineer Yadav Singh etc, also tainted the SP government.
And minister Gayatri Prajapati's involvement in a rape case was the last straw that doomed the SP's electoral chances.
Added to this was the family infighting, fuelled by charges and counter charges, claims and refutations.
A sulking Mulayam, a snubbed Shivpal and an aggressive Ram Gopal were at daggers drawn.
Naturally, their bewildered cadres neither knew who to trust nor whom to support.
Willy-nilly, the cadres were pacified for some time. The public, however, was gradually grasping the gamers' intent.
The family feud resulted in Mulayam's younger son Prateek's wife Aparna losing to the Bharatiya Janata Party's Rita Bahuguna from the Lucknow Cantonment seat.
Mayawati ended up poaching a lot of the SP's Muslim votes.
Akhilesh's disconnect with the ground reality can be gauged from an interview he gave a national newspaper.
When asked if he sees the BJP as his main competitor, he said, "The BJP is no longer in the fight. They are not able to understand what to do. All roads are blocked for them. They have done no work. The public doesn't trust them.'
Since the Mahabharata, the Yaduvanshis, or Yadavs, have been known for infighting. And the 2017 UP assembly election proved yet another example of that.
United, they may have stood up strongly against the BJP.
Divided, they fell like pack of cards.
MORE ELECTION FEATURES in the RELATED LINKS below...