'We needed Smriti Irani to champion democratic values, but she's chosen to be a coward.'
'In fact, she has shrunk India's democracy.'
'Why blame her or the BJP? I can't hear the voices of Sonia and Rahul Gandhi.'
'They lack the guts to stand up in support of Padmavati, Sexy Durga and Nude.'
'When it comes to defending freedom they are no different,' says Karan Thapar.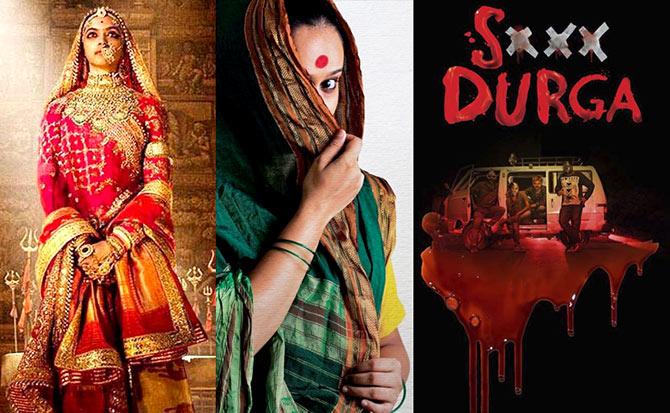 The sad story of three films reveals how our claim to be democratic is often hollow.
No doubt we hold frequent elections and change governments, but we cannot tolerate what we disagree with or do not approve of.
Yet free speech lies at the heart of democracy while voting and competitive politics is only its outer form.
Sanjay Leela Bhansali's Padmavati is a director's interpretation of a story derived from a 16th century poem.
He has the right to tell it as he wants.
If he chooses to convey emotions rather than alleged 'fact' or give precedence to personalities above cultural myth, that is his right.
Yet this is precisely what the Karni Sena, several Rajasthan ministers and the Uttar Pradesh government are objecting to.
The only version of the Padmavati-Alauddin Khilji story they will permit is one that rigidly adheres to their narrow understanding.
In contrast, when Shekhar Kapur made Elizabeth in 1998 he had no qualms about transgressing traditional interpretations or, even, actual historical fact.
No one in Britain complained. 'Film is drama,' he said, 'I had to make a choice -- whether I wanted the details of history or the emotions or essence of history to prevail... we took the icon and went behind the icon.'
Bhansali's film, which is yet to be released, is possibly an attempt to convey what it was like to be Alauddin Khilji and Padmavati.
And think about it, that's what any film would seek to do!
The quest to go behind history and tell an everlasting story is every director's aim. And so it was with Shekhar Kapur's Elizabeth.
'What would it have been like to have been Elizabeth?' he explained two decades ago. 'There is no logic to it, but there's an emotionality to it.'
This freedom to imaginatively interpret is what we cannot accept.
This is also where our claim to be democratic falls woefully short.
In contrast, the reception of films like Lincoln, Nixon, JFK or, even The Last Temptation of Christ in the United States or the United Kingdom shows how mature democracies handle discomforting or provocative historical interpretations.
These films may have faced criticism, but no one tried to stop them. No one even tried to change them.
Actually, what's happened to Sexy Durga and Nude is worse. In fact, it's downright deplorable.
Although accepted by the Goa Film Festival's jury, the ministry of information and broadcasting intervened and ruled they cannot be part of the festival.
This is despite the fact Sexy Durga has won awards or acclaim at film festivals in Rotterdam, Valencia, Pesaro, Tarkovsky and Guanajuato while the director of Nude is a national awardee.
It seems these films have been dropped because of their name and what that suggests of their content.
'The title is vulgar and storyline is objectionable,' The Hindu was told.
That's a decision taken by a ministry headed by a woman who achieved recognition and, indeed, celebrity, as an actress. But this is not merely an example of rank hypocrisy; it's also an ignorant decision.
In its defence the ministry presumably claims these films will cause offence. But so what if they do?
What is freedom of speech if it doesn't include the right to offend?
And it's the government's duty to protect such speech against the villainy or violence of those who make a habit of taking offence. Instead, Ms Irani has caved in.
On this occasion we needed her to champion democratic values but she's chosen to be a coward. In the process she's made us feel smaller. In fact, she has shrunk India's democracy.
However, why blame her alone or, even, the Bharatiya Janata Party? I can't hear the voices of Sonia and Rahul Gandhi or any of their cohort of Congressmen.
They don't hesitate to attack demonetisation and the good and services tax, but they lack the guts to stand up and be counted in support of Padmavati, Sexy Durga and Nude.
Yet they want us to believe they are more liberal. Even better. But they are not.
When it comes to defending freedom they are no different.
Only public protests, voiced loudly and frequently, can protect our liberties. That means it's up to you and me.
We can't rely on our miserable politicians.