Pakistan's military can go to any length to inflict harm on India, so don't write off the possibility of an ISI-IS alliance, says Rajeev Sharma.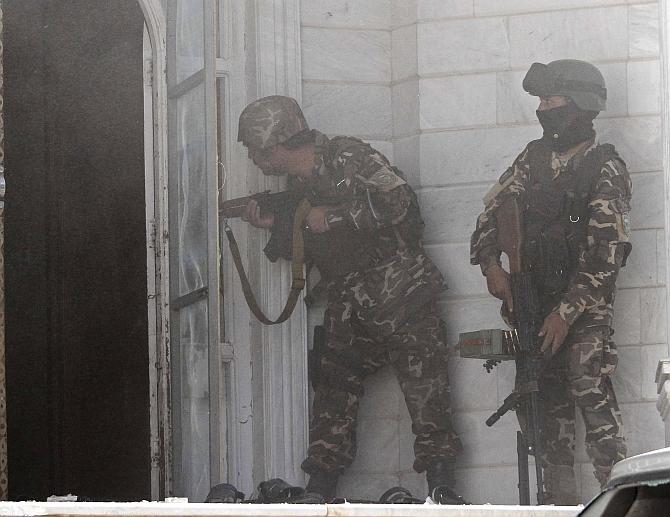 IMAGE: Afghan security forces take position at the scene of the May 2014 attack on the Indian consulate in Herat.
If it strikes a deal with Islamic State, the ISI would have yet another organisation to try and inflict damage on India's interests in Afghainistan.
Photograph: Mohammad Shoib/Reuters
The advent of Islamic State in Bangladesh -- demonstrated by the 26/11 Mumbai-type July 1-2 hostage crisis in an upscale Dhaka eatery frequented by foreigners -- should pose a question for the Indian security establishment.
What happens if officers in Pakistan's anti-India military establishment struck a devilish deal with Islamic State and turned IS's gaze towards India or Indian interests abroad?
Pakistan is itself witnessing a groundswell of support for Islamic State. A British newspaper report (external link) reveals how Islamic State is infecting Pakistani universities and schools.
Islamic State is also filling the vacuum left by a weakened Al Qaeda and the Taliban, emerging as a terrifying terror alternative.
Pakistan's military -- especially its Directorate of Inter Services Intelligence, the ISI -- is capable of running with the hares and hunting with the hounds. The Pakistan military and the ISI have a track record of keeping gunpowder and matchsticks together.
Pakistan harboured on its territory two of the most wanted terrorists on earth -- Osama bin Laden and Taliban chief Mullah Omar. All this when Islamabad declared itself a key ally of the United States-led international coalition's war on terror, securing billions of dollars in aid from Washington for its assistance in 'combating' Al Qaeda and the Taliban.
Both bin Laden and Omar perished in Pakistan, one in a May 2, 2001 attack mounted by US Navy Seals, the other from natural causes in April 2013.
The possibility of the ISI striking a ghoulish deal with Islamic State, currently floating below radar screens in Pakistan, cannot be ruled out.
India's security establishment knows that Pakistan has more strategic leverage over non State actors of all hues and kinds than any other nation on earth.
Pakistan's terror planners are well placed to play another strategic and tactical game with Islamic State, the newest, most diabolic, non State actor on the block.
Pakistan's Deep State can offer Islamic State assistance in return for two things:
One, Islamic State spares Pakistan and Pakistani territory from terror attacks;
Two, Islamic State terrorists turn their murderous attention towards India.
If such an alliance were to happen, Pakistan's military establishment would meet many strategic objectives while keeping the deniability quotient very high.
Pakistan's Deep State can ask Islamic State terrorists present on its territory to go after targets in India in exchange for freedom of movement within Pakistan.
For the Pakistani security establishment, whose single point obsession is to bleed India through terrorism, Pakistan would facilitate a fearsome terror outfit to spread mayhem in India.
Of course, this high stakes gamble -- if it is undertaken -- has the potential of going horribly awry. Islamic State's leadership is known to be unpredictable and could easily turn on the cocky masterminds in Pakistan's terror HQ.
But Pakistan's military can go to any length to inflict harm on India, so don't write off the possibility of an ISI-IS alliance yet.
Rajeev Sharma, an independent journalist and strategic affairs analyst, tweets @Kishkindha