'His deposition shows that the dividing line between Pakistan's State and non-State actors had completely blurred in Mumbai's 26/11 terror strikes,' says Rajeev Sharma.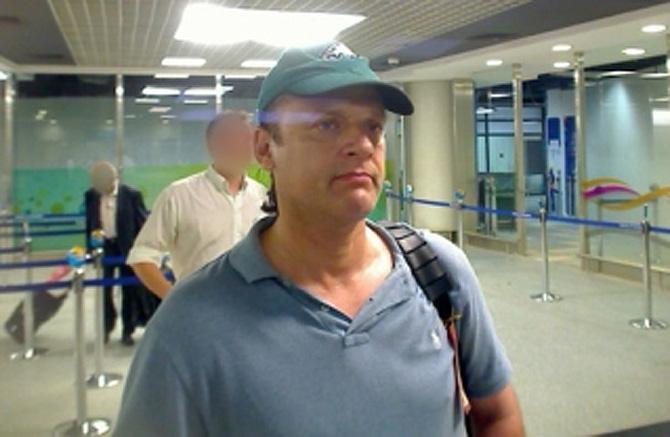 David Coleman Headley's deposition before a Mumbai trial court via video conferencing from an undisclosed location in the United States on Monday, February 8, is a corroboration of what Indian investigators already know and thus nothing new. Yet, this first ever foreign terrorist's deposition before an Indian court is of crucial importance in the larger India-Pakistan bilateral context.

The development won't change Headley's own status. The Pakistani American has turned an approver and was given a conditional pardon by the Mumbai court in December 2015.
The US has refused to hand him over to India. The 56 year old may not walk out alive from the American prison where he has been serving a 35-year sentence since 2009.

But his deposition is explosive from the Indian viewpoint as it strengthens India's case legally as well as diplomatically in nailing down Pakistan's nefarious role in fomenting terrorism in India and shows that the dividing line between Pakistan's State and non-State actors had completely blurred in the case of Mumbai's 26/11 terror strikes.
Headley has given graphic description of how the Pakistani military establishment repeatedly choreographed the 26/11 attacks in collaboration with non-State actors and launched three attempts in consecutive months from September to November 2008 after the first two failed.
The damning deposition by Headley will go a long way in tightening the screws on Islamabad diplomatically as Headley has named and shamed Pakistan like few Pakistanis have since scientist A Q Khan.

As far as the 26/11 trial is concerned, India knows that it can't expect the moon from Pakistan. Yet, India will lap up this opportunity and prepare another dossier on the 26/11 terror strikes and hand over to Pakistan.

Inevitably Pakistan will be in a denial mode. It is not for nothing that Headley's deposition has coincided with reports emanating from Pakistan saying that Islamabad hasn't found any evidence of linking Jaish-e-Mohammed chief Masood Azhar with last month's Pathankot terror attack.

A concrete gain from Headley's testimony is that it is yet another nail in the coffin of the unholy alliance between Pakistan's State and non-State actors.
It may or may not produce quick results. It may not compel Pakistan to bring to book all its nationals who perpetrated the Mumbai mayhem in November 2008.

But, then, one shouldn't have a myopic or a cynical view of the concrete deliverables of Headley's deposition from the Indian viewpoint.
Diplomacy, after all, is not a Twenty20 cricket match but a Test series.

The enormous international pressure mounted by India on Pakistan, first in the 26/11 case and now over Pathankot, will not go waste. In fact, it is because of these pressures that while terror acts have become a daily happening in Pakistan, the number of high profile terror attacks in India has declined sharply.

Pakistan's all-powerful military establishment is not unaware of the rapidly changing climate for exporting terror.
Prime Minister Narendra Modi's initiative of normalising relations with Pakistan provides a face-saver for Rawalpindi, headquarters of the Pakistani army.

A positive, forward-looking, initiative from Pakistan can change the India-Pakistan dynamics in a jiffy. Pakistan may not be expected to prosecute Masood Azhar for Pathankot or ISI officials named by Headley in the 26/11 case.

Yet, India will be pushing the envelope, knowing in its heart of hearts that no breakthrough can be expected.
Nonetheless, the Headley case may provide an opportunity to the Pakistani military establishment to take a positive step in bilateral relations with India to divert attention from the Headley debacle.
Who knows? Wait and watch!
Rajeev Sharma is an independent journalist and strategic analyst who tweets @Kishkindha.