No one was surprised when Rajendra Singh was found shot and killed in broad daylight, not far from the local police station, notes Geetanjali Krishna.
Illustration: Dominic Xavier/Rediff.com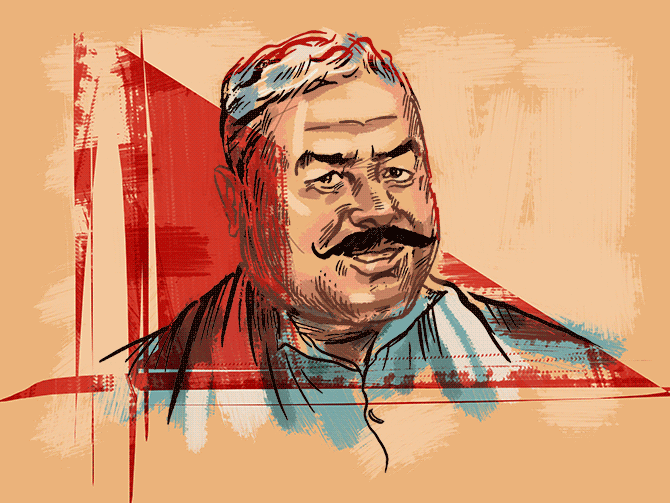 I can't get the photograph of Rajendra Singh out of my mind.
He is laughing, proud moustache curled upwards and eyes looking fearlessly at the camera.
He looks like a man who isn't afraid of anything, even death. And from all accounts, that's exactly what he was.
Here's his story.
Sixty-two-year-old Rajendra Singh used to live in East Champaran, Bihar. Till 2010, he ran a petrol pump and lived comfortably with his family.
Things in his village were, however, far from ideal and Singh used to raise his voice against any case of corruption he came across.
After he was beaten up and left for dead, possibly by people he had threatened to expose, Singh decided to become a full-time activist and whistle-blower.
"His first case was when he exposed the embezzlement of rations in the local anganwadi," narrated his son-in-law Rajesh Ranjan when I recently met him in Delhi.
Next he took up the matter of corruption in MNREGA and in school teacher appointments.
"Things really heated up when he discovered that contraband confiscated by Sangrampur police, which included timber and three quintals of marijuana, had been misappropriated," said Ranjan.
Singh refused to back down and withdraw his complaint in spite of, first polite intercessions, and when these didn't work, violent threats.
"Instead of acting on his information, the police filed the counter case against him for impeding government functioning," said he.
The cases against him continue to pile up and often when he had no money to pay a lawyer, he argued them himself in court.
Undeterred, Singh filed over 100 Right to Information applications and continued to discover and expose corruption.
Until June 2018, Singh had survived three more assaults after that first murderous attack. He was attacked with a knife, almost run over by a jeep and then, brutally assaulted with an axe.
How many more murderous attacks could he survive, his family wondered?
Ranjan said these experiences convinced Singh that he would soon be dead. This only compelled him to dig deeper into yet another case of corruption.
The village headman had appointed his brother-in-law and other relatives/friends as teachers in the government school. They had furnished fake degrees to secure the posts.
Singh filed an RTI query seeking information on these appointments, after which all these teachers were forced to resign.
"By this time, he felt he could be killed any day," said Ranjan. Finally, in 2017, Singh wrote to the DIG of Muzaffarpur, detailing all the threats and attempts on his life. No police protection was given.
In fact, the police did not even act on his letter.
"My father-in-law started living each day as if it were his last," Ranjan narrated. "He stopped giving any family members lifts on his bike, fearing our proximity to him might endanger us," he says, adding Singh began repaying all his debts, big and small.
Ranjan recalled how Singh began calling his two daughters more frequently during this time.
Each call felt like a farewell.
No one was surprised when Singh was found shot and killed in broad daylight, not far from the local police station.
The braveheart paid, not only the price for being a whistle-blower and anti-corruption crusader, but also the price of belonging to a country that is yet to implement a law to protect people like him.