25 winters have passed. More will pass, but the fight will go on. In spite of successive governments' unwillingness to sincerely reverse ethnic cleansing of Kashmiri Hindus and provide them justice, they will steadfastly work towards securing their rights and homeland, says Lalit Koul.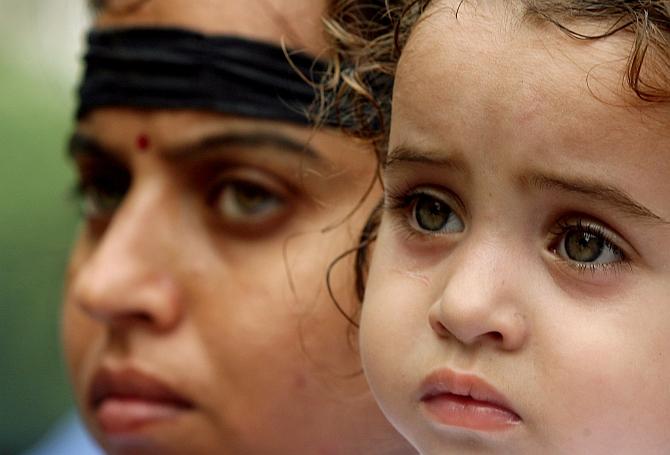 They tried to bury us. They didn't know we were seeds' -- 11 words from this Mexican proverb fittingly explain the Kashmiri Hindu community and its tenacity to not only courageously face the ethnic cleansing but also grow and progress with our heads held high.

Twentyfive years ago today, Islamic terrorists with the help of local Kashmiri Muslims tried to erase our identity from our homeland but little did they know that we belong to the ancestry that once was decimated to mere 11 families and still managed to survive.

We were the survivors. We are the survivors.
That fateful night of January 19, 1990, when loudspeakers atop mosques all over Kashmir blared life-threatening calls, we Kashmiri Hindus lost everything.

Everything but.

We lost all our material belongings, but we did not lose our self-respect.

We still walk with pride. We lost our homeland, but we did not lose our cultural ethos.

We live it every day, every minute of the day.

We lost access to our temples and shrines, but we did not lose our gods and goddesses. They live within us.

We lost our schools and ashrams but we did not lose our knowledge. It travels with us.

We lost our houses but we did not lose hope. We still have keys to our houses and a belief that we will return -- at our own terms, at a time of our choosing.

We lost our present but we did not lose our future. We secured it.

Unlike our persecutors, instead of the gun we picked up our pens and conquered the world.

Even though we were dealt a terrible deck of cards, we ensured that we turned each card into an ace.

During the past 25 years of exodus, in spite of unspeakable physical and economic hardships, our elders ensured we have a shelter over our heads and a book in our hands.

They travelled far and wide, they worked day and night, and they toiled and sweated -- only for one reason, to ensure our future generations never ever face the monstrous ethnic cleansing again.

They ensured, we and our future generations not only survive but also live. And survive we sure did and live we sure will.

While these 25 years were years of struggle to get our bearings back and lay a strong foundation, the next 25 years will capitalise the investments our elders have made.

We are strategically using the building blocks created during the last two and a half decades to create an environment wherein our progeny and we will thrive without any trepidation, without any sword hanging over our heads.

Like our ancestors, we have risen from the ashes and will continue to rise.

Our neighbours from the past can try as hard as they want to obliterate our identity, but we will succeed in our mission -- with them, without them and in spite of them.

While we progress to a better future, the wounds of our ethnic cleansing and exodus have not healed.

And we will not let them heal until we get the justice we deserve.

Memories of living in shanty tents and uninhabitable environs are still fresh in our minds.

Our folks, who were brutally killed by Islamic terrorists, might have left us physically but they are always with us in spirit, reminding us of our moral duty to reclaim our homes and hearths.

Our children who were born early in exodus and are now working adults, still remember the pains of growing up in those dilapidated one-room cells, also known as refugee camps.

We still carry the sacred soil of our homeland in small vases and touch and feel it every day.

Our persecutors might have succeeded temporarily to take us out of Kashmir, but they can never take Kashmir out of us. She is ours and we are hers.

While we move forward to build our community for future generations, we will stay on our mission.

We were and we are the original inhabitants of Kashmir. No one can dare deny that fact.

We have, we are and we will continue to fight for our fundamental religious, economic, spiritual and political rights.

In spite of successive governments' unwillingness to sincerely reverse our ethnic cleansing and provide us the justice, we will steadfastly work towards securing our rights and homeland.

Human rights activists across the globe talk about truth and reconciliation in conflict areas. But in our case, it is not just about truth and reconciliation.

It has to be about truth, justice, rights, rehabilitation, and reconciliation.

Truth: Identify the causes and people responsible for our ethnic cleansing;

Justice: Bring everyone who was responsible for our ethnic cleansing to justice;

Rights: Constitutionally secure and guarantee the rights for us minorities so that we never ever have to face ethnic cleansing again;

Rehabilitation: Provide us homes and hearths in our homeland;

Reconciliation: With those who genuinely and sincerely believe in peaceful co-existence irrespective of religion, colour, caste and creed.

Unless and until we go through the process of truth, justice, rights, rehabilitation, and reconciliation, our just struggle is on. Twentyfive winters have passed. More will pass but the fight will be on because we have no other choice but to behave like a seed -- weather the storm and grow.

Yes, my dear friends. They tried to bury us. They didn't know we were seeds.
Image: A Kashmiri Pandit mother and daughter at a demonstration. Photograph: Adnan Abidi/Reuters.
Lalit Koul is president of the Indo-American Kashmir Forum and editor of Kashmir Herald.