'I worry that the suffering of these people might be as invisible as the people themselves,' observes Geetanjali Krishna.
Illustration: Dominic Xavier/Rediff.com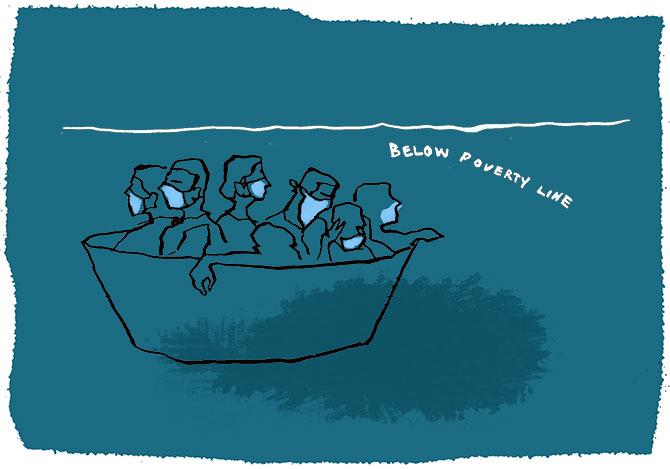 Over the last few weeks, the lockdown has forced us to become more aware of the poverty around us.
This week, I reflected on this with 33-year-old Navin Shukla who has been providing food and hygiene relief kits to those who need them.
A part of the exemplary disaster relief organisation SEEDS, which has rolled out humanitarian response programmes ac­ross the country, Shukla sees this lockdown as a disaster unfolding before our eyes.
"Initially when we conducted a pilot study in north east Delhi, the ground reality was heart-rending," he said. "Wherever we went, we found people from the unorganised sector left without any livelihood."
While narrating his field experiences, he told me about some segments of the population who are so invisible, they often tend to fall through the holes of the social security net.
"For example, in Burari, a low income settlement in central Delhi, I visited the home of seven sex workers," he narrated. "They are feeling extremely insecure of their future as it looks highly unlikely that their business will resume any time soon."
To make matters worse, five of them are HIV positive. The stigma surrounding their profession, not to speak of the HIV, has made it hard for them to seek government relief.
What's more, with five immune-compromised inmates, the remaining two risk all seven lives every time they step out.
Another time, when Shukla was distributing ration kits in north-east Delhi, a woman approached him. "She asked me to come with her to meet some people who urgently needed help," he narrated.
"We got onto a boat and rowed to a sandbank in the middle of the Yamuna where 15 families, who depended on fishing and melon farming, lived."
Pre-COVID-19, they'd sell the fish and fruit on the bridge. The lockdown brought their enterprise to a halt.
So every day since the lockdown, these people would row across the river to look for cooked food being served in different camps.
This daily but unavoidable exposure put them at risk of contracting the infection.
"But their self-respect was such that when we offered them relief kits, they accepted only five for the neediest among them," he narrated.
Then our conversation came around to another, and perhaps the most tragic, invisible segment that presently needs support.
"After almost two months of lockdown, we're noticing that it's not just daily wagers but also the lower middle class that is slowly falling into poverty," Shukla said.
"The tragedy is that such people -- small shopkeepers, auto drivers, even call centre employees -- are ashamed to ask for help."
Listening to him, I realised how little we know about where and how the poor live.
Come to think of it, we don't even know who the poor really are! They aren't just the people below an arbitrary poverty line.
Like the Burari sex workers, they are people who have few viable future work prospects. And they also include much of our so-called lower middle class -- people who are comfortable when the going is good, but don't have enough savings to offset the economic stress of this unending lockdown.
NGOs like SEEDS are doing their bit, but I worry that the suffering of these people might be as invisible as the people themselves.
Production: Rajesh Alva/Rediff.com