Pakistan has too much at stake to allow even an iota of rapprochement between India and the Taliban, asserts Vivek Gumaste.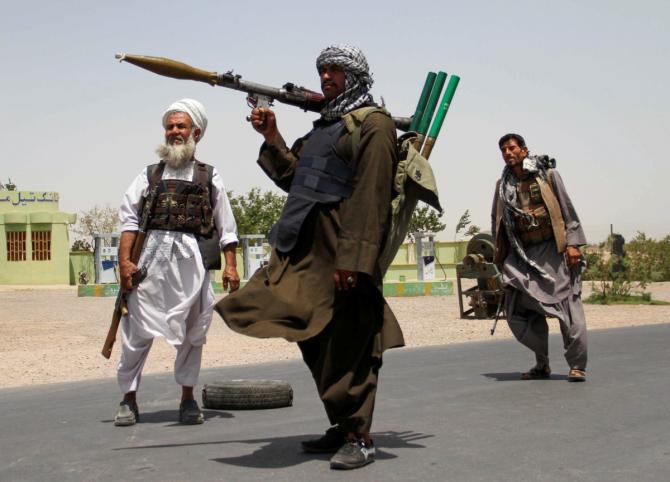 Capitalising on the US decision to withdraw from Afghanistan, the Taliban has accelerated its violent sweep across that country, grabbing large swathes of territory in an attempt to establish itself as the sole stakeholder to govern Afghanistan.
In this rapidly changing geopolitical scenario of Taliban ascendancy, the clamour from op-ed columnist and seasoned experts alike for India to initiate talks with the Taliban is growing louder and louder.
In the face of the Taliban's ostensible dominance, how does India position itself to address its security concerns vis-a-vis terrorism spilling over from Afghanistan into Kashmir and protect its investment in that country?
Should India shed its past inhibitions, compromise on its principles and invoke pragmatism to initiate talks with the Taliban?
And what are the chances of talks with the Taliban producing a fruitful outcome?
These are the burning questions that cry out for answers.
India has had a strained relationship with the Taliban. The last time the Taliban was in power (1996-2001), there was a sharp increase in Afghan jihadi elements infiltrating into Kashmir. And in 1999, the Taliban was in the forefront of providing sanctuary and safe passage at Kandahar to the hijackers of IC-814 who had successfully negotiated the release of Masood Azhar, leader of the Jaish-e-Mohammed; it was a humiliating experience that India must not forget or forgive.
Additionally, Kashmir-centric terrorist groups like the Lashkar-e-Tayiba, Jaish and Hizbul Mujahideen have had strong and continuing bonds with the Taliban. As recent as April 2020, Afghan security forces killed 10 JeM members during a raid on a Taliban camp in Nangarhar, indicating that the two fight side by side.
The Haqqani group, which is one of the well-trained Taliban factions, has targeted several Indian consulates in the past and was responsible for the deadly Kabul bombing in 2008 that killed over 50 people.
Given its committed anti-India sentiment and inseparable ties with Kashmir-centric terrorist groups, it is very unlikely that the Taliban will have a change of heart overnight.
Even if some factions of the Taliban are eager to negotiate with India, the matrix of the Taliban with its disparate and unruly factions makes it almost impossible for a uniform policy to succeed or a top-down diktat to work.
A UN monitoring team emphasised this pitfall in a document in May 2020. Referring to the Doha Agreement, the report concluded: 'Early indications are that many, if not all, of these objectives will prove challenging. While the Taliban remain internally disciplined enough to be a formidable fighting force, there are divisions within the group, which make compromise with its adversaries difficult, and its messaging remains hard-line.'
And then there is the Pakistan Factor. The Taliban is a monster created and sustained by Pakistan's ISI Frankenstein. Pakistan maintains a stranglehold on the Taliban, acting as a puppeteer who pulls is strings. The Doha Agreement would not have come about without Pakistan's approval.
As an indication of its close oversight, Mullah Abdul Ghani Baradar, deputy leader of the Taliban who signed the Doha Agreement on its behalf, was arrested by Pakistan's ISI in 2010 (external link) because he attempted to carry out unauthorised negotiations with Hamid Karzai, the then president of Afghanistan.
Reading between the lines one can also speculate that the Doha accord, although primarily between the Taliban and the United States to prevent a recurrence of terrorism, is an outcome of crafty Pakistani Machiavellianism.
Pakistan persuaded the Taliban to sit down at the negotiating table, and it is highly unlikely that Pakistan would have done so without seeing in the pact a golden opportunity to further its strategic goals in the region, especially in the light of abrogation of Article 370.
Pakistan has already declared that it would be the first country to recognise the Taliban once it comes to power in Kabul.
Therefore, it would be naive to assume that Pakistan's extensive investment -- financial, logistic and military -- to shore up the Taliban has a purely charitable intent. It is to further its all-consuming anti-India agenda. And a Taliban-controlled Afghanistan facilitated by the Doha Agreement will specifically serve to camouflage its anti-India terrorist activity.
Abhinav Pandya, a founder and CEO of Usanas Foundation, a security affairs think-tank, and the author of an upcoming book Terror Financing in Kashmir, avers (external link): 'However, because of the continuous pressure from the Financial Action Task Force, Pakistan intends to maintain plausible deniability, for which the US withdrawal offers a golden opportunity.'
'Islamabad is likely to shift most of the Pakistan occupied Kashmir-based terror training camps to Taliban-controlled Afghanistan, most likely to emerge as a safe haven for all kinds of jihadist groups. As per credible sources, they have already shifted some camps to Afghanistan.'
'Further, the Indian establishment also fears, and rightly so, that post-US withdrawal, Pakistan is likely to divert many battle-hardened and highly radicalised Taliban fighters to Kashmir. The process has already begun as Pakistan has been reviving Al Badr, a defunct terror group of the 1990s, in Kashmir since 2020. Al Badr has a strong base in the Afghanistan-Pakistan region and reportedly has ties with the Haqqani Network, the sword arm of the Taliban.'
Pakistan has too much at stake to allow even an iota of rapprochement between India and the Taliban. To claim that India's outreach will embolden the Taliban to strike an independent path bereft of Pakistan's influence (as some commentators assert), is nothing more than wishful thinking.
Academic Vivek Gumaste, who is based in the United States, is the author of My India: Musings of a Patriot. You can e-mail the author at gumastev@yahoo.com