Even if it wants to censor what you read, watch, or consume, the amount of content online is so huge that it is physically impossible for any government to do it, notes Vanita Kohli-Khandekar.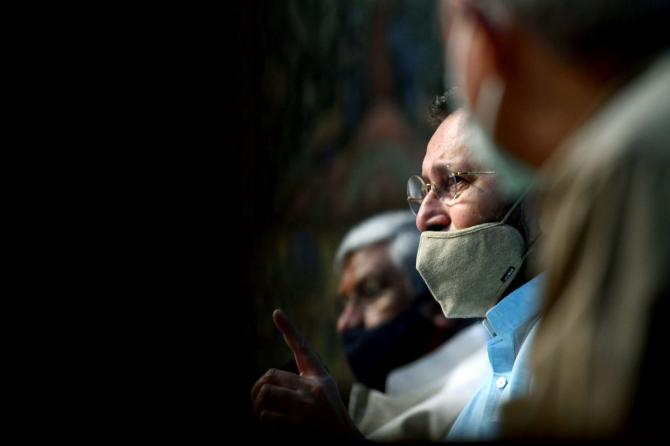 Richie Mehta's Delhi Crime is a gripping albeit disturbing seven-part series based on the investigation of the Nirbhaya rape. Recently it won India its first-ever International Emmy for the 'best drama series'. But the celebrations have been muted.
Since streaming video has no such constraints, it offers storytellers phenomenal creative freedom, which has led to great shows such as Delhi Crime. As the spectre of online content regulation looms, the question being asked is: 'How long will we have the freedom to make such shows?
In October last year the Supreme Court issued a notice to the central government and the Internet and Mobile Association of India in a petition to regulate over-the-top platforms by an autonomous body.
On November 9, the Cabinet secretariat issued a notification that brings digital and online media within the jurisdiction of the ministry of information and broadcasting.
On November 16, the ministry issued clarifications on the steps that outlets 'uploading/streaming news and current affairs through digital media' could take on their way to reducing foreign direct investment, or FDI, to 26 per cent. This was further to a September 2019 press note bringing online news at par with print on FDI.
It led to HuffPost India shutting down. More will follow. News broadcasting is still allowed 49 per cent.
Then there is the proposed Registration of Press and Periodicals Bill (RPP, 2019) the successor to the Press and Registration of Books Act (1867).
The latter was the British government's way of harassing Indian-language publications by putting them through a rigmarole of registrations, clearances, and random processes, which, if not adhered to, could lead to an overnight shutdown of the press.
No government changed it. Now the draft of the RPP seeks to bring digital news under the same rules.
The building blocks of a regulatory architecture that will take on streaming video (Netflix, Hotstar, Amazon Prime Video et al), news Web sites (The Wire, Scroll, The Quint et al) and a whole lot of online content (blogs, podcasts et al) are being put in place.
The fear and worry over these moves is not surprising.
India is home to thousands of people dying to take offence at something they watched, heard, or read. There are calls to ban, boycott, kill, or maim some movie, Web series, TV show, or celebrity almost every day.
Self-censorship is on the rise as studios tell writers to steer clear of anything deemed controversial.
There are, however, a few things to keep in mind before reacting.
Many of us may believe that freedom of expression should be absolute, but it isn't.
One, the Constitution guarantees it with exceptions -- around national security, public decency, morality et al. And governments can use that to regulate digital content.
Two, it is logical for digital content to come within the purview of the information and broadcasting ministry, which looks at film, TV, radio, print, and music.
Three, even if it wants to censor what you read, watch, or consume, the amount of content online is so huge that it is physically impossible for any government to do it.
Across the world, a code- and rating-based approach is what countries from Singapore and Malaysia to the US and the UK are using. In India too, a self-regulation code and a mechanism to handle complaints have worked very well in both advertising and television broadcasting.
To their credit, both the ministry and the minister have consistently talked self-regulation. Much now depends on what the industry does.
In September last year, after two years of jostling, 15 major streaming players signed a 'Universal Self-Regulation Code for Online Curated Content Providers'. The ministry has issues with the implementation part, which is being worked on, says Tarun Katial, chairman of the Digital Entertainment Committee at the Internet and Mobile Association of India.
Why seek government clearance on a self-regulation code?
"A lot of Public Interest Litigation are filed (against a show or OTT) and very often the government is also party to them. The government needs to be comfortable saying the self-regulation code is good enough. This is the best solution if you want to balance freedom of expression and consumer protection," says Katial.
The news industry, unfortunately, isn't handling this as well. Its fragmented approach with three different industry bodies has already allowed the 26 per cent rule to go through. Add the spectre of being under the RPP act and things are dark unless the industry gets its act together.
There are two peculiar points about the regulatory moves being made that stand out.
One, none of the big tech-media publishers (Google, Facebook, Twitter) who take away over 70 per cent of the Rs 22,100 crore (Rs 221 billion) digital advertising pie is being mentioned. They offer news, entertainment, and user-generated content, yet they are not part of any of the self-regulatory efforts or mentioned in the draft Bills.
Two, the timing is really off. The demonetisation-triggered economic slowdown had already brought India's Rs 1.822 trillion media industry to single-digit growth. The pandemic broke its back.
Print, film, out-of-home, radio, and events are the worst hit. As losses mount and thousands lose their jobs, the industry is expected to shrink by a third.
In this scenario, cracking the whip on regulation, choking off capital, or generally making it more difficult to do business doesn't help.