'Our Lockdown Life has a sort of Dr-Jekyll-and-Mr-Hyde personality about it,' notes Vaihayasi Pande Daniel.
All illustrations: Dominic Xavier/Rediff.com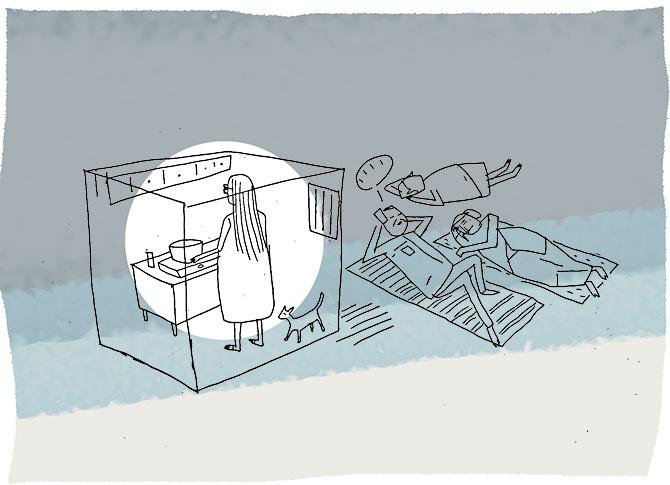 *"Bhagwan ka naam din bhar lena chahiye."
*"Khaane peene ko milta hai."
*"Lekin dimag kaam nahin kar raha hai."
*"Gaav jaane ka man kar raha hai."
*"Bandh karke rakha hai hum logon ko idhar."
*"Agar aana-jaana allow karte, toh woh dil ko fresh rakhta hai or mann halka."
*"Aur hamara behan chaar kg chicken manga ke party kar rahein hai, gaav mein."
Eavesdroppers often hear highly educational snippets.
When I am in the kitchen, every morning, washing my packets of fresh milk, for three sets of 40 seconds each, and dunking them in boiling hot water, my ears log into the conversations unfolding in the rear of the building.
The neighbour across has a family of live-in help, the Mahadiks, who occupy one room at the back of their flat.
And these are the bits of dialogue that are usually emanating from the head male member of that family, Suresh Mahadik, who sagaciously weighs in, daily, on every aspect of lockdown Mumbai life.
Either to different people on the phone.
Or his mother in the village.
Or sometimes the grizzled, weather-worn garbage collector, Suresh Chauhan, who hasn't been able to go home to his family in Chunnabatti, north east Mumbai, since April 1, sits down with him and they chew the fat.
Chauhan talks, it seems longingly, about the khet (fields) on the banks of the Ganga Maaee in his native UP.
They discuss how to grow fresh coriander -- a rare commodity in times like these -- in a pot. And mango trees in gamlas (flower pots); why that is of consequence, who knows.
These conversations, and so many other tiny little crazy things, signal how upside-down our days have become.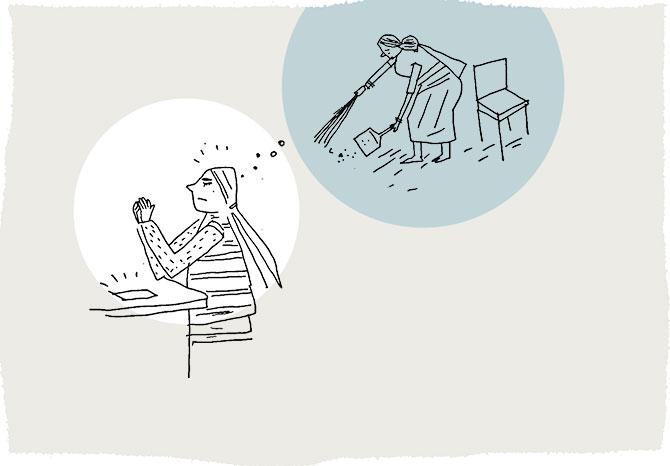 Our Lockdown Life has a sort of schizophrenic, Dr-Jekyll-and-Mr-Hyde personality about it.
Some of it makes you want to weep.
And causes dense gloom.
There's a sense that one is living in some kind of lost age, like the people who got frozen in Sleeping Beauty's castle.
The rest is often amusing.
Or at least deeply ironical.
Like the arguments on WhatsApp groups about the dire need to have domestic help back.
And the issues that some folks I know are facing dealing with seven live-in domestic help including the driver!
Or the south Mumbai concept of social distancing which still involves the watchman running to a car door or the building gate, standing not even six inches away, forget six feet, as the resident regally glides in or out.
Like when the cat -- the only other companion that my younger daughter and I have, during these past 80 odd days -- sniffed some not yet decontaminated groceries and had to be scrubbed down, as he wriggled, with surgical spirit (which I later read was not a great idea).
Or the time one of my elder daughter's friends, who runs a chemist shop, came desperately knocking late at night offering to pay for a bottle of wine.
Like hearing from Ashwini Gavnang, who cleans our home (once upon a time before the lockdown), that the local municipal school teachers are conducting lessons on WhatsApp, while my daughter's college has not yet mastered the online medium.
Or that our only outing, into the new masked world, is our weekly trips to the trash cans at the end of the road with hugely heavy bags of garbage, containing sometimes washing experiments gone wrong, like the last edition of soapy mushrooms.
It requires almost mathematical precision to pull off this trip safely!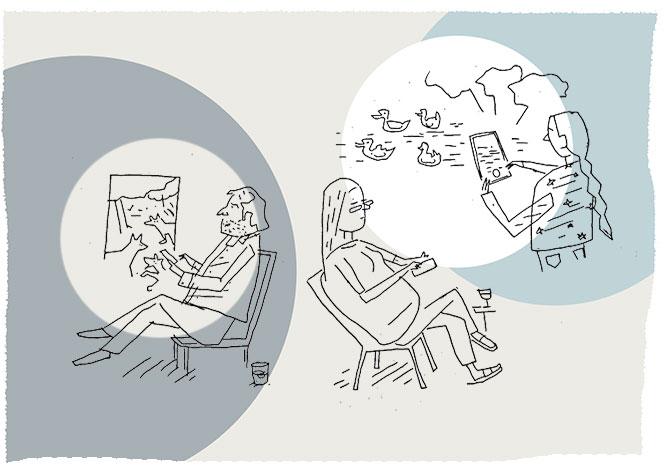 Our lockdown existence has been particularly strange because the family got split up.
My husband, our three dogs and my 82-year-old mother-in-law went off on a pre-lockdown driving holiday and are consciously stranded in a home in another small town, that fortunately has a garden.
Just imagine walking three dogs, four times a day, in Mumbai during this COVID-19 crisis.
But they are running short of clothes, dog medicine etc.
His updates are like postcards from sylvan rural Maharashtra, which has not that many corona cases, but awareness is limited.
My elder daughter is abroad studying and could not catch the last flight back to India, before the country shut down.
She is probably safer where she is except that she is almost entirely alone in her student accommodation.
The other post graduate students all fled back to their own countries, probably never to return -- Vietnam, France, China, India -- leaving behind half their possessions and a fridge full of smelling food.
There's only a Brazilian MBA student, living in the next building, who decided not to return to Rio de Janeiro.
They meet up sometimes for a pasta meal in his room.
Ricardo is now also planning to leave, to stay with friends on the other side of the country, to save room rent.
She is also under lockdown, but the rules there permit a person to stay within a 2 km radius of their home.
She is a firm fan of the half-Indian leader there who is battling to bring the situation under control.
I receive from her, over WhatsApp, every few days, pics of the gorgeous but desolate countryside, happily paddling ducks, the groceries she bought and other snapshots of her solitary existence.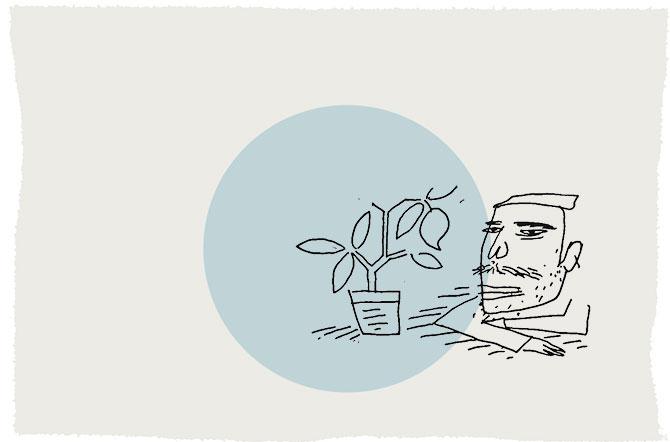 The absence of the rest of the family, particularly our noisy dogs, has ensured that the home is deathly quiet.
Awkwardly, eerily quiet.
My just-out-of her-teens younger daughter is functioning in a different time zone and stays up all night interacting with friends online and doesn't surface sometimes till 4 pm.
And the cat Stinky usually doesn't have much to say after he has had his meal.
Net result: Every noise or conversation happening beyond our doorstep seeps in loud and clear.
The idle chatter between the watchman and the doodhwala downstairs.
The neighbour's not-yet-two granddaughter mastering her latest word: Wow!
What's scrumptiously on the menu for breakfast next door: "Bharati, kachori ke liye aur chutney le aana (Bharati bring more chutney for the kachori)."
The twittering of arguing sparrows (that I thought this city no longer had many of) in the dead plants of the various neigbhours who have mysteriously fled after the shutdown.
The splashing of the cars being washed on the street at dawn.
For some reason, while most domestic help is quarantined in their homes in the various slums nearby, car washers take themselves very seriously and don't miss a day of duty.
All the cars in our society are squeaky, shiny clean.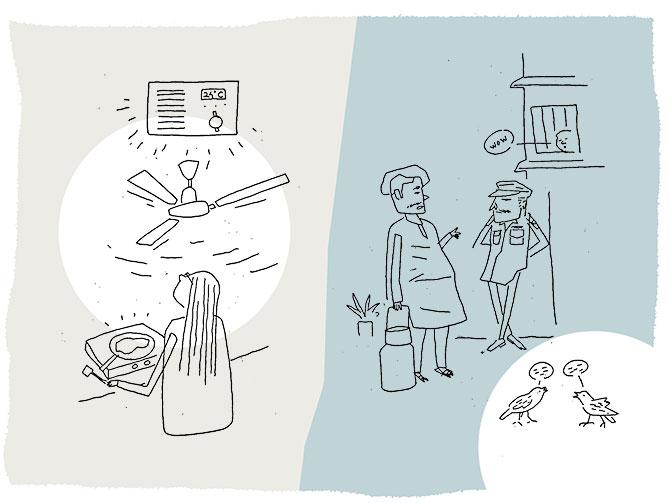 The sound of our doorbell ringing makes me start.
It rings now, happily, no more than twice a week.
In between it broke down.
I had to hang notes outside the main door asking delivery people to call me on my cell, when they came.
The fear of mechanical failure of various appliances and electrical fittings is a horror story waiting to happen.
Can the AC break down in this 36 degrees heat?
My laptop?
Or the kitchen fan that I need desperately while I roll out not very round, Australia-shaped rotis.
Already one fan and the chota kitchen geyser (which I was using to run steaming water on any germ-ridden items of grocery) have gone bust.
Because I assiduously and idiotically sprayed disinfectant on all the light and fan switches, during the first days of the lockdown, half the switches are on the verge of collapsing, with fan regulator plates hanging loose.
Fingers crossed nothing else conks out.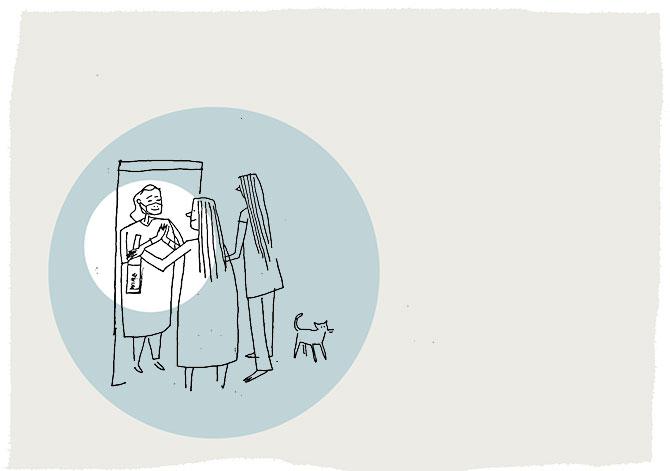 Getting in enough groceries has been a challenge from Day 1.
On our side of town, immediately after lockdown, everything vanished off the shelves.
Odd things like dishwashing soap, butter, bread, Lizol, cheese, garbage bags, idli rice, and different non-exotic vegetable are unobtainable.
And obviously, there must be perhaps some aayushi directive out there telling people that honey will help you fight COVID-19.
There is not a jar to be found, much to the chagrin of the younger daughter, who is on some elaborate exercise and diet regime and is shunning sugar.
Making sure we have enough grocery supplies, given that some items might vanish for weeks together, has seen me transform into a military strategist planning a battle campaign.
When items that went missing, show up again, you take whatever brand you can get.
I have been saddled with some awful smelling dish soap bars and never seen before bread.
Don't even get me started on the rigours of the washing-groceries-vegetables-fruits routine which I faithfully embark on umpteen times a day, using soap (but sometimes bleach, spirit, sanitiser or hot water), always counting to 40 instead of 20, lest a few seconds less results in one of those viruses escaping the powerful effects of good ol' sodium stearate.
On some days I am sure I have counted to 3,000 at least.
Then there's all the movements of the virus that you have to work out in your head, as if you are playing chess with it, after you take each delivery of vegetables or provisions.
If I take the bag of goods with one hand, and open the door with the other hand and pull the potatoes out with the contaminated hand, how will I open the tap?
Or conundrums like if I wash the green kotimir well, without soap, and put it away/quarantine it in the fridge in a plastic bag, will the plastic of the inside of bag harbour the virus?
There's also the stress of multitasking.
Work days are long and tiring -- even if they are wfh -- and sometimes comical.
If you don't agree, try transcribing a 30-minute interview, while keeping an occasional eye on your e-mail box and the dal simmering in the pressure cooker, that's whooshing like a steam engine, while fending off five dozen WhatsApp messages (some of them containing great jokes but too many others containing patently wrong information that the sender lazily hasn't bothered to verify) and worrying about a 75-year-old aunt who has gone missing in rural Oregon (Is she ill? How would I get to know?).
All of this stuff is probably what we can laugh at hilariously, perhaps next year, when we recall this bizarre lockdown season, after COVID-19 has finally rudely been shown the door.
But there's a lot that's not funny.
And moments that bring you to tears.
Like when you hear that a fellow journo has COVID-19 and is frantic with worry that she will give it to her elderly grandmother; or that a friend and former colleague has lost his job.
The news about Mumbai's jails is ghastly.
How many will survive the COVID apocalypse hitting them.
Will I ever again see the faces of the assorted undertrials I would see every time I was in court to cover the Sheena Bora murder trial?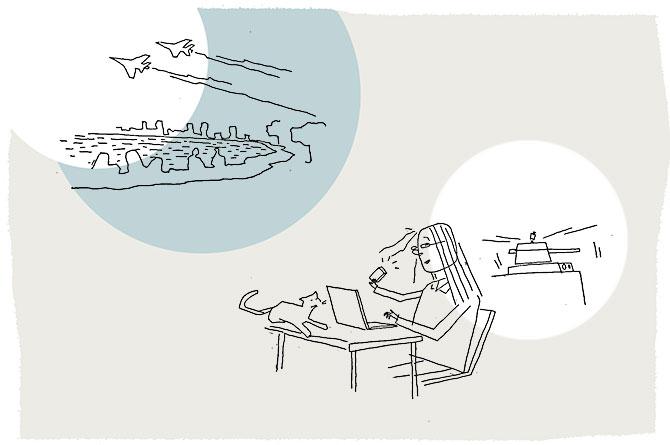 I have never lived through a war, although Mumbai's 26/11 attacks had its moments.
Both my parents have and would describe the horrors of escaping from the advancing Russian army or fighting the British.
It was a sort sobering and sad moment, that Sunday when the planes flew overhead, to realise that this was a war too, even if the opponent was so invisible he seemed imaginary and you felt like you were hallucinating.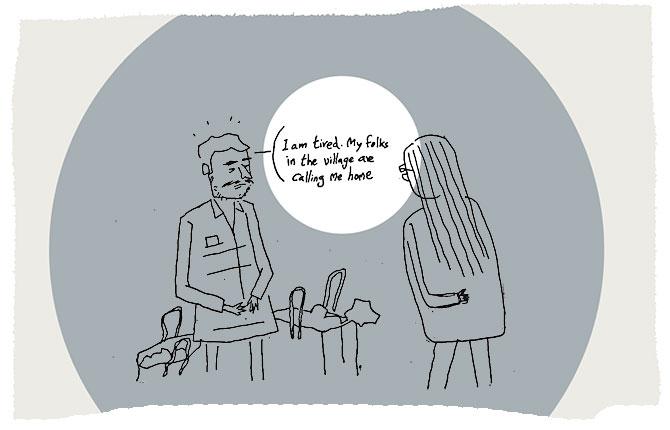 And then there are the conversations I have with masked Shyamu, the vegetable delivery man, who hails from a village near Pratapgarh in Uttar Pradesh.
He works for Ram Bodh Shukla, a long-established veggie seller in the nearby market, from whom I order vegetables, and, by mistake, jokes, on WhatsApp.
Every night after a long day of vegetable delivering in a 10 km radius of the market, sometimes getting badly whacked by the policemen's dandas, Shyamu goes to sleep on the ground outside the shop.
Each time I take a delivery of some randomly ordered tomatoes, alu, began etc, from him, he tells me how fed up he is.
And that no amount of money or tips will keep him in this miserable city any longer.
"Thag gaya. Ghar ke log vapas gaon bula rahein hai (I am tired. My folks in the village are calling me home)."
On another day he seemed slightly more resigned.
He said he was mortally afraid of COVID-19.
I tried my best to assuage his fears -- which were, of course, very real and my words empty -- and said the virus would not get to him, if he doesn't touch his face and washed his hands before having his food or chai.
He scoffed at the advice, and, with a small smile on his face, serenely said: "Sab bhagwan ke haath mein hai (Everything is in god's hands)."
"God helps those who help themselves," I told him roundly in my toota-phoota Hindi.
When he came week before last, he was fairly agitated.
He said he was going to get out of this city somehow or the other.
I asked him if he had filled a form to get on a train.
He said he had.
If he got on the train, it would take him to Allahabad, and from there he had to travel to Pratapgarh and then still further to his village, which I believe he said was Lalgarh.
That normally took four hours to reach by vehicle, but he would have to walk it.
But he said, quietly and ominously, that he was leaving in any case, even if he didn't get on a train.
There was a moment of silence.
And I didn't ask him what he meant.
He knew I understood.
After he left, I thought of him walking nearly 1,700 km from Mumbai to a little village in UP's hinterland, in the scorching heat, through eastern Maharashtra and up through the jungles of Madhya Pradesh, skirting panthers and unexpected good trains.
You couldn't even feel sadness.
It just sounded so grim.
So horrifying.
It left you numb.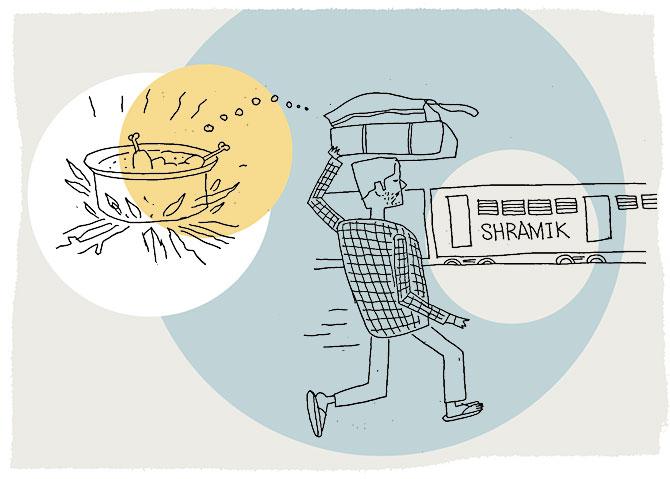 Postscript: I got to hear this afternoon that Shyamu caught a Shramik train a few days ago to Allahabad.
I hope he reaches his home safely.
He doesn't own a cell phone so there's no way of knowing.
---
*"We should take the name of god all day."
"We are getting food and water, but our minds are not working."
"We have a wish to go to the village. But we are locked up here."
"If we had freedom, our hearts would feel fresh and our minds lighter."
"In the village my sister is having a party and ordering 4 kg chicken."
Production: Ashish Narsale/Rediff.com