'Any future course of action towards active participation in the alliance when formed would need a lot of deliberation, long term vision and should be in our best national interests,' notes Commodore Vengalil Venugopal (retd).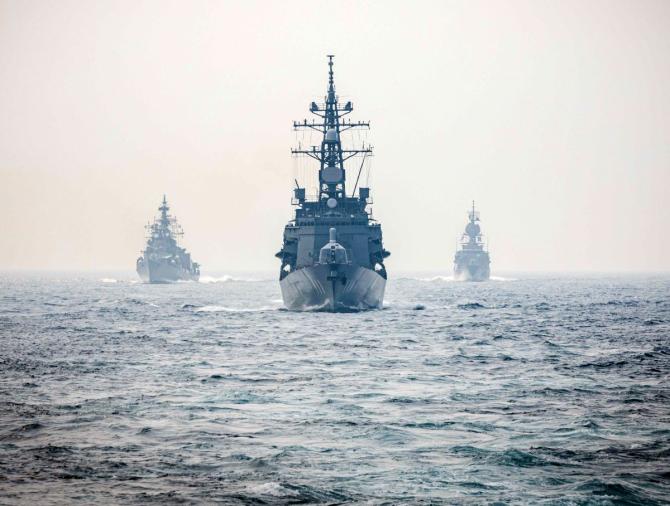 The Quadrilateral Security Dialogue, also known as the Quad, is an informal strategic forum between the US, Japan, Australia, and India that is maintained by semi-regular summits, information exchanges and military drills between member counties.
The forum was initiated as a dialogue in 2007 by then Japanese prime minister Abe Shinzo with the support of then US vice president Dick Cheney, then prime ministers John Howard of Australia and Dr Manmohan Singh of India.
The diplomatic and military arrangement was widely viewed as a response to increased Chinese economic and military power.
The initial euphoria diminished in 2008 following changes in political hierarchy and policies in Japan, Australia, and India resulting in the alliance lying dormant till it was revived in 2017 during the ASEAN summit. This was as a result of rising tensions and disputes in the South China Sea caused by China.
The Quad met five times between 2017 and 2019, the punch line which emanated from these talks was to promote a free and open Indo-Pacific amid China's aggressive posture in the region.
The Quad met in March, July, and in September 2020. Meanwhile, the secretary-level engagement was upgraded to ministerial level.
Notwithstanding these engagements, a clear charter or mandate of the alliance is yet to be promulgated.
Although the alliance is focused on countering growing Chinese influence and territorial ambitions in the Indo Pacific region, each of the members have their own bilateral issues with China.
Japan has its focus on the Senkaku islands, Australia and the US on trade-related issues and India on land border claims.
Convergence of strategic objectives holds the key in cementing of any alliance which is in its nascent stage.
Any alliance aimed at countering Chinese influence in the region needs to focus on economic, military or a combination of both.
An alliance built on the economic dimension would ideally entail investments in infrastructure development and provide financial assistance to countries who hitherto are depending on Chinese investments.
Whereas a military alliance would be centred on a standing military force akin to NATO with a joint HQ and command structure.
This would entail a yearly financial contribution which is mandatory to maintain the operational levels of a military standing force.
In this connection, it may be noted that NATO countries contribute USD 2 Billion annually towards the maintenance of the joint force.
In the case of an economic or military alliance, the member countries need to earmark a sizeable budget to set up and maintain an alliance with an agreed mandate.
It may be noted that India budgeted $1.8 Billion towards foreign aid in 2019 which comprises mostly of investments in the neighbourhood.
It would be a big challenge for the Indian economy which has taken a beating during COVID to withstand an additional burden of committing funds towards a standing economic or military alliance.
As regards to the military dimension, most important aspects to be considered are that the alliance would need Standard Operating Procedures, Doctrines, Rules of Engagement ratified by the respective Governments, Operating Frequency bands for communications, Datalinks, Secure Information and data exchange platforms to ensure optimum levels of interoperability.
It takes considerable time to achieve the desired levels considering the fact there is significant variance in military assets and operating philosophies adapted by the four perceived member countries.
In this connection, it may also be noted that about 70% of our military hardware are of Russian origin and hence it would be an area of concern for members of the alliance to agree to expose sensitive data/classified information through such networks which is susceptible to interception.
On the other hand, cutting off the umbilical cord with Russia is also impractical at this stage as the dependency is deeply rooted for now and foreseeable future.
It is also important to wait for signals emanating from the Biden administration in Washington, DC.
Although a significant change in the US stance on China is unlikely, the policy of the Biden administration may not be confrontationist by design.
US foreign policy is likely to focus on arriving at a middle ground to ease the level of current tensions.
The centrality of ASEAN may assume greater significance to get all stakeholders on board and may result in a deeper US engagement in the Indo Pacific region.
There is a possibility that Quad may take a back seat in the interim as it may be out of place in the overall US strategy on shaping China policy.
The Quad alliance is currently in its nascent stage and the first step is for member states to converge on mutually acceptable strategic objectives -- be it economic or military or a combination of both.
A clearer picture would only emerge on the way ahead after the US policy for the Indo Pacific region shapes up after the Biden administration settles down.
As far as India is concerned, there is a lot of gap between the cup and the lip and calls for a wait and watch mode till the dust settles down.
Any future course of action towards active participation in the alliance when formed would need a lot of deliberation, long term vision and should be in our best national interests.
Feature Presentation: Rajesh Alva/Rediff.com