Bose's views make it amply clear how he would have dealt with communal and supremacist forces post-Independence had he been there at the helm instead of Nehru, points out Utkarsh Mishra.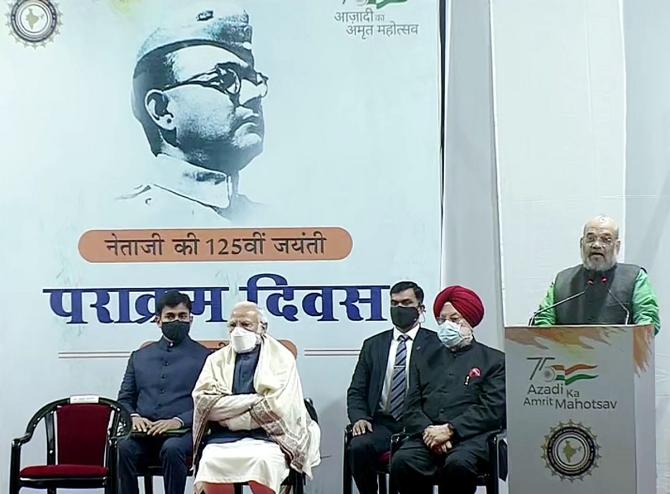 With Prime Minister Narendra Modi's announcement of installing a 'grand statue' of Netaji Subhas Chandra Bose at India Gate, the politics over Netaji's legacy has once again charged up.
It is no secret that the current dispensation makes all efforts to portray the tallest leaders of the freedom movement, most prominently Sardar Patel and Bose, as the antithesis to Jawaharlal Nehru, by presenting a monochromatic picture of their political differences.
So much so that Bose is often referred to as 'India's first prime minister' by several quarters in the Hindutva fold, because he established the Provisional Government of Free India (which he called Arzi Hukumat-e-Azad Hind, a name the chief minister of Uttar Pradesh may want to amend), with the support of the Japanese empire, in Singapore during World War II.
It could be a matter of debate whether we should include the heads of provisional governments in exile in the list of prime ministers or Presidents.
In which case, it should not be forgotten that the first provisional government of India in exile was established on December 1, 1915 by Raja Mahendra Pratap Singh at Kabul in Afghanistan during World War I, with himself as president, Maulavi Barkatullah as prime minister and Maulana Ubaidullah Sindhi as home minister. This government was also supported by the Central Powers, that consisted of Germany, Austria-Hungary, the Ottoman Empire and Bulgaria.
In September 2021, Modi laid the foundation of a new university in Aligarh, named after Raja Mahendra Pratap Singh, where he hailed his contribution to the freedom struggle.
To revert to Bose, what the present government and their supporters need to understand (or perhaps they do, and merely pretend not to) that despite their many differences, Nehru, Bose and other leaders of the freedom movement were united in their opposition to communal politics and majoritarianism.
Bose made no secret of this in his writings and speeches. He kept the Hindu Mahasabha and Muslim League in the same group and called them communal parties that compromise with the British.
In his autobiography The Indian Struggle, Bose writes about his 'long talks with president of Hindu Mahasabha Mr Savarkar and president of the Muslim League Mr Jinnah' and says that 'he came to a conclusion that nothing could be expected of them'.
Further, in an Azad Hind radio broadcast from Germany on August 31, 1942, Bose said, 'I would request Mr Jinnah, Mr Savarkar, and all those leaders who still think of a compromise with the British, to realise once for all that in the world of tomorrow there will be no British Empire. All those individuals, groups or parties who now participate in the fight for freedom will have an honoured place in the India of tomorrow. The supporters of British Imperialism will naturally become nonentities in a free India.'
National unity was paramount for Bose and, in his writings, he alludes several times that the Hindu-Muslim problem was a creation of the British and 'will disappear once we're free from the foreign rule'.
In an article published in August 1942, Bose explains how the 'anti-national elements' who try to 'disrupt this unity' should be dealt with. 'they will have to be firmly suppressed along with such secret British agents as may still exist in the country… [a]n adequate police force will have to be organised for this purpose'.
That Bose wouldn't have shied away from doing what he says here also becomes clear from an experience Shyama Prasad Mookerjee -- the founder of the Bharatiya Jan Sangh, the parent of the Bharatiya Janata Party -- has with him.
In his biography of Mookerjee, BJP leader Tathagata Roy quotes the former's diary to say that Bose had warned him against organising the Hindu Mahasabha in Bengal.
'Subhas once warned me in a friendly spirit, adding significantly, that it we proceeded to create a rival political body in Bengal, he would see to it, by force if need be, that it was broken before it was really born. That I considered to be most unfair and unreasonable attitude to take up,' Mookerjee wrote.
Roy also writes that Mookerjee 'was convinced' that the Congress and Bose brothers 'could not be expected to take up the cause of the Hindus' as they were obsessed with their 'secular image'.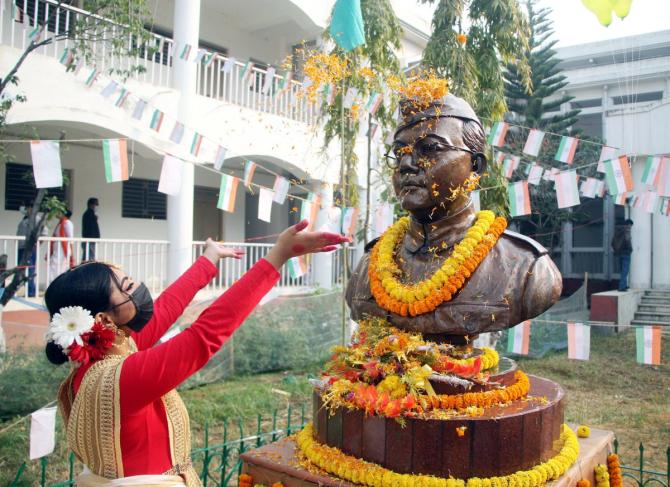 Bose's view of India's pre-British history was also markedly different from how the current leadership of the country sees it. Consider the following paragraph, and imagine what its author would be called today by RSS-BJP supporters:
'I am inclined to think that in proportion to their numbers, and considering as a whole, the Muslims have never ceased to play an important role in the public life of the country, whether before or under British Rule... History will bear me out when I say that it is a misnomer to talk of Muslim rule when describing the political order in India prior to the advent of the British.'
'Whether we talk of the Moghul emperors at Delhi, or of the Muslim kings of Bengal, we shall find that in either case, the administration was run by Hindus and Muslims together, many of the prominent cabinet ministers and generals being Hindus. Further, the consolidation of the Moghul Empire in India was affected with the help of Hindu commanders-in-chief.'
This is Bose writing in his unfinished autobiography -- An Indian Pilgrim -- published by Netaji Publishing Society after his death.
These views of Bose make it amply clear to anyone how he would have dealt with communal and supremacist forces post-Independence had he been there at the helm instead of Nehru, a wish many within the Hindutva fold express today.
If our leaders today are really serious about the fulsome tributes they pay to these stalwarts of the national movement, they should also walk on the path shown by them.
A leadership that stays silent on open calls of genocide by a section of the majority community holding extremist views should not merely exploit the name of giants like Bose to score political points.