'We have never had a policy regarding Pakistani artistes working in India.'
'We welcome them with open arms and that remains the official policy of the Indian government, including the current dispensation.'
'So if Fawad Khan or for that matter Mahira Khan come to Bollywood for work, it is not illegal,' says Syed Firdaus Ashraf.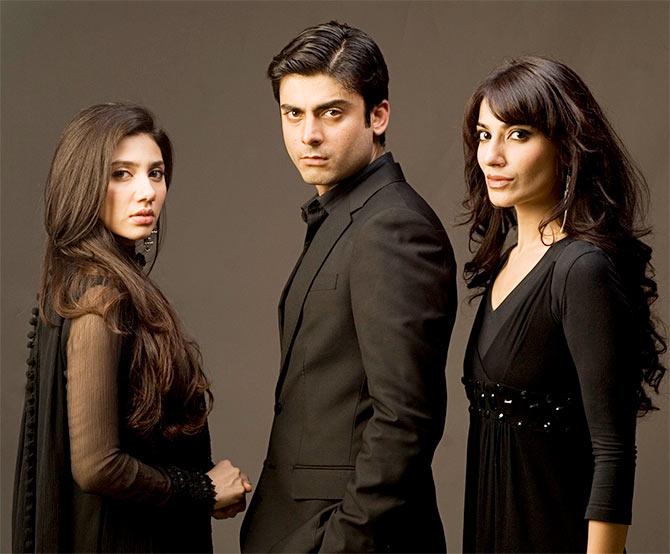 IMAGE: Mahira Khan, Fawad Khan and Naveen Waqar in Humsafar.
Who is Zhu Zhu?
Now before you Google to seek the answer, let me remind you of an incident which I mentioned in an earlier column.
A decade ago, I met a Pakistani journalist at a Bollywood event, which was to be attended by actor Shahid Kapoor.
During our conversation, she asked, "How does this actor have a name, Shahid, which is a Muslim name, and Kapoor, a Hindu surname?"
I told her that Shahid's mother Neelima Azim was a Muslim and his father, actor Pankaj Kapoor, was a Hindu. Therefore, the name Shahid Kapoor.
"So what religion does he practise?" she wanted to know, to which I responded, "Welcome to Bollywood. Here people practise the religion of love."
I then quoted Faiz Ahmed Faiz, the legendary Pakistani poet: Aashiq toh kisi ka naam nahi, kuch ishq kisi ki zaat nahi (Love has no name or religion).
Ten years later, times have changed and how!
A couple of days ago, the Maharashtra Navnirman Sena issued an ultimatum to Pakistani actors to leave India after the Uri terror attack in which 18 soldiers were killed.
Bollywood has long shown India's secular face to the world and proved that only talent will take you the distance -- irrespective of your country or religion.
You are welcome as long as you keep delivering hits at the box office, that's the only thing that matters.
The history of Pakistani artistes working in Bollywood is as old as the history of independent India. My first memory of a Pakistani artiste is Nazia Hasan of Disco Deewane fame, not to forget Hasan Jahangir's Hawa Hawa song.
It is not that we were not at a proxy war with Pakistan then because Punjab was bleeding in an insurgency that was bloodier than Kashmir ever will be, and the moral and material support then too flowed from Pakistan out to avenge 1971.
But to India at large, it didn't matter who the artistes were -- Ghulam Ali, Mehdi Hassan, Nazia Hasan, Hasan Jahangir, they were all cultural ambassadors of peace.
Today, the dynamic has changed. We, as a nation, accuse Pakistani actors of not condemning terror attacks and taking a strong stance against their government, which is hand in glove with the perpetrators of dastardly terror strikes in India, despite earning their moolah in India.
Once, the poet Ahmed Faraz was asked why artistes failed to promote peace between the two neighbours. Faraz replied, 'We are poets. What can we do? Today, it is difficult for us to manage our homes. How can we save a country?'
In the same breath he asked, 'Faraz ishq ki duniya toh bahut achchi hai. Ye fitna hijr-o-judai kis ne rakhi hai? (The world of love is so good. Who has created the problem of separation?)'
One may argue that artistes like Faraz live in an ivory tower far removed from the reality around them, and that ordinary citizens can't overlook the fact that these performers from across the border earn hand over fist in India at a time when Indian soldiers keep getting killed at the border.
The trouble with successive Indian governments has been that we have never had a policy regarding Pakistani artistes. We welcome them with open arms and that remains the official policy of the Indian government, including the current dispensation which was elected to power on the plank of a strong counter-terrorism message.
So if Fawad Khan or for that matter Mahira Khan comes to Bollywood for work, and actually find enough of it, it is not illegal.
When Narendra Modi was sworn in as prime minister in May 2014, people expected things to be different. That hope was dashed when he invited Pakistan Prime Minister Nawaz Sharif to his swearing-in ceremony, proving in the process that his government was no different than from the previous Congress regime which its critics had charged which went out of its way to accommodate Pakistan.
Modi further surprised everyone last year by visiting Lahore on Nawaz Sharif's birthday. He took a wild risk, possibly hoping that a solution on Kashmir could be worked out through out-of-the-box thinking.
A week later, that myth too was demolished when the Jaish-e-Mohammed's Pakistan-based terrorists attacked the Indian Air Force base at Pathankot.
Modi even allowed a Joint Investigation Team from Pakistan, comprising Inter-Services Intelligence officers, to visit Pathankot and provided them with proof of the Jaish-e-Mohammed's involvement in the attack. Despite that, Pakistan refused to cooperate in the investigations, or apprehend the guilty.
After Uri, Indians have realised that they have been tricked by Pakistan for far too long and are clueless about ways of getting back at Islamabad.
While some feel Pakistan High Commissioner Abdul Basit must be asked to leave, others say the Indus Water Treaty should be scrapped in order to teach Pakistan a lesson.
A week after the attacks, we have found out that none of these methods is practical, and we are back to square one.
So what do we do?
Target Pakistani artistes to avenge our soldiers's deaths.
Remember at the start of this column, I asked who Zhu Zhu was? Well, she is a Chinese actress who will star with Salman Khan in his next movie, Kabir Khan's Tubelight.
No one has asked Zhu Zhu to apologise for China not supporting India's move in the United Nations to ban Jaish terrorist Masood Azhar. China vetoed India's move and there was very little we could do.
When India sought membership of the Nuclear Suppliers Group, China blocked our entry.
As a nation, we show very little resentment towards China despite China's occupation of thousands of kilometres of Indian territory grabbed during the 1962 War, and despite its open support for Pakistan.
Why, we don't ask Zhu Zhu what she thinks of China supporting Masood Azhar.
Why do we have different standards for Chinese and Pakistani artistes working in India?