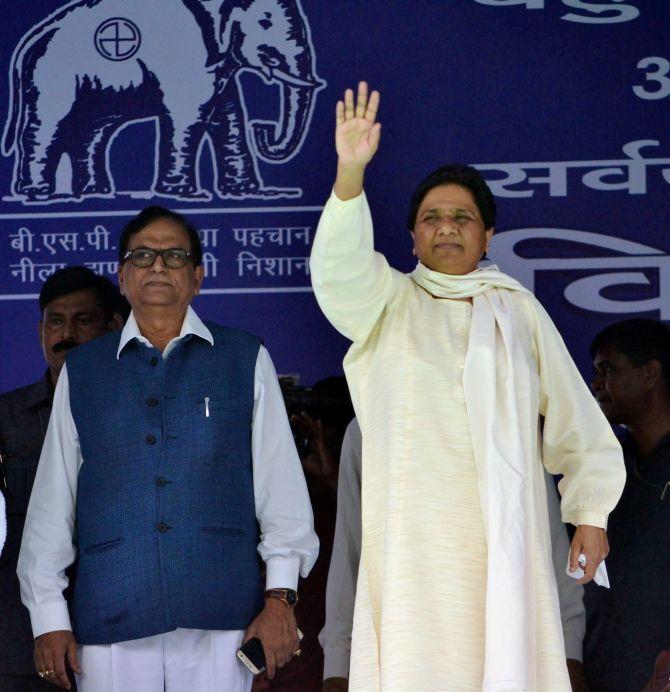 A full majority may be difficult, but Mayawati is in a commanding position this time round, says Nazarwala, who called right the 2007 and 2012 UP elections.
Mayawati believes she will eat the 'whole Uttar Pradesh cake' on her 61st birthday in 2017. She confidently claims she will go it alone this time.
UP's voters, willy-nilly, seem to be veering around to concede Mayawati's point. They are gearing up to support Behenji, as she is famously called.
The Bahujan Samaj Party is a one-woman party where the supremo's wish is the final command. None dares to contradict or oppose her.
Her deputy in the party, Satish Mishra, looks after her court cases and other interests. He is her Brahmin paw, as he helps her garner votes of the community as and when she grows into a 'power centre'.
This Kanyakubja Brahmin is treated with disdain by other UP Brahmins in general, and the Saryuparins and Mathurias in particular.
He has nowhere else to turn to, and hence he has stayed with her.
In her shadow, his stature and importance are increasing.
Besides Brahmins, Behenji needs the support of Muslims. But they are wary of her opportunistic politics.
Her past links with the Bharatiya Janata Party are a cause for their concern. Just in case she falls short of a full majority, she may join hands with the BJP once again, they fear. In that case, their votes would be frittered away.
Mayawati has perceived this.
Sensing the Muslim sentiment, she has re-adjusted her sails.
From time to time, she demonstrates that she is distancing herself from the saffron party. She also makes occasional critical remarks against the BJP, purely for the Muslim masses to take note of.
The mullahs, nonetheless, are wary and suspicious. They take her BJP stance and remarks with a tonne of salt.

Her frustration due to her failure in sorting out the disproportionate assets case against her with BJP support is the main cause of her opposition.

A Capricorn never forgets, nor forgives.
Although she is emerging as a strong contender this time -- the crisis in her main opponent, the Samajwadi Party, is the icing on the cake, for there is no other place for those Muslims deciding to abandon Mulayam Singh Yadav can go to but Mayawati.
A clear, simple majority may still be difficult to manage, forcing her to rely on outside support.
Therefore, she is arduously nursing and wooing the Muslim votebank. The Muslim masses are being persuaded to believe in her secular stance.
On what basis? Because there was not a single communal riot during her strong five-year rule during 2007 and 2012.
Keeping the Muslim votebank in mind, she may agree to accommodate and encourage All India Majlis-e-Ittehadul Muslimeen chief Asaduddin Owaisi in his foray into UP.

This, she hopes, will counter the 'Mulayam-Bukhari' understanding.
She has also sent a strong signal to the Congress in Uttarakhand where she supported Chief Minister Harish Rawat, with her trusted hatchet man Naseemuddin Siddiqui doing the trick for her.
Rahul Gandhi and Prashant Kishor are thrilled by Behenji's open support in Uttarakhand, and are ready to back her in UP on the condition that she accommodates a couple of Congress leaders in her cabinet.
She smirks at their cheek, yet smiles like a politician.
She is wary of ambitious Nitish Kumar and his Mahagathbandhan (grand alliance) plans. Her hatred for Mulayam Singh Yadav, and the possibility of him joining this alliance, makes her cautious.
Jats and Jatavs are known to vote against the wind in UP. However, their leaders -- Rashtriya Lok Dal chief Ajit Singh and Mayawati -- may see some advantage in wooing their combined votes.
Ajit Singh, the Jat leader, is lurking in the wings, wooing Behenji for a share in power. And she wants to keep all her options open.
The possibility of getting Brahmin, Muslim and Jat votes boosts Mayawati's morale.
Topping it all is the struggling Congress, desperately pleading to ride piggyback on the BSP's elephant symbol.
BJP chief Amit Shah's Dalit-dip gimmick in the Ujjain Kumbh cannot make a dent in her votebank.
In fact, that strengthens the Dalits' resolve to support their Behenji.
Strong governance and effective law and order during her regime are being fondly recalled by the public disgusted with the Yadavs' 'goonda raj'.
Mayawati is in a commanding position this time.
Getting a BSP ticket is seen as a sure-shot entry into the Vidhan Sabha. It even commands a hefty premium nowadays, it is said in Lucknow.
What such talk represents is that Brand Mayawati and the BSP have re-surfaced in UP once again after 2007.
The 'Gaja-Keshari Yoga' in her horoscope may still do wonders for this 'Dalit Ki Beti.'