#RIP #Brexit #Trump #Aleppo made Twitter a pretty distressing place in 2016. Dhruv Munjal wonders what 2017 will bring.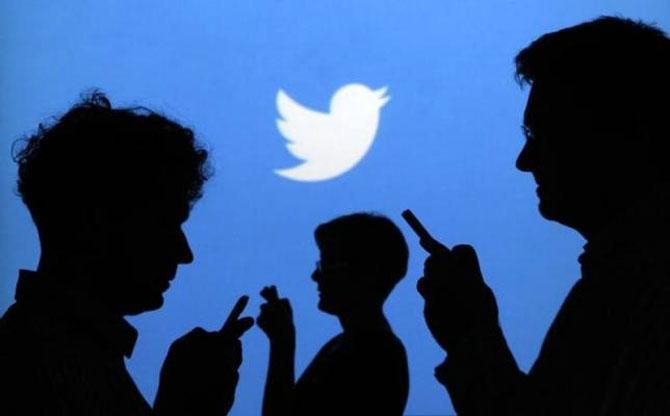 IMAGE: Twitter made for a tumultuous does of social media in the past year. Photograph: Reuters.

Twitter's propensity for caustic jibes and sardonic criticism has seen it painfully fall behind in the endearment stakes for a few years now, but 2016 brought with -- apart from the usual distastefulness -- expansive desolation. #RIP, #Brexit and #Trump made Twitter a pretty distressing place in 2016. Add to that the unfortunate killing of black people in America and the grisly happenings in Aleppo, and you were handed a tumultuous dose of social media that seldom made for pleasant viewing.
The year was welcomed with gasping awes and unrestrained glee at the sight of Leonardo DiCaprio finally landing an Oscar, for his role in The Revenant; it ended with bafflement after an orange-haired motor-mouth won, quite inexplicably, the race to the White House -- the annual oscillation a bit too extreme for most people's liking. In some ways, DiCaprio and the #Oscars was as blithesome as Twitter got in 2016. For most of the other part, the Twitterati was strafed with the Donald Trump brand of idiocy.
Closer home, this honour fell to the ravishing Kamaal Rashid Khan, of Deshdrohi fame, who was accused by Ajay Devgn of taking money from director Karan Johar to ridicule the former's film, Shivaay. If Johar had bothered to see the trailers carefully, the cash would have never left his pocket -- so terrible was Shivaay that the makers of the film can actually write a riveting thesis on the art of self-destruction in the years to come.
There were some, though, who did manage to lift the gloom. Virender Sehwag regaled us with "Viru gyaan" and hilarious birthday messages for his former teammates. For the sake of national pride, he even decided to do battle with British television host Piers Morgan. What started as a light-hearted take by Morgan on India's insipid record at the Olympics, quickly snowballed into a swipe fest that involved English grammar, the authenticity of kabaddi as a sport, and England's inability to win the cricket World Cup -- the Delhi dasher's Jat humour ensured that things never got too serious on Twitter.
Sehwag's fellow commentator, Sanjay Manjrekar, was not so lucky. In October, tennis star Sania Mirza tweeted: "Today I complete 80 consecutive weeks as the number 1 player in d world. It's been an amazing journey and just inspires me to work harder". Manjrekar rebutted with "No 1 doubles player you mean. Congrats!". The feminists scoffed and the Hyderabadis howled. This engagement, however, couldn't match the spitefulness of the Sehwag-Morgan affair.
Other usual suspects didn't disappoint, either. Delhi Chief Minister Arvind Kejriwal posted his corruption-centred tirades throughout the year, blaming the Prime Minister for pretty much every thing that was happening around him. He even invited public ire for an "anti-India" tweet, sharing an article by a national daily that made a case in favour of Pakistan over the Uri terror attack. Irrespective of the backlash, the Aam Aadmi Party leader was at least using his account himself. Well, because, someone else wasn't.
Rahul Gandhi was crudely woken up one morning earlier this month with the news that his Twitter account had been hacked into. The guys responsible, a group called Legion, went on to talk about the corrupt practices of his family and party for a few minutes. The group also took the liberty of commenting on the Congress Vice-president's sexual orientation.
NDTV journalists Barkha Dutt and Ravish Kumar were also hit by attacks from Legion.
But mostly through 2016, Twitter remained in a sombre mood -- the tipping point being British singer George Michael's death last week. Other famous faces who received warm tributes included David Bowie, Prince, Muhammad Ali, Alan Rickman and Carrie Fisher.
Here's hoping for a happier Twitter in 2017.
---
#RIP: Legends we lost to 2016