The CJs' conclave didn't touch core issues and remedies within their reach, says M J Antony.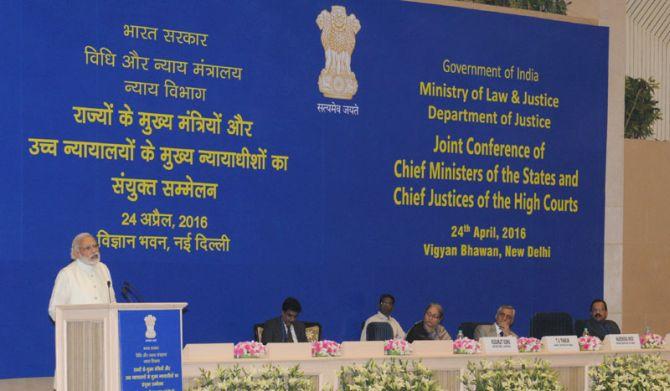 IMAGE: Prime Minister Narendra Modi addresses the Joint Conference of Chief Ministers and Chief Justices, in New Delhi on Aoril 24, 2016. Photograph: PM's website
The annual chief justices' conference ended recently after passing 21 resolutions, the last two appreciating the initiative taken by the government for setting up commercial courts. It appointed various committees and cells, which are par for the course. Among the mundane decisions, it adopted a judicial committee report on parity of wages for domestic help of retired judge. The conference hit the headlines only for its lachrymose finale.
None of the resolutions touched upon reforming the ailing system from within, like reducing the number of holidays (195 days) and increasing working hours. It was left to the attorney general, a few days later, to tell the Chief Justice of India that the judges must share the blame for letting cases pending for long years. He lamented that corporate litigants are allowed to leapfrog over ordinary ones. The AG suggested imposition of heavy costs to mulct big corporations who indulge in protracted litigation.
The very next morning, the court imposed Rs 50 lakh on a clutch of companies fighting each other for the past four years. That raised many eyebrows because there are no definite criteria for fixing responsibility for causing delays. Seeking adjournments, for instance, is part of lawyers' legal armoury, but granting them liberally requires some explanation. Computing the loss to the public is also fuzzy. One guess made by the court in this case (Star India) was that counsel were charging their corporate clients Rs 10 lakh or more for one appearance (against Rs 8,000 fixed by the SC Rules 2013). Apparently the clients should suffer for spoiling their counsel.
In a PIL involving farmers' suicide, the court inflicted a fine of Rs 25,000 on the government for not filing affidavit despite court's repeated directions, observing that the government was not serious about the issue. Taxpayers will have to recoup the government -- not the guilty officials.
A few weeks ago, another bench of the court imposed Rs 25 lakh on three companies, including a German firm, observing that it was a classic case of "unscrupulous litigants with money power" abusing the judicial process for 18 years. The amount will be given to the legal aid authority.
There is no hint that this Robin Hood approach will mark the beginning of a trend or whether these will remain mere specimens. The chief justice remarked that his order was "experimental".
The high court judges also seem to be fretting about wasteful litigation. Recently, the Delhi high court, in Puri Constructions vs L&T, rued that it had to face "prolix and interminable" arguments from senior counsel.
"The court unsuccessfully entreated them to limit oral arguments; equally unsuccessful were attempts at ensuring that written briefs were kept within limits…One hopes that there is some clarity within the legal system about the kind of time limit to arguments in such cases, to ensure timely disposal of appeals," the judgment said.
In another case, CE Construction Ltd vs Intertoll, the high court imposed Rs 1 lakh as costs, regretting that Satya was suffering in courts for some four decades. It said that "courts are continuing to be flooded with litigation with false and incoherent pleas and tainted evidence. The judicial system is choked and such litigants are consuming courts' time for wrong causes".
The judges appeared to be unable to control the proceedings when there is abuse of process right before their eyes.
At the apex level, the judges can start by stemming the flood of appeals which are admitted at their discretion. Nearly half of them are admitted, according to a recent survey. Many years later, most of the dog-eared briefs are dusted only to be disposed of in a few sentences as time acts as a better arbiter. A constitution bench dealt with this issue in January this year but concluded that the judges' discretion is boundless.
What the chief justices could have discussed at their meeting was ways their brethren could weed out debilitating litigation that tie up court's time and add to the clients' bills. They have diagnosed and written about the symptoms often but seem to be shirking away from any solution. Many people place judges next to God, and like the Deity, they are seen either powerless to take charge or unwilling to exercise authority to stop injustice.