Chinese observers believe the Sino-US relationship will be impacted by issues in North Korea, Japan, India, Ukraine and Iran and that conflicts with these 'third parties' will without exception ultimately become conflicts between China and the US, points out former RA&W officer Jayadeva Ranade.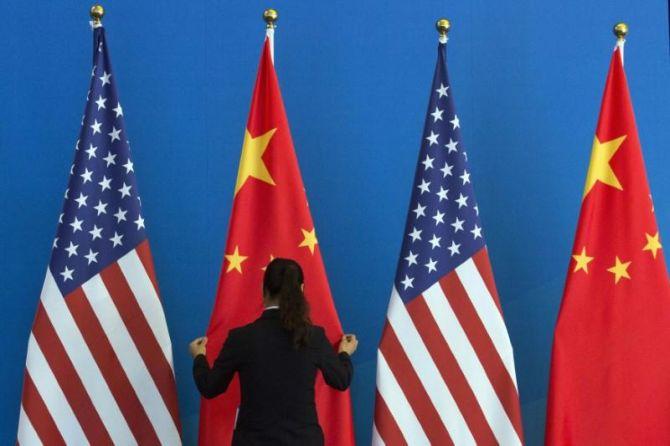 The Sino-US relationship, one of the world's most important in the past nearly four decades, is undergoing fundamental change with US President Donald J Trump translating into action the apprehensions of the US establishment about China's rise and potential challenge to US primacy.
He is the first US president since Nixon to begin altering the nature of US relations with China.
By initiating the so-called 'Trade War' with China this April he has effectively put China on notice.
Chinese analysts and strategic experts have been quick to assess -- quite correctly -- that the trade war is actually a bid to 'contain' China's rise.
Many Chinese analysts have harboured suspicions about Trump's true attitude towards China ever since his precedent-breaking telephone conversation with Taiwan President Tsai Ing-wen in December 2017.
Shi Yinhong, professor of international relations at Renmin University in Beijing, at that time promptly asserted 'the US President-elect hates China and will encourage Tsai to resist pressure from the mainland.'
Chinese intellectuals and academics, including from the Chinese Communist party's prestigious Central Party School in Beijing, have since last year been warning that China should tone down its aggressive rhetoric and not have an exaggerated sense of its economic or military strength.
In September 2017, Luo Jianbo, head of the China Foreign Policy Centre at the Central Party School, cautioned against over-estimating China's strength and said people need to guard against 'arrogance' and 'conceit'.
Luo especially pointed to the hype surrounding the Belt and Road Initiative and the BRI Forum in April 2017.
With consensus in China virtually coalescing around the view that the real US agenda is to severely retard China's rise, there are indications that China's leadership is preparing to contend with a more competitive, if not confrontational, US.
The latest issue of Qiushi the CCP central committee's authoritative theoretical journal, published a lengthy commentary defending China's economic system and asserting that America's real goal in launching the trade war is to thwart China's rise.
Long Guoqiang, vice-president of the Chinese government's in-house think-tank the Development Research Centre, wrote in the official People's Daily on August 26, that he expects 'deep structural change' in the US-China relationship with the US treating China as a key rival.
'The trade war is ... an important strategy to contain China,' Long declared.
He advised that China not engage in angry rhetoric, but match the US action for action while being ready to resume negotiations any time.
Long recommended that the Chinese government offer assistance to companies hit by tariffs, help find new markets for exporters and search for alternate sources for imports.
China, he insisted, must not abandon its domestic agenda.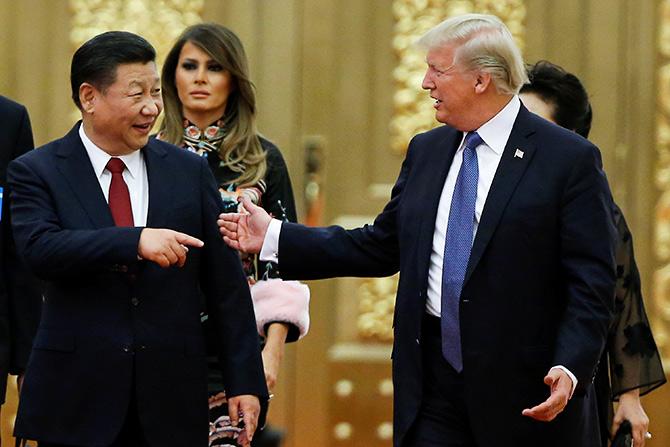 Important is the article written in April 2018 by Yuan Peng, vice-president of the China Institutes of Contemporary International Relations, a think-tank of China's ministry of state security.
Stating that a fundamental structural change in the Sino-US relationship is underway, Yuan described the ongoing trade war as the first serious clash between China and the US.
Underscoring its seriousness, he observed that unlike on previous occasions this time the entire American society is involved, with the US government taking the lead and no voices supporting China.
This, Yuan said, is because the US today views China as a competitor not only in the Asia-Pacific, but also globally.
He pinpointed the launch of the 'One Belt and One Road' and the Djibouti Safeguard Base project as triggers that convinced the US that China is a global opponent.
Yuan additionally cautioned that the Sino-US bilateral relationship will be impacted by issues in North Korea, Japan, India, Ukraine and Iran and that conflicts with these 'third parties' will without exception ultimately become conflicts between China and the US.
Crucial to the trade war is the 'Made in China 2025' programme representing the Communist party leadership's declared effort to make China a hi-technology power on par with the world's most advanced nations by 2025.
Technology is critical to China's emergence as a major world power and the sector is at the centre of the tariffs imposed by the US.
The ban on China's telecom company ZTE on doing business -- subsequently lifted with provisos -- and purchasing micro-chips and semi-conductors in the US crippled the company, which has substantive investments from China's defence State-owned enterprises and is closely tied to its security apparatus.
It demonstrated to Chinese leaders their vulnerabilities and clearly indicated that China's technology sector is a target.
This was soon followed by punitive tariffs on 44 Chinese military companies and placing them on the 'Entities List'.
On September 20, the US sanctioned Russia's Rosoboronexport and the Chinese military's equipment development department.
China's response was swift.
It recalled its navy chief who was visiting the US, deferred a meeting on joint staff communications scheduled for September and summoned the US ambassador.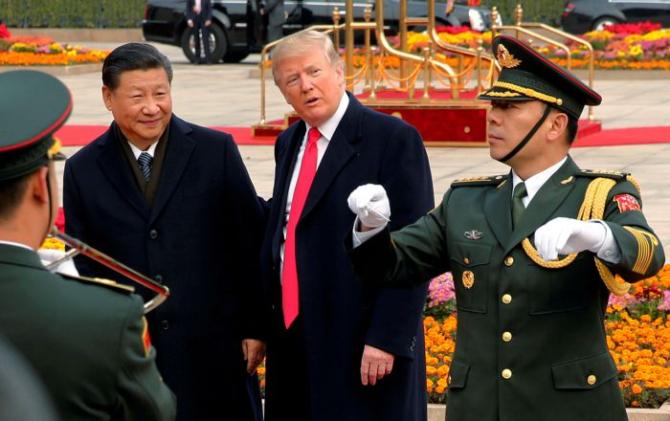 Adding to this pressure on Xi Jinping is the perceptible slowing down of China's economy and growing definitive push back on his signature Belt and Road Initiative.
Germany, France, Britain, the European Union, Australia, Japan and Canada have begun stopping Chinese companies from purchasing their technology and hi-tech companies.
On August 1, the US Congress passed a bill making national-security reviews of Chinese deals in the US more stringent and revamped export controls governing which US technologies can be sent abroad.
With US officials expressing confidence that they have the stronger hand and China is more dependent on trade than the US, the trade war between the US and China is unlikely to ease anytime soon unless Beijing capitulates.
Jayadeva Ranade -- former additional secretary in the Cabinet Secretariat, Government of India -- is presently President, Centre for China Analysis and Strategy.