'There is nothing that Pakistan has done which deserves a resumption of dialogue. The assurances made in Ufa contain no commitment except a whole range of talks, which could take place without the paraphernalia associated with a joint statement of prime ministers,' says Ambassador T P Sreenivasan.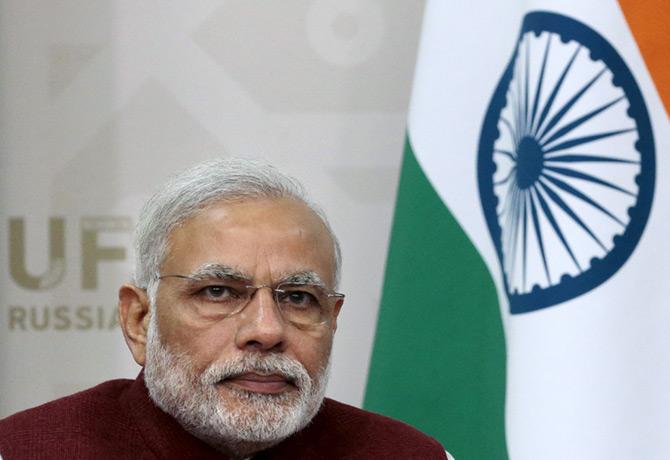 India has just walked into a device by Pakistan to make a success of the South Asian Association of Regional Cooperation Summit in Islamabad next year.
Nawaz Sharif's Ufa exercise was, perhaps, aimed at ensuring that Narendra Modi attends the Summit. After the Kathmandu Summit, where India was virtually isolated over the issue of China's admission to SAARC, Pakistan was not at all sure that Modi would travel to Islamabad.
Moreover, India had already started thinking of a SAARC without Pakistan, given the possibility of Pakistan not allowing any progress to be made in the SAARC agenda. The plethora of measures announced in Ufa has made it incumbent on Modi to attend the Summit.
The Islamabad Summit is likely to be an embarrassment for India if it continues to maintain its position that China has no place in SAARC as a country outside the region.
India's admission to the Shanghai Cooperation Organisation is the trump card China will play from now on to find itself in SAARC. If India concedes the point to China, SAARC will be another forum, where we will have to confront a China-Pakistan axis, which will be warmly welcomed by the others.
Modi appears to have ignored the dangers of the next SAARC Summit in his enthusiasm to show progress on the Pakistan front.
Neither the previous government, nor the present one has been able to take a consistent stand on Pakistan. The Nobel Prize Syndrome, the urge to take credit for resolving an old and festering issue and thus gain recognition and fame seems to haunt Indian leaders, while the Pakistan establishment, whether civilian or military, remains committed to its core interests.
For the Indian leaders, applause from the West becomes important and encouraging. The more concessions we make, the more the applause. But since concessions cannot be given beyond a point, the governments take hesitating steps towards concessions and then step back.
For a prime minister, who promised a tough line towards Pakistan, Narendra Modi gloating over the five points read out by the two foreign secretaries is an anti-climax.
A meeting of NSAs to discuss matters relating to terrorism, a meeting of the directors general of BSF and Pakistani Rangers, a meeting of the directors general of military operations, release of fishermen and promotion of religious tourism are not the stuff that progress is made of. Of course, a pious declaration of intent to speed up the Mumbai attacks trials is welcome, though the onus seems to be on us to give more evidence.
If such declarations can be rewarded by a visit to Islamabad by the Indian prime minister to attend a SAARC meeting, Pakistan has got it the easy way.
Of course, much will happen between now and the SAARC summit and the agreement to attend it may be the biggest weapon we may have to get Pakistan on track. Someone once said in all seriousness that unless we fix meetings, how can we cancel them to show our displeasure?
The prime minister's presence at the SAARC summit should have been negotiated on the basis of SAARC-related issues. First and foremost, a consensus should be reached on China's admission. It should not appear as though India has succumbed to pressure from others to get China in.
We should insist on continuation of China's observer status as those outside South Asia have no place in SAARC as members. It might even be desirable to impose a moratorium on new members, like APEC did, now that the region has been fully covered.
Secondly, there should be a commitment from Pakistan to strictly observe the SAARC rule that bilateral issues should not be brought in even obliquely.
Thirdly, there must be progress on trade issues.
Fourthly, the agreed declarations of SAARC on various issues should be respected and implemented.
Such an agreed agenda will help Modi to participate effectively in the summit without any risk of embarrassment.
It may well be possible that both sides may have thought that arranging Modi's visit under a multilateral guise may be less risky than doing it bilaterally. But the multilateral format will entail expression of views by others and bring pressure on us to act in a particular manner. Bilaterally, we can remain consistent with our positions, if we want to.
On the broader issue of resumption of dialogue, Modi has compulsions of previous positions articulated by him and his party. Previous prime ministers have resiled from their earlier positions, either because of external pressure or a change of heart.
Objectively, there is nothing that Pakistan has done which deserves a resumption of dialogue. The assurances made in Ufa contain no commitment except a whole range of talks, which could take place without the paraphernalia associated with a joint statement of prime ministers.
The only plausible reason for Modi's change of heart could be the forthcoming election in some states, which dictate that the party cadres have something to show as Modi's triumph, which will not be tested before the elections.
On the other hand, knowledgeable voters will see Ufa as a surrender to Pakistan and hence a diminution of the Hindutva agenda. Will an erosion of the Muslim vote bank of the Congress and other opposition parties make that up?
If the motivation for Modi is geopolitical calculations, the message that gets through is that the situation is not favourable from our point of view. Russia may not have suggested another Tashkent to India and Pakistan, but there are indications that Russia too has joined the Western bandwagon, which wants India and Pakistan to strike a bargain.
Pakistan is on a winning streak in Afghanistan, which causes us some concern. China is all set to make its presence felt in Afghanistan. If the idea is to speak from a position of strength, this does not look like the time to strike a deal.
But Modi's readiness to visit Islamabad may well have helped him with the atmospherics, not only in Russia, but also in the Central Asian Republics.
Much will depend on the outcome of the several meetings and minor initiatives agreed upon by Modi and Sharif. The run up to the SAARC summit promises to be active and eventful.
REDIFF RECOMMENDS
T P Sreenivasan is a former Ambassador of India and Governor for India at the IAEA; Executive Vice-Chairman, Kerala State Higher Education Council and Director General, Kerala International Centre.
You can read Ambassador Sreenivasan's earlier columns here.
Image: Prime Minister Narendra Modi attends the BRICS and the Shanghai Cooperation Organization summits in Ufa, Russia, July 8. Photograph: Ivan Sekretarev/Reuters.