Like the other platforms, the Clubhouse will have more users in India than anywhere else because of the interest we have in knowing what others are doing and in letting others know about our activities, predicts T P Sreenivasan.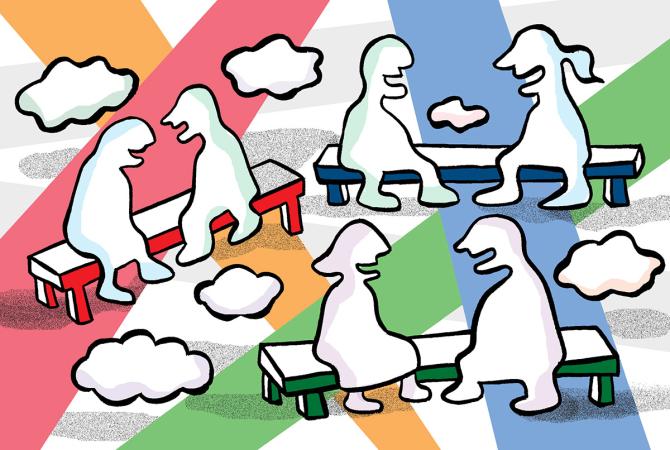 I recently discovered a club house right in my study when I joined the Clubhouse.
Where else can we go around live rooms, pop in, join the conversation without let or hindrance and leave quietly at any time?
Where else can we have an audience numbering up to 5,000 mostly educated youngsters without advertising in the media?
Where else can we propagate an idea, an institution, a product or lifestyle without any charge?
Where else can we meet celebrities and thought leaders and talk to them? As of now, no one is aware of monitoring or censoring the conversations.
No video, no pictures, only literally your voice is heard from a stamp size still picture. We can even use a false name and not include a picture
No wonder Elon Musk and Bill Gates arrived on Clubhouse and validated the company and the idea of live, interactive audio streaming.
Though it began at 1 am New York time on a Monday, Musk's room quickly hit the Clubhouse maximum of 5,000 concurrent listeners.
All-day long, hustlers and hucksters sought to get in on the action, hosting pre-show discussions, post-show recaps, and a cash giveaway by a sponsor.
On Clubhouse, Musk appeared on The Good Time Show, a roughly three-week-old late-night event hosted by the husband-and-wife team of Sriram Krishnan and Aarthi Ramamurthy and made a recent low key audio chat platform the most sensational show on earth.
The Clubhouse is an app on your phone that lets you listen in on other people's live conversations, not as peeping Toms, but in a dignified manner as these people want to be heard.
They may even be famous, or at least interesting or knowledgeable.
The Clubhouse was launched in March 2020 right at the moment when the COVID-19 related lockdowns gave millions of people a lot of leisure.
Membership was by invitation like any other real-world club membership.
In those early days, it was a tiny community, mainly consisting of venture capitalists.
After all, the company behind Clubhouse -- Alpha Exploration Co -- received a $12 million investment from Andreessen Horowitz after two months of existence. It was quickly worth $100 million and rose to 4 billion in April 2021.
Another unique feature of the app is that Clubhouse has no official logo icon.
It has opted for an ever-rotating black-and-white portrait of a person as its icon that appears on a smartphone screen.
Each person is a real-life user of Clubhouse. Usually, it is someone who has had an important impact on the platform or is at least someone Clubhouse believes has a deep understanding of what it is doing.
Each icon lasts a few weeks and gets changed with a major app update.
Clubhouse is on its eighth iconic person, a social activist and visual artist Drue Kataoka.
Previous icons included musician, Axel Mansoor and Bomani X, a startup promoter Erika Batista, and tech podcaster Espree Devora.
In Kerala, Muralee Thummarukudy and 'Collector Bro' have the potential to be Clubhouse icons because of their frequent and impressive appearances and the number of their followers.
Clubhouse does not seem to collect much data from its members.
You have to give Clubhouse your phone number and your name, but the name can be changed once in your incarnation as a Clubhouse member.
The person inviting you simply needs your phone number.
You will get a link via SMS text, telling you to visit a site and sign in with that number.
You can link your Twitter account to Clubhouse if you do not want to set up a profile from scratch; it will even pull in your existing Twitter profile picture and contacts.
Visiting the Clubhouse is like visiting a trade or book fair. You walk past exhibits to see what is available and drop by an interesting stall and see things in detail and even buy a few souvenirs.
The fare in various rooms is diverse, ranging from Philosophy to Pornography.
Conversation rooms come and go as people launch or end them.
The Clubhouse says it records conversations as they happen but only retains them if someone files a complaint while the room is live.
If no one reports an incident during the chat, the Clubhouse says it discards the recording as soon as the host closes the discussion.
Users, of course, are finding many ways to record chats for their own purposes.
The current limit is 5,000 people per Clubhouse room, but it exceeds this number when a celebrity enters the conversation.
In reality, Clubhouse is like a podcast since only audio is used, but it is not formal or regulated.
Room leaders determine the topic and anyone who joins in has to remain close to the topic.
All initiatives are left to the members, though one can sense that there is a Big Brother watching as you get notifications specific to your activities and keep encouraging you to do more and more.
When India is embroiled in a legal battle with Twitter on content and control, Clubhouse flourishes without any obvious censorship. But there are reports that intelligence agencies are keeping an eye.
Kerala seems to have taken to Clubhouse enthusiastically as one can see intense activities round the clock.
It is amusing to see a vigorous exchange of views past midnight on topics like 'Monkey Talks', 'First Love and First Love Song', 'Sexual Life, Myths and Facts' and 'Are You Happy Now?' The advantage of Clubhouse is that there is no dress code or location with lights and backdrops.
Zoom has prompted marketing 'Zoom Suits' consisting simply of a shirt, tie and jacket at half the price of a normal suite. But you can be on Clubhouse even in birthday suits without any offence to your audience.
The Clubhouse appears to have posed a challenge to traditional media and the channel discussions because of the attraction of expressing opinions rather than merely listening to others.
Some channels have pointed out the hazards of the Clubhouse since anyone dropping in will go on record as having participated in controversial discussions.
A case was reported of a girl having been questioned for participating in a sexual chat. But this does not seem to have become a deterrent.
The name, 'Clubhouse' is very evocative for most sportsmen, particularly golfers because it is in the clubhouse that it begins and ends.
After a gruelling game for four hours, the clubhouse emerges like an oasis in a desert.
That is where the golfers argue over their scores, with a chilled beer to enhance the spirits.
It is there that golfers regret over missed one-foot putts and gloat over their hole-in-ones.
Now golfers can join a Clubhouse chat from their own clubhouses on the intricacies of the game. Golf is a favourite topic in the Clubhouse.
As of now, the Clubhouse has the potential to grow exponentially, though we do not know what surprises the new Microsoft 11 smartphone will bring.
Like the other platforms, the Clubhouse will have more users in India than anywhere else because of the interest we have in knowing what others are doing and in letting others know about our activities. The live chat the Clubhouse provides is an added attraction.
The old tradition in Kerala of men discussing world affairs in tea shops in the morning has been revived in a sophisticated format.
Mercifully, there are no tea shop signboards here stipulating, 'No Politics Please'.
Politics is very much a part of Clubhouse chats and it is likely to increase at the time of elections.
Ambassador T P Sreenivasan (IFS 1967) is a former Ambassador of India and Governor for India of the IAEA.
A frequent contributor to Rediff.com, you can read his fascinating columns here.
Feature Presentation: Rajesh Alva/Rediff.com