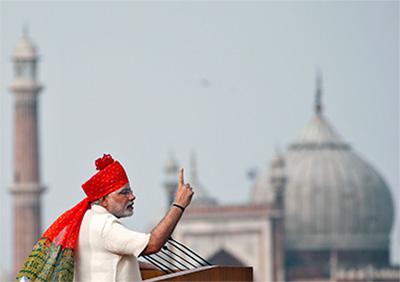 'Independence Day has been India's annual general meeting. For the most part, it has been a forgettable experience of ritual observances. Not so this year. Mr Modi instead presented what I call a moral balance sheet of India,' says Shreekant Sambrani.
He came, he conquered, but did not quite like what he saw. On August 15, 2014, Prime Minister Narendra Modi held up a mirror to India and proceeded to tell us how things could change.
Independence Day has been India's annual general meeting. Its CEO, the prime minister, presents on that day the annual report for the year past and lists the agenda for the year to come to the shareholders, the Indian people. This is how prime ministers in the past have treated it. For the most part, it has been a forgettable experience of ritual observances.
Not so this year. Mr Modi delivered his address lasting just over an hour, the longest since Pandit Nehru's time, without inducing a yawn. He could not have reported on the past because he had had the job for just 81 days thus far.
He presented instead what I call a moral balance sheet of India. He could have chosen the time-honoured path of incoming CEOs to write off all bad debts at one go and blame the previous management for all ills. Instead, he graciously gave credit to all his predecessors for having raised India to its present position. That was a first-rate act of statesmanship.
Mr Modi said he was baffled by the internal satrapies within the government and not just the opposition outside. He pledged a focussed, faster, dynamic government, unleashing its power in the effective pursuit of developmental goals.
He could have rightfully talked of rule through majority in view of his decisive electoral triumph, but he stressed consensus. He said national character was of essence, which would make the bureaucracy ask the question whether its work benefits the nation or the poor instead of worrying about what is in it for me.
The Modi government is lauded for its punctuality and cleanliness drives, but he wondered how low we must have sunk for these minimal requirements to be considered achievements. He stressed that spirit of service must inform our work ethics and proudly called himself the First Servant of India.
The prime minister listed more liabilities: Our skewed sex ratio caused by female foeticide or infanticide, distorted priorities in monitoring boys but not girls, absence of toilets causing indignities to women, and divisiveness caused by religion, caste, region or politics.
He stressed that character building begins at home. He urged legislators to use their discretionary grants to build toilets in schools within the year, with separate ones for girls. He advocated a ten year moratorium (why not a permanent one?) on violence and urged that shoulders be used to carry ploughs rather than guns, making the earth green and not drench it in blood.
The prime minister was acutely conscious of the overarching economic dimension to our objectives. He targetted rural poverty and distress while proposing a new scheme that provided inclusive banking and insurance cover for even the poorest./p>
Skill development was needed for finding employment for the young and simultaneously boosting manufacturing. That held the key to faster growth and balance of trade. The goal of e (easy, effective and economic) governance through a digital India required greater urgency to making components at home.
He invited the world to 'Make in India' and asked us to take pride in the Made in India label. That would be possible only with zero defect and zero effect (on environment) which were prerequisites to India claiming a rightful place in the global comity.
As always, Mr Modi plumped for tourism as another and quick way of boosting growth and creating employment. But this time he linked it to a drive for cleanliness. As he has said on many occasions earlier, he wanted a clean India to emerge by 2019, when it will observe the 150th anniversary of the Mahatma's birth.
Apart from banking and insurance cover, only two overtly economic announcements formed a part of the prime minister's address. The first was a scheme for every state and central legislator to develop a model village in the constituency before 2016 and three more by 2019. Obviously, these 15,000-odd villages would form the nucleus of rural change.
The Planning Commission is to be imminently replaced by a new body more attuned to the current economic situation within the country (with states playing an increasing role) and abroad.
Only the cussed will find fault with these.
Ceremonial observances such as Independence Day orations are often meant to stress national, feel-good themes. But Mr Modi did not shy away from talking of squalor and the need to fight it, be it in the moral realm of gender and opportunity imbalance, or economic in terms of shoddy output or even physical filth threatening our cities and villages alike.
He was conscious that he was treading in uncharted territories, which took some courage and confidence to do so.
Mr Modi wove his many themes deftly into a compelling narrative. Gender issues were connected to the outrage and shame at reported rapes, women's dignity to toilets, tourism to cleanliness and rapid economic growth to manufacturing and skill development.
The appeal to unity against divisiveness was linked to the universal desire for peace and harmony.
There were only a few references to foreign policy issues and even those were confined to the immediate neighbourhood of SAARC nations. Mr Modi reminded India that he had admired Nepal's attempts to eschew violence and give itself a constitution.
He said that all the countries in the region had a common objective of overcoming poverty, which should unite, rather than divide, them. There were no hawkish noises about continued skirmishes with Pakistan or border disputes with China.
Compare this to the Nawaz Sharif address to Pakistan the day before, full of anguish over the Kashmir issue to gauge the full import of the regional diplomacy.
Critics would say that some of the prime minister's address is born out of necessity. His government lacks a majority in the Rajya Sabha and must perforce seek consensus. His party is under fire for presumably fanning communal fires in Uttar Pradesh, so he must appeal to abjure divisions and violence.
That is being churlish. The very fact that he understands these compulsions and makes efforts to address them is indicative of a high level of leadership. And the rest of his speech, his presentation of the moral balance sheet, was the stuff of visionary statesmanship.
His sensitivity to the gender issue is extraordinary. It was evident in his concern for the girl child, the indignity of women lacking toilets, his allusion to daughters being sterling supporters of aged parents, as it is in the presence of six strong women in his Cabinet).
Mr Modi constantly reinvents himself -- from the belligerent state chief minister to the aggressive campaigner to the ambitious leader firing up the enthusiasm of the party cadres to the statesman addressing the nation, exhorting it to clean up its act everywhere if it were to meet its own lofty aspirations -- they are all various facets of the same persona.
His symbolic description of himself as the First Servant or addressing extempore, from the heart, as it were, and foregoing the security of the bullet proof enclosure (that must be rectified at all costs, because we cannot be too cautious against a mad assassin or terrorist) all fitted to a t to the message he wanted to deliver.
Another rock star of a leader, Pope Francis, has been doing much the same lately.
This was the best Independence Day address I have watched and I have seen them all since 1985.
Image: Prime Minister Narendra Modi addresses the nation from the Red Fort, August 15, 2014. Photograph: Ahmad Masood/ Reuters