'I may not indulge in chest thumping to express my patriotism every day.'
'I may be cynical about many things happening in our country.'
'I may not roar Bharat Mata Ki Jai at the top of my voice. But I still love my country, just as one loves one's parents with all their weaknesses.'
'Does that make me any less of a patriot?' asks Shobha Warrier.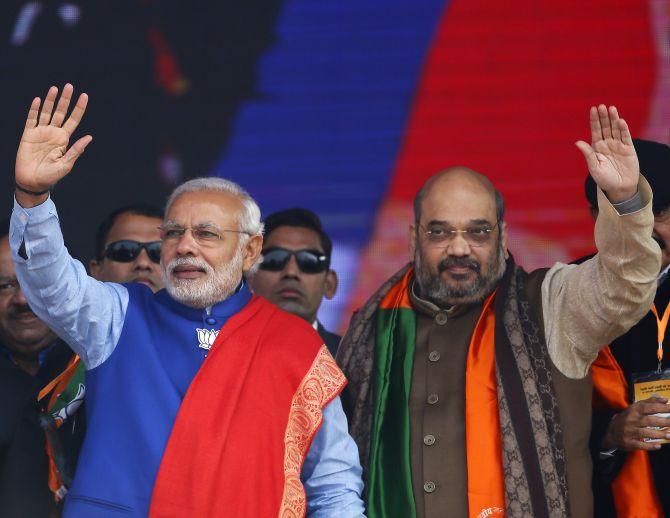 'Man stabbed for eating beef.'
'Man lynched for stocking beef in the fridge.'
'Man attacked for not saying Vande Mataram.'
Chief Minister says, 'If you don't say Bharat Mata Ki Jai, you have no right to live in this country.'
Yoga guru says, 'If I can, I will cut the throats of those who don't say Bharat Mata Ki Jai.
Says the Muslim leader, 'No, we will never say Bharat Mata Ki Jai.'
A few prominent newspaper headlines of the last few months. Television news channels were calling these out as 'Breaking News' every minute of every day.
If someone from another part of the world watches Indian television news channels or reads our newspapers, s/he may think the country is descending into barbarism.
If India has the image of a barbaric country today, in spite of the prime minister flying around the world selling India as an excellent business destination, who is to be blamed?
It has to be the party that is ruling the country, the party that is allowing its hooligans to create chaos and make a mess of everything, the party that thinks it has the right to decide what nationalism is and who patriots are.
So those who malign and tarnish India's image the most are the people who preach patriotism and nationalism to us.
"When job creation is weak, we are going to have a lot of problems. When people coming from schools and colleges do not find the jobs they expect, there is going to be a social impact!," Dr Saumitra Chaudhuri, a former member of the prime minister's economic advisory council, told me in an interview recently.
"The solution to this does not lie in raising the political temperature, but cooling it!" Dr Chaudhuri, a former member of the Planning Commission, added. "Unless there is political and social calm, the economy will not grow."
What kind of economic growth can a country expect when crazies are screaming for somebody's blood all the time?
I was under the impression that the prime minister, the PMO and those advising Narendra Modi are sober individuals with intelligence and common sense. What we see is people digging their own graves.
Unfortunately, ever since the BJP came to power with a majority, riding on expectation and hope, we have only seen pandemonium.
Does the BJP leadership believe that by shouting and disturbing the peace of Indian society, they will bring about development?
in contrast to the Vajpayee government's India Shining campaign, the Modi government is indulging in an India Shouting campaign.
I light a lamp and pray every day, both in the morning and in the evening. I have not kept a photograph of Bharat Mata in my puja room.
My day starts by playing M S Subbulakshmi's Venkatesa Suprabhatam. If I were to oblige the country's new decision makers, I should be listening to Desabhakti Geetam.
Am I supposed to chant Bharat Mata Ki Jai instead of the Hanuman Chalisa?
Even as a schoolchild, we never had to shout Bharat Mata Ji Jai in our school assembly. We only sang the Jana Gana Mana and then said Jai Hind! at the end of the national anthem.
Does that make me less of a patriot than members of the RSS and BJP? What authority do they have to judge the patriotism of any individual?
I may not indulge in chest thumping to express my patriotism every day. I may be cynical about many things happening in our country. I may whine about the lack of discipline, ethics, cleanliness, and courtesy in our country. I may not roar Bharat Mata Ki Jai at the top of my voice. But I still love my country, just as one loves one's parents with all their weaknesses.
Does that make me any less of a patriot?
If Amit Shah believes that all Indians love the BJP's animated debates about nationalism and patriotism, that all Indians like to be told how to behave, I for one believe he is wrong.
The average Indian likes to be left alone in peace where s/he can live, breathe and think calmly. Nobody wants or needs a Big Brother breathing down her/his neck, monitoring what s/he eats, wears and thinks.
Mr Shah, this was not what we had bargained for when we voted your party to power with such a huge majority. You have betrayed the trust millions of people thrust upon you.
There is no point blaming hostile television channels for discussing silly and ridiculous issues day in and out. By creating mayhem, these channels get the TRPs they crave. But by enabling them to do so, the BJP is losing its TRP. Who gives these channels fodder, but members of the BJP?
Through their reckless and irresponsible behaviour, if they spoil the image of the country and party, the blame must go to Amit Shah for not reining in these people.
Look at what is happening at our universities. Having no idea about how to deal with students, they made a Che Guevara out of an obscure student leader who has proved himself incapable of completing his PhD after years of trying.
Nobody talks about the prime minister's good initiatives. Nobody talks about the many kilometres of highways laid by the highways ministry. Nobody talks about the extremely responsive railway minister. Nobody talks about the external affairs minister's resourcefulness. So many ministers work silently and diligently, but only those who scream at the top of their voices about inanities get heard.
It is as if there is no positive news in this country. We heard hours and hours of debates on awards wapsi, but did we hear about Odiya writer Haldhar Nag after he was awarded a Padma Shri? He dropped out of school after Class 3, but his poems in the Kosli language are the research topic of no fewer than five scholars!
If we don't see headlines like 'Padma Shri for a Dalit Adivasi poet'; 'Christian priest rescued from terrorists; or 'Ganga is clean now,' it is the failure of the party that lets the imbeciles within shout inanities out to the nearest microphone.
I paid a visit to Varanasi last fortnight and was surprised to see how clean the mighty Ganga is. The ghats were so clean that we could sit on the steps -- steps that had piles of excreta till recently. We could watch the sun rise to all its glory while live Hindustani music played in the background. It was magical. The stage, Subah-e-Benares, where musicians sing every morning, was inaugurated by Narendra Modi a few months ago.
How many in India know that the Ganga and its ghats are clean now? The one question I encountered from friends when I returned home to Chennai was, 'Is the Ganga clean now?' If the rest of the country has no knowledge about what is happening in Varanasi, who is to blame?
I feel this government has the worst PR machinery ever because it fails to publicise the good work it does. Don't they realise that they are committing hara-kiri by not clamping down on those who talk nonsense and create tension, confusion and panic instead of crowing loudly about its many achievements?