'If on the back of the resentment against the Modi government, on the very outside chance that the Congress emerges as the single largest party in May 2019, will Rahul Gandhi become prime minister?'
'Or will he do a Sonia and appoint someone else?' asks T C A Srinivasa-Raghavan.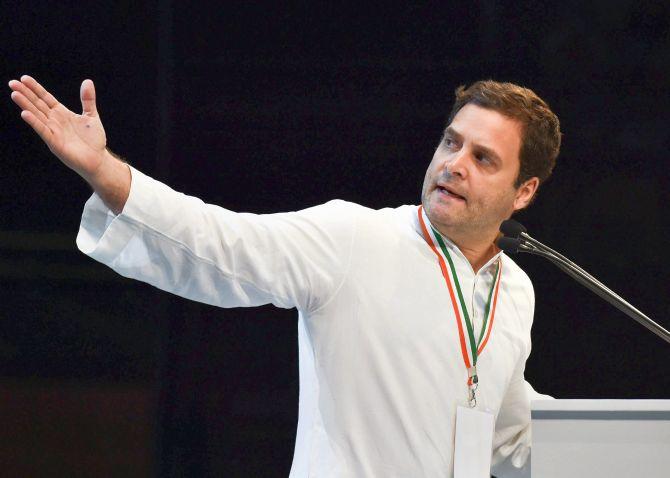 IMAGE: Congress President Rahul Gandhi address the party plenary in New Delhi, March, 17, 2018. Photograph: Manvender Vashist/PTI Photo
Politically, even though it seems counter-intuitive, we seem to have entered the doldrums.
With the next general election just 13 months away and two major state assembly elections six or eight months away, political experts are asking the same questions over and over again: How many seats will the Bharatiya Janata Party lose in 2014 and, if it loses around 100, will Narendra D Modi be able to continue as prime minister?
To avoid the increasingly tedious analysis of -- and commentary on the BJP -- I want to steer the discussion away to the Congress which has 48 MPs in this Lok Sabha.
Can it at least double, if not triple, this number in 2019? Only then will it get a shot at forming United Progressive Alliance-III.
On current reckoning, this looks impossible.
But as we have seen in 1967, 1977, 1979, 1989, 2004, and 2014, you never can say.
In each of those years the ruling party unexpectedly lost a huge numbers of seats. Except in 1967, on each of those occasions, an alternative coalition formed the government.
There is no reason to believe that this cannot happen again.
The BJP has annoyed enough people sufficiently for them to try and seek revenge.
Farmers, the middle class, big and small businessmen, Dalits, OBCs, you name the group and there is a lot of resentment.
If on the back of this resentment on the very outside chance that the Congress emerges as the single largest party in May 2019, will Rahul Gandhi become prime minister?
Or will he do a Sonia and appoint someone else? Don't laugh. That model seems to work very well for the Congress.
And should he do that, my candidate is Palaniappan Chidambaram. Indeed, I had proposed his name in March 2013 also. But the Congress got only 44 seats then.
Seriously, folks, Mr C is everything that India needs.
He is suave in speech, clever in debate, modern in thought, reformist in outlook, and efficient and diligent in work.
He has both the seniority and the track record.
In a word, he is everything that Rahul Gandhi is not. Nor do many people think that Rahul Gandhi has it in him to work 14 to 15 hours a day, or the application of mind needed and the attention to detail.
Another thing in Mr Chidambaram's favour is that like Indira Gandhi, Morarji Desai, P V Narasimha Rao, and H D Deve Gowda he, too, has a difficult son.
In the Congress that seems to be a necessary, if not sufficient, condition to become prime minister.
And, lest we forget: He has also been finance minister.
Four previous finance ministers have gone on to become PM -- Morarji Desai, Charan Singh, V P Singh and Manmohan Singh (Side question: Why have we had so many Singhs as FM?)
And most importantly, Mr Chidambaram has what the Family absolutely needs: No base from which he might, in a fit of viparatabuddi, challenge Rahul Gandhi.
Three of the four finance ministers did precisely that -- and became prime minister.
Morarji Desai was finance minister in 1969 when he defied Indira Gandhi and left the Congress. He went on to become PM in 1977.
In 1979 another finance minister, Charan Singh, challenged the prime minister. He also became PM, though only for a few months.
Once again, almost a decade later in 1987, V P Singh deserted Rajiv Gandhi. He too went on to become PM.
And, last but not least, there is Manmohan Singh, finance minister par excellence.
But there is a problem, as well: In a party of Northerners, a Southerner is at a disadvantage, as Narasimha Rao and Deve Gowda were.
Also, like so many others, Congressmen can't stand Mr Chidambaram.
But that may not matter much if Rahul Gandhi chooses him.
After all, who liked Manmohan Singh when he was chosen by Sonia Gandhi?
Neither will be flattered by the comparison, but there are remarkable similarities in their attributes.
Politically and ideologically, no one can pin them down because no one knows that they really stand for.
There is, however, a major difference: While there wasn't even the slightest whiff of scandal around Manmohan Singh, Mr Chidambaram is now fully enveloped in it.
But there always has to be a first time.