People are steadily pulling the prime minister off the pedestal where they once placed him, which prompts Karan Thapar to ask if there's a change in the political temperature.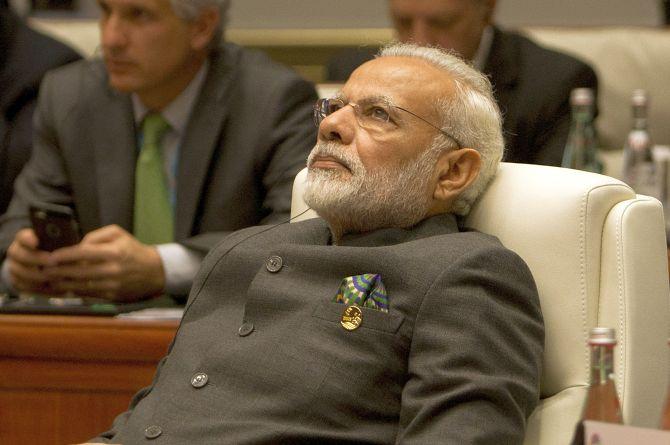 You can't have failed to notice the weather is changing.
Summer is over, winter is still far away, but there's a touch of autumn in the air.
I guess this was at the back of Pertie's mind when he asked if I could also detect the altering political mood in the country.
Now, there's no doubt the government is caught in the grip of several problems. Not just falling gross domestic product growth, disgruntlement with the goods and services tax and the failure to create adequate jobs, there's also disenchantment with the Bharatiya Janata Party's stand on what we can eat, say, do or wear, not to mention their foolish comments about the Taj Mahal, allegations about sons of the powerful and deteriorating relations with Pakistan, China and Russia.
I won't deny this suggests a government on the back foot.
However, Pertie's question was different. Has this sparked a change in the political temperature?
More importantly, has it changed the way we view Narendra Modi? Only when that happens can you say the political wind is shifting direction.
Pertie, I have to admit, had a unique, if not eye-opening, answer. Indeed, he might have spotted something genuinely revealing.
"We've started to make jokes about the prime minister and the BJP," he began.
"The hashtag 'vikas gando thayo che' (development has gone crazy), which has gone viral in Gujarat, mocks Modi's biggest boast: Development. Instead of admiring and praising, people are now laughing. Isn't that a sign of a major change?"
"It's just a joke, Pertie. Don't make so much of it."
"You're missing the point. When people start to mock they're also beginning to ridicule. And when that happens respect diminishes. Remember, you don't laugh at icons. So if the sound of laughter is growing louder, then people are slowly but steadily pulling Modi off the pedestal where they once placed him."
I hadn't expected this argument and I have to admit in Indian circumstances it has a certain ring of truth.
The British make jokes about those they admire, but that's not our way. Their jokes are a sign of affection; ours could be the first note of disaffection.
"This, by the way, is also true of an important change in Rahul Gandhi," Pertie continued.
"He's using humour to attack Modi and people are laughing with him. As a result, his digs find their mark but also stick in the mind."
"Give me a few examples," I said. Was Pertie making too much of the odd clever remark?
"Well, consider three. When Jay Shah got a court to bar The Wire writing about him, Rahul tweeted 'Mitron, Shah-zade ke baare main na boloonga na bolne doonga'."
"Then, when Donald Trump praised Pakistan, he tweeted 'Modiji quick: Looks like President Trump needs another hug'."
"Finally, after the Election Commission decided not to announce Gujarat election dates thus ensuring Modi's visit was not covered by the Model Code, he tweeted: 'Mausam ka haal: Chunav se pahle Gujarat mein aaj hogi jhumle ki baarish'."
"And proof this has riled Modi was the angry speech he made in Gandhinagar. It seems Rahul's humour is a weapon against which Modi has no defence."
Once again, Pertie has a point. The prime minister's speech in Gandhinagar revealed more about him than the Congress or Gandhi though, supposedly, they were what it was about.
He didn't just say the Gandhis 'hate' Gujarat and treat the state as 'an irritant in the eye', he claimed they wanted to jail him.
At one point, his passion perhaps overcoming his reason, he declared it was the Gandhis who spread stories about what Morarji Desai drinks. This was not just distasteful, but also untrue.
As prime minister, Desai readily admitted to Mark Tully his practice of 'drinking urine', adding he had written a book on it.
Becoming the butt of jokes has, possibly, unnerved Modi. However, let's not exaggerate.
No doubt a political breeze has started to rustle the trees and a few leaves have fallen, but it could easily die out.
It's not yet a wind and it's unlikely to ever become a storm.
However, if enough people think like Pertie, their expectations could become self-fulfilling.
That's the danger Modi must guard against.
Photograph: Mark Schiefelbein/Reuters