'Why can't we make it mandatory for all IAS and IPS officers to serve in the armed forces for a year before joining service?'
'What stops us from making it compulsory for every MP to spend three months, immediately after taking oath, in military barracks/maybe a few nights in the bunkers on the borders too, to learn and understand the life of a fauji?' wonders Tarun Vijay, MP.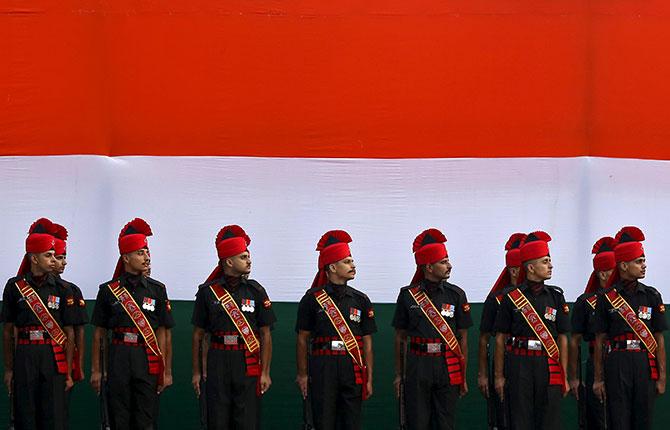 IMAGE: Soldiers stand guard during a rehearsal for Independence Day at the Red Fort in Delhi. Photograph: Adnan Abidi/Reuters
A lieutenant colonel from my constituency, Dehradun, was martyred recently in Jammu & Kashmir. There were hardly any noticeable faces of the city's so-called who's who at the prayer meeting organised to pay homage to the martyr.
Some political leaders, including the chief minister, sent their personal assistants. His wife had to plead hundred times to the principal of a famous Delhi school to have their son, a differently-abled sweet boy, admitted as the school had special counsellors, besides it encouraged inclusive education, so rare and important for such students.
She received a flat no.
An IAS officer, sitting in the high corridors of power, said to a colleague 'These faujis are demanding too much, in spite of living a luxurious life with all things, including a number of sahayaks available for free.'
Amongst the secular order of public discourse, it is fashionable to attack the armed forces for 'being brutal, violating human rights,' while in the same breath they adore and advocate the rights of the terrorists, Geelanis, and their goals.
In J&K and in areas of Andhra and Chhattisgarh, jihadis and Maoists have rich supporters in Mumbai and Delhi. Those who sometimes do a fauji show on their channel for the sake of increasing TRP ratings, happily share the dais with anti-national elements of Kashmir facing prosecution for attacking the armed forces under the ironically titled banner of the Idea of India!
A top general, recently retired from the army, said with sadness that today a soldier finds himself at the receiving end and would think twice about sending his son to the army. Go become a clerk, or try your luck at a professional college, do an MBA or prepare for the UPSC exams.
Joining the armed forces is no more a job that is considered an attractive and izzat wala kaam (respectable profession) and it shows in the entrance exams for the forces.
The Armed Forces Dental College in Pune is one of the best in the country. Yet it had to continuously lower the bar for its entrance qualification so that candidates with lesser ranks could join, as top students often choose other options.
While we regale ourselves about making India awesome, the soldiers -- lieutenant generals, colonels, subedars, JCOs -- are showing their medals and demanding the early implementation of the much assured One Rank One Pension.
It is painful to see our soldiers sitting at Jantar Mantar like any other demonstrator, in the scorching heat, heavy downpour and uncomfortable days and nights.
You may argue with them a hundred times -- 'Please don't demonstrate. The government is committed to implementing OROP. Have some patience. A soldier demonstrating at Jantar Mantar is the last thing an Indian would like to see.'
But their arguments are strong and their zazba is like a rock. Six prime ministers assured. Nothing happened. Forty years have passed, when the demand was raised and everyone agreed to it. Still nothing happened.
I stood with them, after paying tribute to the Kargil martyrs at India Gate and shouted Jai Hind. 'I am with you. I stand with you. I support you wholeheartedly. If you allow me I can sit with you, here at Jantar Mantar.' They were touched, but politely said, 'Sorry sir, no politicians here'.
It was atrocious to see that police in khaki behaved in a very uncivil and rude manner with these war veterans. The right course should have been to chargesheet the guilty policemen who didn't just hurt the soldiers, but India's pride.
I wonder why can't we make it mandatory for all IAS and IPS officers to serve in the armed forces for one year before joining service?
What stops us from making it compulsory for every Member of Parliament to spend three months, immediately after taking oath, in the military barracks/maybe a few nights in the bunkers too on the borders -- to learn and understand the life of a fauji?
The media, who often pay respects to the terrorists, must also be sent for a few months training and living at the borders. Let us then understand what it means to be a fauji.
Those who make decisions about soldiers have hardly any idea of their life and the job assignments. The secular 'left of centre' class has made the situation worse by floating the idea that soldiers get paid to lay their lives for the nation.
It is an inherent risk wrapped into their job profile and they must think twice before joining the forces. This is bullshit. No other job can be compared to the soldiers' duties. They retire at or before they even come close to forty. The officers' uniform and mandatory elevation to higher ranks is not available to men in uniform unlike the civil services.
Their leave is often not sanctioned even if there is a marriage or death in the family. Their postings are never done on the basis of sifarish, like the civil servants often manage. Even if one is not posted at Siachen, or in the Jaisalmer region, with extreme weather patterns, or anywhere in the Northeast, or Sikkim, or Punjab, the risks are as abundant as in any war-like situation.
That is the India we have got from the Congress' six decades of secular rule. Internal security and external violations of our territory always pose a threat and it is the continuous vigil and their incessant sacrifices that have made it possible to see the tricolour fluttering freely at Red Fort.
Their parents get the headless, mutilated, bodies of their sons. Just imagine, a mother receiving her son's body that will not be for antim darshan. People forget that respect for the soldiers is not just cosmetic patriotism, when a Kargil breaks out and television screens show the war in a home theatre. It is a question of life and death. And soldiers too have families, parents, daughters and sons.
A soldier reaches home on a 15 day vacation. Five days are often spent in the to and fro journey. Rest of the days, he is running from pillar to post for simple things, getting his children admitted to a better school, trying to resolve a court case or a land dispute, seeing his old parents get good healthcare etc.
None helps him at the district administration level. A policeman would be in a far better position to get things done in the jungle of a highly politicised and corrupt administration, but not a man in the olive green.
There is not even a martyrs memorial. For the last 14 years, ex soldiers organisations have been making a demand to have a grand martyrs memorial erected in Uttarakhand, where almost every second home is a soldier's home. No chief minister could do it, in spite of the fact that every one assured it, and assurances were given in writing.
When I started the campaign, I released two crores (Rs 20 million) from my MPLADS funds, the first response to it from the district administration -- the collector -- came to me after 13 months.
This year, when we almost did it, the worst hurdles came from the political class. That is where we stand in the regime of our patriotism.
I demanded land on lease and/or an apartment for soldiers who have completed three years of service in J&K and to their next kith and kin, in case of a martyr. All the traitors in the Valley began protesting.
Who came out to support the soldier then? Has he done any crime by serving in J&K? If a Kashmiri can buy land in Bihar or Assam with ease, why can't a soldier get a piece of land in the Kashmir valley, that too on lease? You want him to be there to protect you and lay his life. But won't give an inch of land to him. That is how we express our respects for the men in uniform.
A son not wanting to join the armed forces in a land where generations after generations have been joining the forces without any question is a dangerous trend. A soldier needs respect and honour, much more than money.
Today if he feels both are being denied to him, please walk down to him, clasp his hands and say, 'Sir, we salute you; we want to hear you with patience.' That will be the real Jai Hind moment.
Tarun Vijay is a BJP member of the Rajya Sabha.