It is a little like glimpsing old photographs and feeling a sense of sweetness, or sorrow, says Kishore Singh.
Illustration: Dominic Xavier/Rediff.com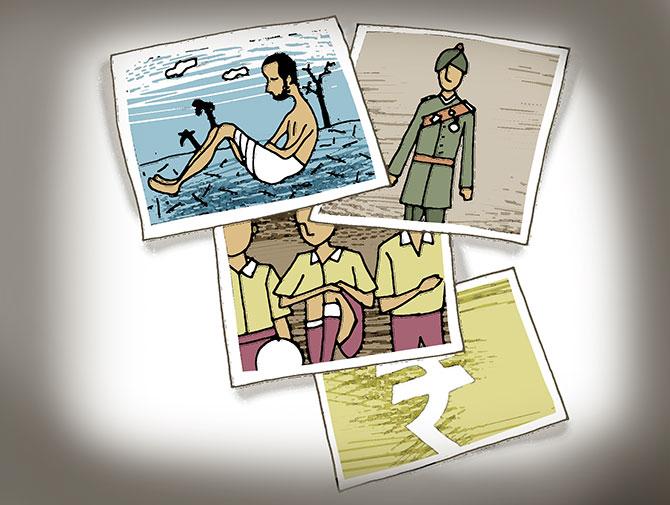 My father remembers a famine that his father used to tell him about, a terrible calamity that is the stuff of dynastic legend, not that families are given much to lending an ear to tales of past dread, preferring gossip or flirtations with celebrity and glamour.
My grandfather underwent arduous times, but as in any good tale, triumphed and joined the British Indian Army where he did well for himself, even being summoned to London to collect a medal that, if I am not wrong, has been purloined by my sister, though there are other claimants to that bit of memorabilia.
What must it have been like to be born so early in the last century that 2017 seems like some future fantasy?
My father turned 90 on January 6 and enjoys his raconteuring, but is selective about his childhood, which was spent in a mix of residential schools in an India where the British boys sat at different tables, while caste cliques made up the 'native' factions that were more obvious for the proximity in which one lived, ate and studied.
He made the football team, I know, because there is proof in photographs -- itself a rarity from the time -- and like many of his generation, his English is precise and elegant.
What are the handles we remember our past by?
At the clan gathering, old histories are recounted with mirth, but sensitive subjects are skirted.
It is a little like glimpsing old photographs and feeling a sense of sweetness, or sorrow.
Memory, for most part, like my father's, is discriminatory, and we remember good times and bad, but not the many little joys and happinesses that make life mostly worthwhile.
I know because I asked my own children how they would remember 2016. We'd begun the year with a holiday in Bali.
My wife had herself a fling in London, so much so she stayed on even though I had to return.
Both children's close friends got married, and they have still remained friends -- which, I am told, is in itself a wonder.
We watched some great and not great films, read some wonderful books, travelled more than most, enjoyed a great many warm meals, and each day was made special by the wagging of the dog's tail.
Yet, the dominant memory they will carry with them of 2016, they insist, is of Modi's demonetisation, even though it had little impact on their own personal fortune or life.
This chimera surrounds me, as I write this. It is a new year, and many of us partied the dawn of its coming with no thought to the future that we know will philander with us.
What will it hold?
Some financial hardness, economists warn; pollution, environmental hazards, societal breakdowns.
Technology will make us work harder so though we live closer, we will be more apart.
Still, there is much to be thankful for -- the ray of sunshine that cuts through the smog of Delhi, the bowl of comforting rasam that the cook, Mary, conjures up with more cheer than is warranted, petunias bursting into bloom in the balcony.
My wife reminds me that the winter sales are now on -- this is reason for cheer and a time for loading up on presents for everyone for the rest of the year, so if you get a jacket for your birthday in May, you know why.
Meanwhile, it continues to be party time in Bikaner: When you turn 90, you can't celebrate for just one day; 90 hours, though, seems reasonable.