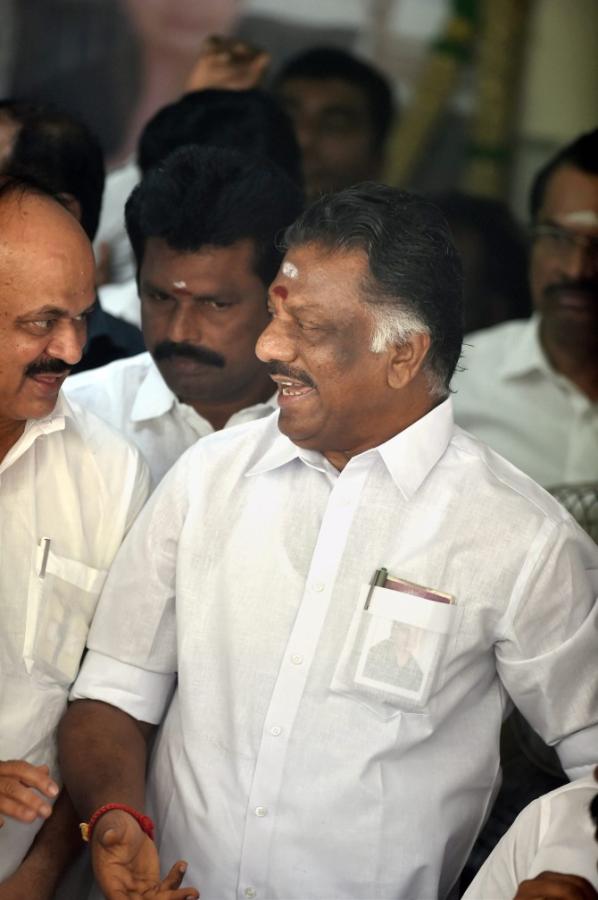 IMAGE: Former Tamil Nadu chief minister O Panneerselvam with his supporters at his Chennai home, April 19, 2017. Photograph: R Senthil Kumar/PTI Photo
There is a hidden hand behind the political developments in Tamil Nadu, says A Ganesh Nadar.
'All the world's a stage,
And all the men and women merely players;
They have their exits and their entrances,
And one man in his time plays many parts.
So wrote the Bard in As You Like It.
In the world of Tamil Nadu politics, AIADMK politicians are but puppets, and a Grandmaster decides what parts they play.
When J Jayalalithaa was alive, nobody dared look at Tamil Nadu. On December 5, 2016, she passed away and the Grandmaster came into the frame almost at once.
As long as O Panneerselvam was chief minister after Jayalalalithaa's death, the Grandmaster kept his distance, but the public already knew about his presence in the background.
T Murugesapandian, a former municipal councillor, told me emphatically, "OPS might be the CM, but he will do what the Grandmaster tells him."
Jayalalithaa's aide V K Sasikala bunged a spanner in the Grandmaster's plans when she first moved to become AIADMK general secretary and then lunged for the chief minister's chair.
OPS was shunted aside, then, probably prodded by the Grandmaster, revolted at Sasikala's decision.
Justice intervened and the lady was packed off to a prison in Bengaluru.
Before she left to serve her prison sentence, Sasikala 'appointed' E K Palaniswami and her nephew T T V Dinakaran as chief minister and AIADMK deputy general secretary respectively.
OPS' revolt ended something of a fiasco. Only a dozen odd MLAs marked their places in his tent; the rest stayed with Palaniswami.
But OPS had something his successor as chief minister didn't have -- the Grandmaster on his side.
Soon seven ministers were found with lists to distribute money -- Rs 89 crores/Rs 890 million no less -- in the R K Nagar by-election.
With the possibility of arrest looming large, the puppets quickly did what the Grandmaster nudged them to do. They revolted against Dinakaran.
Not cowed down, Dinakaran put up a fight. 'I have 40 MLAs who were given tickets to contest by my aunt Sasikala,' he warned. 'They are loyal to me. If they throw me out, I will go down with them, and bring down the government.'
The Grandmaster dislikes rebellion. Dinakaran, who had been battling two FERA cases for 20 years, discovered two more cases slapped on him. One for allegedly bribing voters, the other for trying to doing the unthinkable -- to bribe the Election Commission itself.
No one -- not even those dreaded Bahubalis of north India -- had attempted to do something so preposterous. At least, that is what the Delhi police -- which reports to the Union home ministry -- claims.
It finally dawned on Dinakaran what he was up against.
'The party must not split because of me,' he said weakly. 'I am resigning after I meet aunty.'
Rumours swirled like eddy currents in a whirlpool. EPS would remain CM while OPS would take over as the party boss.
The Grandmaster smiled an inscrutable smile.
He was not done yet.
He wanted OPS as CM. The puppets, reminded of the likelihood of being charged with trying to bribe voters, began to dance.
Political punters can place their bets that OPS, he of the pleasant smile, will be back in Fort St George, as chief minister for the 4th time.
This time, there is no Amma or Chinnamma to push him out. There is only the Grandmaster.
And the Grandmaster wants him as chief minister and a loyal ally for as long as it suits him.
Until May 2019 for sure. Maybe till 2021 when Tamil Nadu will have its next assembly election.