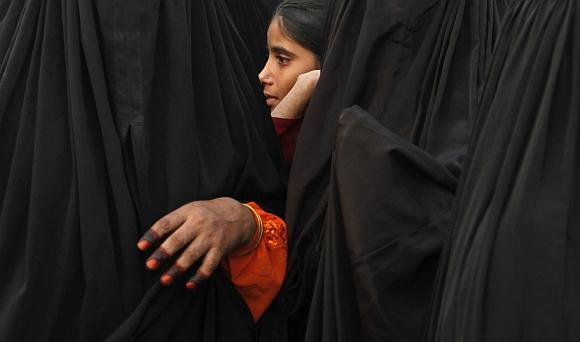 Sheena Bora may be the latest of India's 'gone girls' but the list is too long to enumerate, says Suni Sethi.
A few days before news of the Sheena Bora murder broke, on August 19, a brief news flash appeared of a girl's grisly murder in a village in district Shahjahanpur in northwestern Uttar Pradesh. Two brothers dragged their 17-year-old sister, Phool Jahan, to the village square, decapitated her head and paraded it for about half an hour before disappearing.
"This is a lesson to girls who have relationships. We do not allow our daughters or sisters to have affairs," they are said to have shouted. But the story merited just a few sentences, and no more was heard of it.
Sheena Bora may be the latest of India's "gone girls" but the list is too long to enumerate.
Last November, the case of 21-year-old Bhavna Yadav, a student at Delhi University, got rather more play after she married her 24-year-old sweetheart, Abhishek Seth, who is employed at Rashtrapati Bhavan.
There are many pictures of the happy young girl, the couple in bridal finery after their temple wedding and of their wedding certificate. But their union was short-lived. Promising her a proper celebration, Yadav's parents lured their daughter home in a lower-middle-class suburb, strangled her, and took her body to their village in Rajasthan to cremate.
They told everyone she had died of snakebite though their rage was unleashed by her out-of-caste marriage. "She had small dreams. Her parents wanted to get her married after school but she wanted to wear jeans and shirts and go to college," her grief-stricken husband said.
The parents were arrested -- the mother as accomplice -- but the story petered out. Thousands of such ghastly crimes occur in urban slums, small towns and the hinterland but they don't get a fraction of the coverage of Sheena Bora's killing -- "Prime Time Murder" as a Mumbai tabloid headline labelled it, with graphic reconstructions.
Sheena Bora's erasure may have been some form of grim closure for her mother Indrani Mukerjea but it suggests a persisting and deep-seated misogyny in Indian life.
Sex-selection tests, khap panchayats and honour killings add up to a dark roster of disappearing daughters. Across the class and geographic divide, however, a couple of common factors stand out in stark relief: the provocation is frequently the daughter's choice of partner; and as in the serial "dowry deaths" that began to be exposed in the 1980s, mothers-in-law are either perpetrators or partners in crime.
The media's role is crucial is shaping public perception of the crime and often pre-judging it even before the accused are out of the lock-up. Two reasons are obvious for the inordinately sensational and often prurient publicity the Sheena Bora murder is getting.
Given Indrani and Peter Mukerjea's public profile, it hits the right spots, what media marketing executives call a "target audience". More tellingly, it spotlights the symbiotic relationship between the media and police investigators.
A simple observation, of the falling standards in crime reporting, may serve to point an egregious error being committed in the case: the police can give "on- or off-record statements"; only a magistrate can take a "confession"; a "testimony" is given under oath in court.
Mumbai's top cop, the much-decorated police commissioner Rakesh Maria, and his team have a lot to answer for without presenting any forensic or DNA evidence so far; all the public is being fed are either speculative or orchestrated accounts even before the accused make their first appearance in court.
On Thursday evening I attended the official launch of journalist Avirook Sen's best-selling and remarkably forensic examination of the Aarushi Talwar double murder case of May 2008. His book Aarushi (Penguin; Rs 299) is compulsory reading as a chilling account of the botched investigation by UP police and the Central Bureau of Investigation the shambolic, constantly changeable evidence presented at trial, and the often incomprehensible judgement that handed the 14-year-old's dentist parents life imprisonment for killing their only child.
It was a packed house; many were in tears when Aarushi's best friend in school, Fiza Jha, under a banner that read "Why does Aarushi still haunt us?" spoke of how a happy family was destroyed, partly through a public trial by media.
Unsurprisingly, a former CBI investigator in the case who could have presented the prosecution's case ditched; the stage was held by the Talwars' defence counsel Tanveer Ahmed Mir and journalists.
When parallels to coverage of the Sheena Bora murder were brought up, Avirook Sen said, "The conduct and character of an accused can only be judged on the basis of concrete evidence."
If hard evidence were wanting on India's "gone girls" it was writ large in the latest Census figures presented this week.
The country's overall sex ratio of women per 1,000 men is still an awful 943; in states like Punjab and Haryana it is way below the national average. What should worry us more: a marginal rise or fall in Hindu or Muslim populations or the killing fields of our daughters?