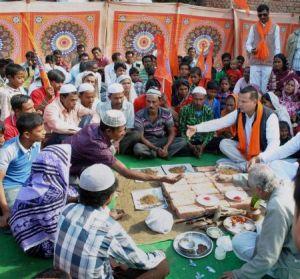 The million-dollar question that begs for an answer is: Why is it that an amateurish attempt to convert a handful of Muslims by fringe Hindu elements garners so much attention while large-scale systematic attempts to subvert Hinduism go unnoticed or are deliberately overlooked, asks Vivek Gumaste.
The vociferous, high decibel, holier than thou protestations in Parliament against the alleged forced/induced conversion of 57 Muslim families in Agra by the Dharam Jagaran Samiti, a Rashtriya Swayamsevak Sangh affiliate, stands out as a classic case of malignant obfuscation; an ersatz expression of secular ethos.
It is a manufactured smoke screen that deliberately clouds the picture, distorts the reality and allows for wild accusations to be bandied about -- in short a deceptive jamboree orchestrated by beleaguered political factions facing political extinction and serves the interests of parochial proselytising religious groups who fear more active scrutiny of their hitherto unhindered nefarious activities from the new dispensation in power.
At the crux of the current controversy is the charge that the Muslims belonging to a clan of indigent rag-pickers were lured, tricked or intimidated into changing their faith. Let us test the validity of this accusation by applying the principles of simple logic and plain common sense.
For one, Agra is not a tribal enclave in the middle of nowhere, cut off from all civilisation -- it is a bustling city of 18 lakh people with at least a 13 per cent Muslim population. Second, I would credit even these lowly rag-pickers with a modicum of street sense in this era of ubiquitous media presence (published reports indicate that at least the leader of the group did possess a television).
Third, Ved Nagar where the conversions occurred, has a Bahujan Samaj Party MLA and Agra is in Uttar Pradesh which has a Samajwadi Party government -- both inimical to the Bharatiya Janata Party and the RSS. So, in this milieu, it seems highly implausible that a group of over 200 Muslims could be coerced, bribed or conned in broad daylight.
A telling photo in the Times of India depicting Muslims with bright red tikkas and boldly holding up an idol of Shri Hanuman, negates the conjecture of force. In addition, a BBC report avers: 'Another resident Mumtaz, however, said that no one had forced her to attend the ritual and that all those who attended had done so voluntarily.' (Analysis: Geeta Pandey, BBC News, Delhi, December 11).
A more likely scenario is that these Muslims, after having voluntarily converted, backtracked under immense pressure from Muslim clerics and strong-arm tactics of local political leaders after a controversy erupted post the conversions.
The sanctimonious posturing by political parties has hypocrisy and double standards written all over it, when analysed objectively: Christianity and Islam both have long track records of luring people into their fold by dubious means.
The Church-sanctioned violence was central to Christian conversion in the Middle Ages: brutal Inquisitions in Europe and closer to home in Goa and the blood-drenched rampage of Spanish Conquistadors in South America are testimony to this. In deference to modern times, the Church has changed tack, using crafty strategic planning, subtle deception and monetary inducement instead -- as outlined in an excellent expose conducted by Tehelka (February 7, 2004) which is no admirer of Hindutva.
Aggressive Christian proselytisation in India is not a fantasy of hardcore Hindutva elements but a reality. An array of ambitious projects titled AD2000, Joshua Project and Operation Agape have been conceived to Christianise India that involve a meticulous mapping of India's terrain by pincodes and demography to identify vulnerable areas ripe for exploitation to effect this master game-plan.
In an essay titled, Preparing for the Harvest, (Tehelka, February 2004) V K Shashikumar writes: 'Religious expansionism has not witnessed this scale, scope, and State resources in a long time. Detailed investigations by Tehelka reveal that American evangelical agencies have established in India an enormous, well-coordinated and strategised religious conversion plan. At the heart of this complex and sophisticated operation is a simple strategy -- convert locals and then give them the know-how and money to plant their own churches and multiply.'
Elaborating on these dubious tactics, another article in the Tehelka expose, Those That Shall Deliver, states: 'The modus operandi for evangelical activities is simple, even if scary: Channel exorbitant funds… circumvent the Indian law banning registration of new missionaries by sending 'men of God' on tourist visas; use Indians already converted to convert fresh faithfuls.'
Review of FCRA filings indicate that a whopping $1.2 billion (about Rs 74,000 crore) finds its way to Christian NGOs every year to harvest Hindu souls. Between 2006 and 2013, one single NGO alone, Harvest India, a Christian missionary organisation based in Andhra Pradesh, received Rs 33 crore.
Despite claims of soft Sufi evangelism, the sword was undoubtedly the dominant facilitator of Muslim proselytisation in the middle ages. In the current era, money funneled in from Arabic countries has replaced the sword, as was evident in the Meenakshipuram conversions: a sentinel event that saw 1,000 Hindus convert to Islam in 1981 and led to a Hindu reawakening of sorts.
Even Christophe Jaffrelot, a French Indologist and well-known Hindu baiter, attests to the use of material benefits and exploitation of Hindu fault lines in his book, Religion, Caste and Politics in India. Referring to the Meenakshipuram conversions he writes: 'This chain of conversions was approved by Muslim political leaders, who did not hesitate at times to patronise or supervise conversion ceremonies, the building of mosques etc' (The Hindustan Times, July 22, 1981).
Reports in newspapers which could not be suspected of Hindu nationalism were also primarily interested in the amounts which would have been paid to those who had converted (as much in some cases, it was said, as Rs 500), the money supposedly having come from Arab countries (The Times of India, July 18, 1981).
Thus arose the convictions to an international conspiracy, illustrated in an article which appeared on the front page of The Times of India, entitled 'International Islamic conspiracy for mass conversion of Harijans' (March 21, 1981). The author referred to an account published in the Arab Times (Kuwait) regarding a report from the Islamic Cultural Centre (London) which announced the conversion of 80 to 120 million Hindus thanks to Gulf money and to the so-called appeal by the president of the Jamaat-al-Islami, made during its February session in 1981 to double the demographic strength of the Muslim community.
The million-dollar question that begs for an answer is: Why is it that an amateurish attempt to convert a handful of Muslims by fringe Hindu elements garners so much attention while large-scale systematic attempts to subvert Hinduism go unnoticed or are deliberately overlooked?
If this is not double standards, then what is?
Regardless of the merits or demerits of this specific case, it would be a gross miscarriage of justice if the Hindu community was browbeaten into silence; a double dose of injustice in the light of continued Muslim and Christian infractions. But neither should the Hindu community pursue a path of violent confrontation in the larger interest of the nation.
In a pluralistic country like India which boasts of diverse religious communities, mutual understanding and cooperation are vital to the maintenance of secular harmony with the onus being equally distributed among all religions. All parties should take up the government call for a debate on banning conversions, which is logically and morally a robust panacea for this seemingly intractable dilemma.
The right to convert is not explicit in the Constitution as the Supreme Court of India explains. In a landmark judgment on September 2, 2003, the court said it must be remembered that Article 25(1) '…postulates that there is no fundamental right to convert another person to one's own religion because if a person purposely undertakes the conversion of another person to his religion, that would impinge on the freedom of conscience guaranteed to all the citizens of the country alike.'
But banning conversions is not synonymous with abrogating the right to freedom of religion. An individual can still change his faith but of his own volition without succumbing to propaganda, monetary inducement or fear.
Mahatma Gandhi, the conscience of modern India, called conversions the 'deadliest poison that ever sapped the fountain of truth,' and declared: "If I had the power and could legislate, I should stop all proselytising."
Will we heed the Mahatma's advice or pay mere lip service to his sayings?