'No one institution can cleanse it: Not the courts, government or activists.'
'And least of all the Indian Police Service,' argues Shekhar Gupta.
Illustration: Uttam Ghosh/Rediff.com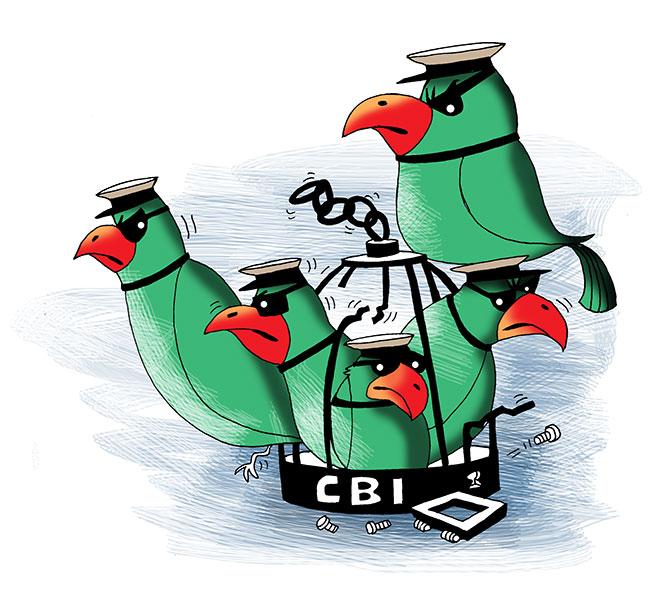 'Hum CBI se hain.....asli waale (We are from the CBI, the real ones),' says Manoj Bajpayee, playing CBI Inspector Waseem Khan leading a raiding party in Neeraj Pandey's brilliant 2013 heist movie Special 26.
The reason he has to make that 'asli waale' claim is that another group under Akshay Kumar has also been raiding rich people, claiming to be from the CBI, and disappearing with their wealth.
A somewhat similar drama is now playing out in real life, and mostly inside the honourable Supreme Court.
There are two groups led by the number one and two in the CBI, each claiming to be the 'asli waale' and calling the other thieves.
In this confusing dog's breakfast are other ingredients:
A government which seems to prefer one side, a chief vigilance commissioner who'd rather not take a call because he also has a retired judge sitting on top of him.
Everybody, in turn, is under the glare of India's most formidable activists and lawyers.
Because nobody trusts anybody, everybody is being watched by somebody.
So, what do we do?
Obviously what bureaucracies do when they are loath to decide: They buy time.
So, give two more weeks.
And, if it goes on with some more delay in our hoary 'taarikh pe taarikh' tradition, the current director's term will end in January anyway.
Let him go, repatriate the number two, and start searching for a new CBI boss.
End of story.
Meanwhile, our premier anti-corruption agency remains paralysed with its bosses leaking and planting stuff against each other.
My colleague Ananya Bhardwaj aptly describes it now as Central Bureau of Inactivity.
The officiating 'director' too is under a cloud.
Which cop will you set to catch the other cop?
Taking advantage of the melee, Andhra Pradesh Chief Minister Chandrababu Naidu has jumped in, 'withdrawing' the CBI's powers to investigate cases in his state.
Mamata Banerjee has risen in his support as you'd expect.
You might see more states and Opposition leaders, especially those under investigation/prosecution by the CBI also joining in.
The CBI can create a first degree Constitutional crisis.
It is lazy, however, to blame the courts. They have at least tried to do something for two decades. I won't blame them for this failure on CBI reform.
The CBI, as we can see now, has become a monster that no one institution can cleanse, not the courts, government or activists.
And least of all the Indian Police Service.
It is because too many good people and institutions have worked over two decades, if sometimes gratuitously, at saving it, and it has now become a wild animal that defies description.
What was once dismissed as a 'caged parrot' has now been able to hold our politics and polity to ransom since the early 1990s (remember the Jain Hawala case?), destroy careers of politicians and resurrect them, see practically all influential people prosecuted by them, from L K Advani (Jain Hawala) to P V Narasimha Rao (JMM bribery), to A Raja (2G) and Dayanidhi Maran (telephone exchange case) acquitted.
Meanwhile its evidence-free scandal-mania has damaged our economy too, from telecom to mining.
It has also served the government of the day admirably by letting the Bofors case ebb or rise depending on what it wants.
In the process, nobody has been punished and all accused have died already.
The Supreme Court has reached out to empower it more than once.
In two big scandals, it put the investigating process and teams under its own direct protection if not control.
Both the Jain Hawala and 2G spectrum cases collapsed despite being under the Supreme Court's watch.
The court has intervened repeatedly to empower it and make it more independent and impartial, given its director a fixed two-year tenure, first appointed a three-member government committee to select the candidate, and then created a new, innovative, and more independent mechanism with the chief vigilance commissioner, Leader of the Opposition and the Chief Justice of India himself.
If it is the only executive appointment in the entire government system where the institution of the Chief Justice of India has become involved, it tells you how seriously the CBI is taken.
Then, weigh it against the results it has achieved.
A weak CBI was bad enough. A reinforced CBI has become worse.
A scholar can write an entire PhD thesis on how governments have continued to misuse the CBI under the same directors appointed in the new system, with the judiciary's supervision.
But just remember a few.
Any time the UPA was coming up for a vote of confidence in Parliament, predictable stories appeared on the front-pages of national papers about dramatic progress in cases against the usual suspects: Mulayam Singh Yadav and Mayawati.
Only to disappear once the vote was done and each such party's Amar Singh had delivered.
It was similarly used as a special purpose vehicle against Narendra Damodardas Modi, Amit Anilchandra Shah and their loyal policemen in Gujarat.
It went to the extent of dragging in a serving, top Intelligence Bureau officer in the Ishrat Jahan case.
Whatever your view on the case, the substantive point is: What happened?
It dragged on as the geniuses at the head of the agency saw the UPA weakening, and then dissolved as Mr Modi took power, with the number of resiling witnesses soon to score a century.
We should see where Chandrababu Naidu is coming from.
When he was the BJP's ally, the CBI had made its cases against his political rival Y S Jaganmohan Reddy its top priority.
These were launched when the UPA was in power and he had fallen out with the Congress.
Today, with Mr Naidu breaking away, aligning with the Congress and Mr Reddy emerging as a likely ally of the BJP, all cases are forgotten.
Earlier, the CBI wouldn't let him come out on bail for more than a year, now the cases are dying.
He has become a good boy.
Why should Mr Naidu not suspect a case, or more maybe, coming his way now that he's a bad boy?
The essential reason every effort to reform the CBI has failed is simply because, institutionally, it is designed to be beyond reform.
What unfettered powers do, you should only look at the mass suicide of mid-level Delhi civil servant B K Bansal and his family, unable to handle the CBI's 'interrogation' on a corruption charge.
Any police institution that has so much power, particularly in a system where the judiciary works so slowly and the process becomes the punishment, where young people grow to ripe middle age in jail as undertrials till they are acquitted, the need is to put more institutional discipline and restraints on the CBI, not give it more powers.
The courts and activists have done the opposite and the politicians have gratefully exploited this.
In the first historic order (Vineet Narain case), the Supreme Court, besides enhancing the CBI's powers and securing its chief's tenure, had also ordered that 'every prosecution that results in the discharge or acquittal of the accused must be reviewed by a lawyer on the panel and ... responsibility should be fixed for the dereliction of duty, if any ... in such cases, strict action should be taken against officer found guilty of dereliction of duty'.
Of course, no such thing has happened.
Because the politicians cherry-picked what suited them from the court order and used it to their benefit.
For leverage, not justice.
Any wonder then that three of the last four CBI directors, including one of the two appointed under the new system in accordance with the Lokpal Act, 2013, in which the CJI has a vote in the selection, are facing corruption cases which are at various stages.
There is no guarantee the next one will end up any better.
There is too much power in this office, too little accountability, too many temptations.
In such a messed-up institutional structure, only a superman will be able to rightfully claim to be 'asli waale'.
By special arrangement with The Print