'Whether Kashmir or anywhere else, whether in peace or in war, pay commissions or no pay commissions, hollowness and shortages notwithstanding, the Indian Army -- and Sekin Fif -- will always be there to keep India together,' says Aditi Phadnis.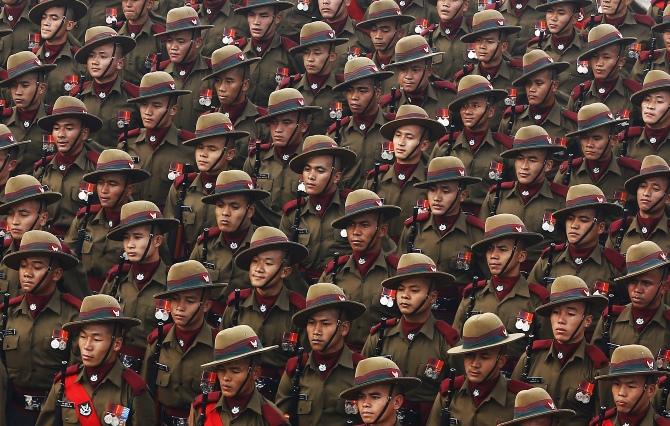 A recent book by Colonel R K Jagota is testimony to the fact that politicians, terrorists, TV channels and other factors notwithstanding, the Army will always be there to keep the country together.
In an interview to Pakistan's Geo TV last month, Pakistan's former foreign minister Hina Rabbani Khar is reported to have said that Pakistan's problems with India cannot be resolved through war.
'I believe that Pakistan cannot conquer Kashmir through war, and if we cannot do that, the option we are left with is dialogue; and dialogue can only proceed with a partner with which we have normal relations and a certain level of mutual trust,' Khar, who was foreign minister from 2011 to 2013, said.
Of course, she's only a former foreign minister, so what she says has little immediate value. Moreover, two recent militant attacks in Kashmir -- one in Srinagar in close proximity to a police station, for the first time in three years in the city; and another in Pampore that claimed the lives of eight CRPF jawans in an ambush -- suggest the war by other means in Kashmir has not abated.
According to a recent intelligence review, 73 terrorists have been gunned down this year between January and June, compared to 39 during the corresponding period last year. Home Minister Rajnath Singh and Defence Minister Manohar Parrikar have made the usual noises about martyrs and every inch of Indian soil, etc. Which leaves us... with what?
The Indian Army and its indomitable spirit.
The release of a recent book, Memoirs of a Soldier by Colonel R K Jagota (retd), is the latest illustration of this spirit. Colonel Jagota served in the Gorkha Rifles (GR) Regiment and both shared and created history in the 2/5 battalion (known in pidgin as Sekin Fif), which is famous for having won three Victoria Cross medals, the highest military decoration awarded for valour 'in the face of the enemy' to members of the Commonwealth and previous British Empire territories.
A total of 1,358 VC recipients exist worldwide. Three -- two awarded to living soldiers, one posthumously -- belonged to 2/5 Gorkha Rifles Colonel K K Sharma, the most highly decorated soldier in the Indian Army to date, who has been awarded the Sena medal twice and the Shaurya Chakra for unparalleled bravery.
The war cry all Gorkha units share, 'Aayo Gorkhali' was heard by the world when 11-year-old Alka Rai, who stood sobbing at her father, Colonel M N Rai's pyre, choked back her tears, raised a clenched fist in the air and roared in a childish treble, 'ho ki hoi na' (is he the bravest of them all? Or not?).
The resounding response of the unit (Colonel Rai belonged to 9 Gorkha Rifles and was killed by the Hizbul Mujahideen during cordon and search operations in Kashmir in 2014) was 'ho, ho, ho' (he is).
Colonel Jagota describes this and other rituals of 2/5 GR and it is not hard to understand what keeps the army together. There is no guile and artifice in his account of some of the most daring encounters between Indian soldiers and the enemy that tells history like it is -- minus embroidery and embellishment.
The most interesting story in the book is the one about Sikkim. Because Sikkim was an Indian protectorate before it became part of India, the Chogyal was guarded by the Sikkim Guards, which comprised officers and soldiers from the Indian Army and Sikkim.
The Chogyal himself had the rank of major general. However, other units of the army were posted within discreet distance of the India-Sikkim border, just in case.
In 1974, a year before Sikkim became part of India, Colonel Jagota was posted in the Sikkim Guards and was witness to the Nepali uprising against the domination of the Chogyal and Lepcha-Bhutia upper classes.
A few kilometres away was posted 16 Jat of the Indian Army -- manned by Major Harish Jagota, his younger brother. The job of the Sikkim Guard was to protect the Chogyal, even if it meant firing at the Indian Army. The job of the Indian Army was to kill the Sikkim Guards if they adopted a threatening posture.
At the simple book release function, tears came to Harish Jagota's eyes as he described his dilemma -- before him stood his elder brother, like a father to the family, whom he might have to shoot; behind him, his other family, the Indian Army and everything it stood for.
Fortunately, Army Headquarters stepped in and ordered him to stay away from military action. Such a situation has never arisen in the history of the army, the elder Jagota writes.
The book could do with heavy editing, but that does not detract from its value. What it really says is, politicians, terrorists and TV channels notwithstanding, the spirit of the Indian Army will forever be unquenched: and whether Kashmir or anywhere else, whether in peace or in war, pay commissions or no pay commissions, hollowness and shortages notwithstanding, the Indian Army -- and Sekin Fif -- will always be there to keep India together.
IMAGE: Troops from the 11 Gorkha Rifles march during the Republic Day parade in New Delhi. Photograph: Adnan Abidi/Reuters