All Indian prime ministers must know that the route to their Nobel Peace Prize doesn't go through Pakistan, says Rajeev Sharma.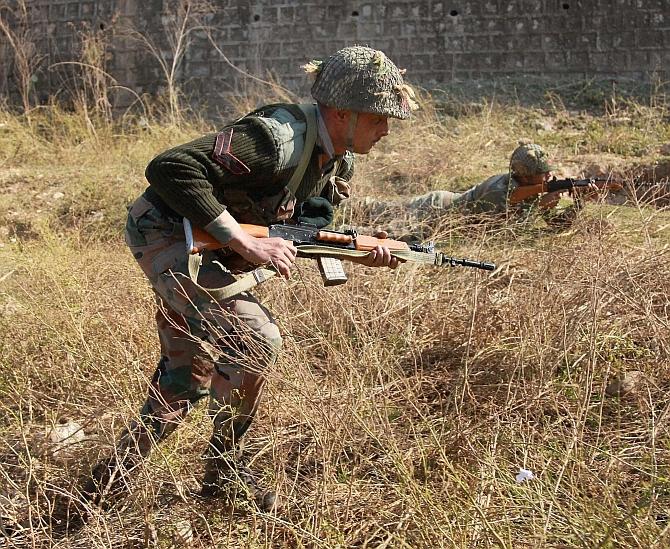 IMAGE: Soldiers conduct a search operation in a forest area outside the Indian Air Force Base in Pathankot, January 3. Photograph: PTI Photo
Prime Minister Narendra Modi has done his best to improve relations with Pakistan, but he is not the first Indian prime minister to have walked the extra mile with the wily neighbour only to get stabbed in the back soon after a peace mission.
Modi must be realising now what it means to take a giant leap of friendship with Pakistan and seeing everything come unstuck soon thereafter.
Modi's Pathankot moment is a sort of deja vu for the Bharatiya Janata Party government which had been slapped back with the Kargil war soon after the then prime minister Atal Bihari Vajpayee had undertaken a historic bus trip to Lahore in February 1999.
Unfortunately, Lahore has emerged as a jinxed destination for prime ministers belonging to the BJP, as just six days after Modi's surprise stopover in Lahore came the well-planned, audacious terror attack on the Pathankot air base.
The Pathankot terror attack, launched on New Year Day, is continuing till the time of writing this article on January 4 evening.
The same fiasco had happened in between the two Lahore visits by an Indian prime minister belonging to the BJP -- the Agra summit of July 14-16, 2001. The world knows to what extent India-Pakistan relations plummeted after the failed Agra summit, so much so that the two nuclear armed enemies had their armies deployed against each other in forward positions for 10 months in the wake of the terror attack on Parliament.
Modi has already had five meetings with his Pakistani counterpart Nawaz Sharif during his 19-month tenure and was seriously considering a sixth meeting in Davos, Switzerland, in the third week of this month and the seventh one in Washington, DC, on the sidelines of a nuclear summit in March.
In contrast, the United Progressive Alliance government had been rather sedate and cautious in its engagement with Pakistan. During his entire decade-long tenure as prime minister from 2004 to 2014, Manmohan Singh met his Pakistani counterparts only 10 times, which means one summit meeting per annum on an average.
In hindsight, this probably was a better way of engaging with Pakistan as the international community was also kept quiet while the UPA government held talks with Pakistan for the sake of holding talks without much substantive agenda on the table most of the time.
Significantly, Dr Singh never visited two SAARC countries even once during his entire two back-to-back full tenures: Pakistan and Nepal. In hindsight, he did not lose much. And, yes, he got the 'reward' of engaging with Pakistan when India got a taste of its own 9/11 moment in the shape of the five-day-long siege of Mumbai by Pakistani terrorists in November 2008.
The moral of the story in engaging with Pakistan is three-fold.
There is no point in holding peace talks with Pakistan's civilian government as the real power vests with the military leadership. The much talked about army chief-level talks is never going to happen because the army chief of Pakistan is way up in the power hierarchy in comparison to the Indian army chief. It is common knowledge that while other countries have an army, in case of Pakistan it is the army which has a country. So folks, pragmatic protocol issues will not allow the Pakistan army chief to hold talks with his Indian counterpart.
Even holding national security advisor-level talks don't cut much ice though the current Pakistani NSA, General Nasir Khan Janjua, is a former military commander. He will remain a Shikhandi. But that suits Rawalpindi because ostensibly, India is dealing with the Pakistani army when it is dealing with General Janjua, but actually it is not and the Pakistan army is free to do what it wants to do. Pathankot is a classic example of the Pakistan army's 'eating the cake and having it too' kind of strategy.
Keep the level of engagement with Pakistan for engagement sake only, with the bottom line being 'Trust, but verify.' Indian prime ministers must remember always that their route to the Nobel Prize doesn't go through Pakistan. The Indian prime minister, whoever he or she is and belonging to whichever party, must not be overtaken with the Pakistan itch.
Rajeev Sharma is a New Delhi-based journalist and strategic analyst who tweets @Kishkindha.