Rajinikanth's personal trait can become a political issue if he enters politics and could get translated as sympathy if not support for the BJP, which can cut both ways, says N Sathiya Moorthy.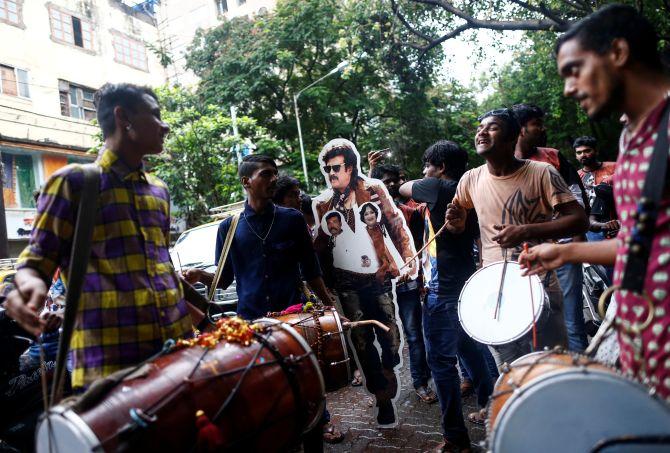 Nothing describes Tamil superstar Rajinikanth's continuing predicament on entering electoral politics better than his twin references to the late journalist-analyst 'Cho' S Ramaswami, a man of many parts, when he announced his much-awaited decision to contest the next state assembly elections, on Sunday.
"I am not afraid of politics, I am afraid of the media," Rajini told his fans, who celebrated his decision instantaneously with loud cheers and bursting of crackers outside Chennai's Raghavendra Kalyana Mandapam, built by him. "Cho Sir had cautioned me about the media," he said.
The media that would have otherwise taken umbrage to such reservations/criticism from lesser mortals, instead celebrated the announcement with 24x7 news and talk-show coverage.
"Cho Sir would have been a source of strength and courage for me, if he were around now," Rajinikanth said. And therein lies the catch, or call it the rub. Almost since the mid-'90s when Rajinikanth began making political noises, both onscreen and off, Cho was among others trying to talk him into launching a political party of his own.
The late G K Moopanar, who had split away from the Congress to float the Tamil Maanila Congress, was also known to have tried doing the same, offering him the party's presidency and chief minister's post if they could together contest the 'Dravidian electoral hegemony' since 1967. Rajini would not yield then and Moopanar and the TMC went the DMK way, for the latter's boss M Karunanidhi to become chief minister, replacing rival AIADMK's Jayalalithaa.
The message for Rajini is this: Time, tide and death does not wait for anyone -- superstar included. With Moopanar's death went the TMC and the cadres that it offered beyond the fans from that period still with Rajini's politics, if any. With Cho's death, he himself has admitted he has lost a trusted advisor, a touchstone, and more.
The limited offer of Rajini to enter politics at a later date too comes with its load of criticism, especially from political opponents and failed ones from the past. Barring those like Dalit-centric VCK leader Thol Thirumavalavan, heading a peripheral party with no electoral representation and who can do with a 'mass-leader' of Rajini's saleability, if not the MGR-Jaya kind of charisma, other political leaders are less than enthused by his declaration.
They all need more than the possible 10 per cent 'non-committed voters' from the past decades for Rajini's party to make an impact. And thus win seats for them, too, as they now have next-to-nil vote-share that can win them anything more than possibly a panchayat/municipality ward seat or two, that too on their candidate's strength, not theirs.
Otherwise, too, Rajini's references to the Bhagwad Gita, his talk of adopting a 'spiritual' approach to politics all have as much chance of backfiring on vote-bank politics, which is a necessary evil of any election anywhere in the world, as it has been in Tamil Nadu. His fans comprise voters from across all religions and castes, and his constant reference to it all again and again may miff the minorities among them.
This section of society, accounting for around 15 per cent of the voters in the state, was miffed at the 'secular' DMK after Prime Minister Narendra Modi paid a courtesy call on the ailing M Karunanidhi in the run-up to the RK Nagar by-election. Post-poll indications are that the minorities, comprising a substantial vote-share in the constituency, voted almost en masse for AIADMK 'rebel' turned independent, TTV Dinakaran, contributing to his massive victory and the DMK's Marudhu Ganesh losing his security deposit.
Yet, there is no denying the wag that if prohibition became the central issue of elections 2016, with women voters in particular smashing government-monopolised liquor shops across the state, especially after Gandhian activist Sasi Perumal, fell to his accidental death from atop a mobile transmission tower, Rajini's 'spirituality' could become the central theme the next time round.
But the interpretation goes beyond what is obvious to Rajini's fans, sympathisers and media followers, who have respected his privacy and personal life, not only because he was the superstar whose word and voice counted (as in election 1996) but also because he was known to spend a lot of time in the Himalayas, in the midst of sadhus and in mediation, even otherwise.
That this personal trait can become a political issue if he enters politics, and could get transmuted and translated as sympathy, if not support, for the Hindutva-oriented BJP can cut both ways, despite whatever 'secular' image he may have wanted to project through specifically-scripted roles as in Basha and Kabaali, among others from his box-office hits over the past two decades.
In the Lok Sabha polls due in 2019, however, the BJP ruling the Centre is expected/anticipated to take a greater Hindutva pitch than in election 2014This, in turn, could centre on the Supreme Court-revived Ayodhya dispute.
Whichever way the verdict may go, or the arguments go in the absence of a verdict in time for election 2019, it could have repercussions in Tamil Nadu, too, especially for a new popular entrant like Rajinikanth with a yet-to-be-launched political party. That again is a problem.
For now, Rajinikanth has declared that his party is as much in the future as it is hoped to be 'futuristic'. No politics and protests for his fans until he floats it for the next assembly polls that are not due before May 2021 in the ordinary course. He is not contesting the local bodies polls, a sure-fire way to test popularity without too much of embarrassment if lost, and create a grassroots-level organisational set-up in time for the assembly polls.
There are two other related questions, too
One, what about election 2019?
Two, what if the continuing perceptions of political instability in post-Jaya AIADMK leads to a sudden death of the current assembly and fresh polls, which may catch both the superstar and his fans by surprise?
In sum, something that is as much a serious affair for Rajinikanth's self-image as his spirituality, his credibility on entering politics needs to be proved to be believed -- though all along in the past, he never came anywhere near an outright declaration as he did on Sunday, though he did whet everyone's appetite through his one-liners, on-screen and off.
Photograph: Danish Siddiqui/Reuters.
N Sathiya Moorthy, veteran journalist and political analyst, is director, Observer Research Foundation, Chennai chapter.