'Unsurprisingly, the joint statement issued after Modi's visit contains a paragraph on terrorism.'
'It is on the usual lines that India would have with, say, Croatia.'
'The surprising part is that it shies away from getting into specifics,' points out Ambassador M K Bhadrakumar.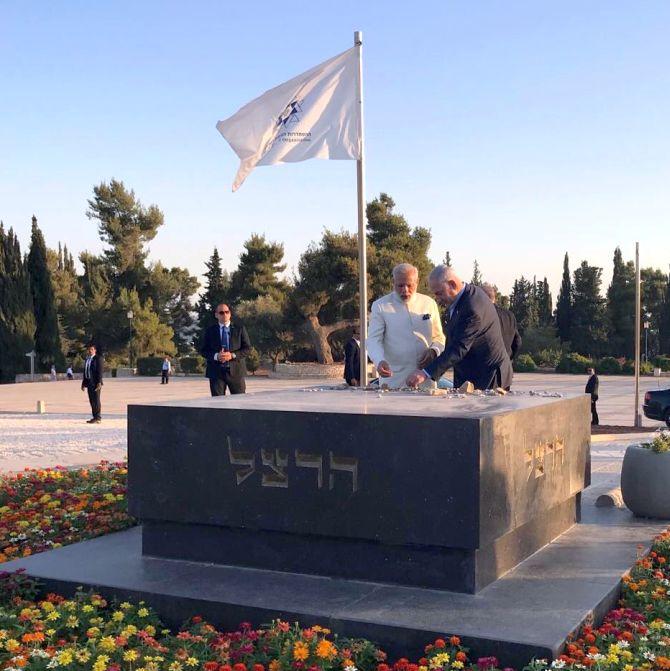 Israel has given a masterly lesson to sister embassies in Chanakyapuri what media management skill is all about -- how the Modi government's ban on journalists accompanying the prime minister during his tours abroad can be turned to an advantage at very nominal costs.
Be that as it may, Israel had every reason to celebrate PM Modi's visit. Vendors have strong reason to fawn over clients who are willing to splash money.
The India-Israel defence arms deals are largely conducted out of sight in secrecy, not through open international tendering. They are what one calls 'sweetheart deals'.
There is good money in such 'sweetheart deals' for the Israeli vendor. Effectively, India has become a principal source of budgetary support for Israel's military industry.
Thus, PM Benjamin Netanyahu spent quality time on Modi -- almost the way he did for US President Donald Trump.
India has become a 'pivotal relationship' for Israel.
Since May 2014, perhaps, it has also acquired an extra verve by claiming to be a 'value-based' relationship.
Both governments are wedded to anti-Muslim politics.
Netanyahu, of course, enjoys the privilege of acknowledging it and forcefully articulating and acting on it.
Whereas, the Modi government acts slyly through the art of studied aloofness.
Therefore, from the Israeli perspective, the high noon of Modi's visit has been, without doubt, his visit to the grave of Binyamin Ze'ev (Theodor) Herzl, who is regarded as the 'founder of Zionism'.
Simply put, Zionists believe Judaism is a nationality as well as religion.
This may seem an innocent thought process, but in its practical application in political terms, it created rivers of blood and an entire region tore itself apart, spawning festering wounds.
Modi's visit to Herzl's grave will be noted far and wide in the Muslim Middle East, given the backdrop of the Arab-Israeli conflict.
Herzl is the Israeli counterpart of Vinayak Damodar Savarkar -- except that Hindutva is not (yet) India's national ideology.
Modi's visit to Herzl's grave was indeed a 'scoop' for Netanyahu who would have known precisely what he was doing when he gently poked Modi.
Was it a carefully choreographed 'scoop'? We will never know.
Equally, it remains unclear whether Modi quite understood what he was doing.
A profound sense of the Middle East's tragic history is needed at such moments when one is called upon to take a poignant decision in split seconds.
Modi's visit has produced seven MOUs.
They are all in the nature of technical cooperation -- essentially, on India hiring Israeli consultancy services in fields such as water resources (water conservation, waste-water treatment and its reuse for agriculture, desalination, water utility reforms, and the cleaning of the Ganges and other rivers), agriculture (quality planning materials, post-harvest technical know-how and market linkages, etc), space and so on.
The only concrete outcome has been the creation of the $40 million India-Israel Industrial R&D and Innovation Fund with 50:50 equity to enable Indian and Israeli enterprises to undertake joint R&D projects leading to development of innovative technologies and products.
Hopefully, this will stimulate a proliferation of start-ups, an area in which Israel excels.
Unsurprisingly, the joint statement issued after the visit contains a paragraph on terrorism. It is on the usual lines that India would have with, say, Croatia or Mauritius.
The surprising part is that it shies away from getting into specifics.
There is no reference to Lashkar-e-Tayiba although in the run-up to Modi's visit, Israel claimed that it empathises with India's struggle.
When it comes to terrorism, there is indeed a grey area in the India-Israel relations insofar as the two countries have divergent conceptions of what constitutes terrorism.
For Israel, resistance movements like Hamas or Hezbollah become terrorist organisations. And it has no qualms about using Al Qaeda affiliates or ISIS as instruments of regional policy to counter the 'axis of resistance'.
But in Israel's place, India would have come to terms with Hamas and Hezbollah as erstwhile militant organisations that must be legitimised once they took to the democratic path, seeking power.
What is possible between India and Israel, therefore, is 'technical cooperation' in the field of terrorism.
No doubt, Israel has vast expertise in assassination techniques, 'surgical strikes', covert cross-border operations, intelligence gathering, detention and interrogation techniques, suppressing mass protests and quelling civil disobedience ('Intifada').
Perhaps, Israel can provide the Indian security establishment with guidance to be efficient and smart and sophisticated.
Israel would never do such crude things like using pellet guns or using human shields for the military -- leave alone glorify such things as innovative methods.
The most surprising thing about Modi's visit is the complete absence of any cooperation in energy.
From the hype given to the visit, one had strongly suspected that there was going to be a dramatic announcement in energy cooperation. But, alas, that didn't happen.
In the spirit of the 'enduring friendship', Israel could have and should have offered to India's ONGC Videsh at least a sliver of the giant Leviathan and Tamar gas fields for development and exploitation -- similar to the Iranian offer of Farzad-B gas fields to India, which is under negotiation.
The total in-place reserves of the Farzad B gas field are around 21.7 trillion cubic feet of which around 60 percent is recoverable and production is slated to be around 1.1 billion cubic feet/day.
Yet, Iran made an offer to India as a gesture.
Did India seek a share of the Leviathan and Tamar fields? Or, is it that Israel prefers only American partners? Israel would know that India is a terrific market for LNG exports.
Suffice to say, Modi's visit underscores that apart from arms sales, the scope for expansion of business ties with Israel is very limited.
This in turn explains the desperate necessity to incessantly inject hyperbole and give a larger-than-life 'atmospherics' to the relationship.
But it is not sustainable beyond a point, as India keeps growing into a big economy and takes to globalisation in a big way. Of course, technical cooperation is useful.
There cannot be two opinions that it is a good thing if Israel can help us to clean the Ganges of its human debris, or teach us how to dispose of garbage (and develop a better sense of hygiene), or how to run green houses (and market the products), or how to use 'Atomic Clocks'.
But then, India's pressing need is to create jobs in the millions in the economy.
Can Israel invest in India in the manufacturing sector or for infrastructure development? That is too much to expect.
We see at once that this relationship must be put in proper perspective.
A big country with a population of 1,300 million simply cannot pair with a tiny country with 8 million people beyond a point.
There are inherent limitations to the India-Israel relationship as time passes, and all the media management skills in the world cannot obfuscate that reality.
IMAGE: Prime Minister Narendra Modi and Israel's Prime Minister Benjamin Netanyahu at the grave of Theodor Herzl, considered the father of the State of Israel, June 4, 2017. Photograph: @netanyahu/Twitter