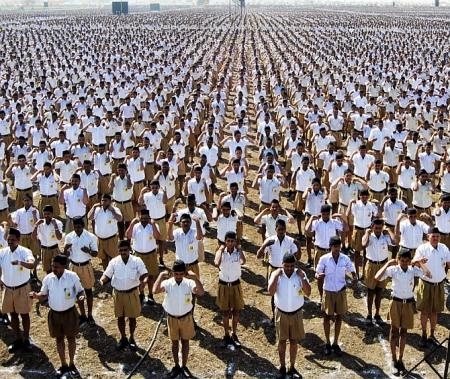 The rise of IS and intolerant Wahhabism are the real dangers to Indian democracy and pluralism, not the RSS, says Rajya Sabha MP Tarun Vijay.
Instead of taking on issues like poverty and economic deprivation, Congress leaders have started communalising the public discourse, keeping the Uttar Pradesh elections, due in 2017, in mind.
Ghulam Nabi Azad, who otherwise is known to be a 'suave' and mature leader, may deny that he compared the Rashtriya Swayamsevak Sangh to Islamic State, but as per his explanation in the Rajya Sabha he still finds that both divide communities.
It is a pity that they feel the IS can even be clubbed with a highly patriotic organisation that lives and dies for the tricolour and holds the Indian Constitution in high esteem. While they had no problem supporting the slogan-shouting student groups at Jawaharlal Nehru University who stood against soldiers and the Constitution and sympathised with those who support Kashmir's azaadi from India, the RSS, which protects India's azaadi from secessionist assaults, is verbally assaulted in the most acidic manner.
It is as ridiculous as comparing Jawaharlal Nehru to Pol Pot.
Under whatever pretext and 'ideological belief' the 'divisiveness of the RSS' was clubbed with the IS, it was also the day when news about the killings of two Border Security Force jawans by Maoists came in.
The likening of the RSS to IS was a bit cruel and unworthy of a headline. The denial, for whatever it was worth, didn't make an appearance till the matter was raised in Parliament.
If at all any one is to be compared with IS, it can only be the violent, secessionist and foreign-funded Maoists. They are followers of Communism, and Marxism-Leninism is their lifeline, they are ideological fellow travellers of the Communist parties who have a political collaboration with the Congress in West Bengal and in the Rajya Sabha.
So a party, which has no qualms to take the help of and walk with those who share the ideology of the barbaric Maoists, and in fact maintains a studied silence on their brutality, has the guts to allege that the RSS is as divisive as IS and that both are two sides of the same coin?
That takes some courage to falsify the stark truth.
The platform where the Congress leader spoke about the similarities between the RSS and IS that of a Muslim organisation, and should have been used to forge a united front against the terrorism of IS and an appeal could have been made to all Muslims that it is reprehensible to see that almost every terror action in the world today has an Islamic angle and hence it is our duty to defeat all those who give Islam a bad name.
If any community in this world can provide effective leadership to anti-terror actions, it is Indian Muslims who are different from all other Muslim groups in the world.
The Indian version of Islam, though unaccepted by intolerant Wahhabi groups, is assimilative and unique. It has the gift of Sufism, local pirs, dargahs, red flags, sweet ilaichi-dana as offering, and mannats, and celebrates music. It is the life of colour and gaiety and compassion that we see during the annual Urs functions at Nizamuddin and Ajmer Sharif which makes no difference among Hindu and Muslim jayreens (devotees).
Why can't the Congress speak about this to forge unity at a time when the social fabric is sought to be torn asunder by extremism?
It is not as if well informed and highly qualified Congress leaders need to be told about the deadly poison from IS who are the worst enemies of Islamic societies and the sole reason for the killings of Muslims by fellow Muslims.
IS is brutally violent, intolerant, have spread their wings in many Islamic countries and wreak havoc on societies where schools are shut, girls are abducted and kept as sex slaves, and libraries burnt.
More than 1,900 Shia Muslims have been killed in bomb blasts and targeted killings in Pakistan in the past three years. The rising fanaticism among Muslims must concern the Congress more as it has its roots in pan-Indian nationalism.
While regional parties in India are controlled by personalities rather than programmes, it is for national parties like the BJP and the Congress, which though controlled by a family has a national presence and a national agenda.
The rise of IS and intolerant Wahhabism are the real dangers to Indian democracy and pluralism, not the RSS.
In fact, the RSS stands guard to defend the rights of all minorities, is the biggest guarantor of pluralism in India and owes full and unstinted allegiance to the Constitution. It has a proven record of patriotism and its millions of workers have been working relentlessly for a happier, prosperous and secure India.
RSS swayamsewaks run more than 175,000 projects covering medical help, blood banks, eye banks, super-speciality hospitals, education centres and hostels for scheduled castes and scheduled tribes in remote areas like Leh, Port Blair, Tawang and Moreh.
They have a vision for a better, greater, nation and it can't be hate-driven. To love your motherland has the necessary element of all-pervasive inclusiveness and dedication.
Among the RSS workers are IIT graduates, research scholars, doctors and engineers. They leave their career prospects and homes behind to work for the common people, like monks in civil attire, and do not aspire to become famous or to get Padma awards.
The awareness they create augurs well for the nation's future and they are the core resistance against any violation of India's democracy and Constitution.
How can they be compared to gun-wielding marauders and mass annihilators? Have some mercy on your intellectual faculties, please.
Tarun Vijay is a Bharatiya Janata Party member of the Rajya Sabha, and convener, BJP Parliamentary Party Research and Policy Studies Cell.