While the standards of Visva Bharati University fall, the chief minister of West Bengal fantasises about a Biswa Bangla University a few kilometres away. Keya Sarkar ponders the sad state of affairs.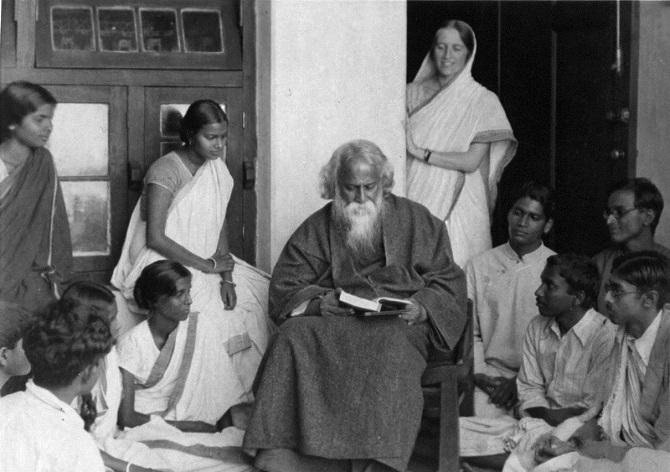 IMAGE: Rabindranath Tagore, centre, with students at Visva Bharti University. Photograph: Wikimedia Commons.

While there has been a gradual deterioration of standards at Visva Bharati University, the last few years has seen a rapid fall.
From being a university where Rabindranath Tagore wanted the world to meet, it has become a choice for students of Birbhum district.
From being known for its excellence in humanities and liberal arts, the university infrastructure and faculty now get only a second grade rating from the National Assessment and Accreditation Council, a body that evaluates all colleges and universities.
From having scholars and philosophers at its helm, its vice-chancellors now get sacked for financial misdemeanours.
In fact, so bad is the state of affairs that the University Grants Commission has not yet announced a replacement for the last vice-chancellor who was sacked.
The sad state of affairs and the lack of direction from its officiating leaders are evident in every sphere. Except for several buildings that are being constructed in the name of development, Visva Bharati mirrors the rest of Bengal.
It is in the headlines only for its scandals.
Students get ragged in the hostels; expensive trees get butchered on campus, the litter on campus and around threaten every gutter.
In every sphere there is a sense of deprivation.
Much of the campus has been taken over by dirty shacks selling snacks, as the university provides no clean, cheap alternative to the students.
Day tourists and picnickers enter the university area with impunity, set up gas stoves and cook and litter in the midst of Tagore's heritage buildings.
As the university falls outside the municipality area, the thermocole plates, the plastic cups, the half-rotting food stay exactly where they were thoughtlessly chucked.
In marketing terms, the university has lost the mind space it once occupied. There is clearly a space for another product to challenge its first-mover advantage -- albeit from strange quarters.
Recently, Mamata Banerjee addressed a gathering of teachers of government colleges and universities. It is clearly a huge vote bank and the meeting was to announce sops for the teaching fraternity, the chief among them being to announce an increase in the retirement age!
But Banerjee seldom restricts herself to the focus for any gathering. Every meeting is a platform to list all that her government has done or will do for the poor, the not-so-poor and even the wealthy. It is in this context that she mentioned how many Bengali students were going off to Chicago and Harvard to study. She said that soon universities like that would be created in Bengal and students from across the globe would flock here instead!
In the midst of this flight of imagination she paused. With a half smile she said: "Visva Bharati University has been running for so long. I have taken a decision to start a Biswa Bangla University."
Imagining that this decision would get a round of applause, she paused again, smiled and said: "Do you know where I have selected the land for this university? It is within one, two, three minutes from the Visva Bharati campus."
In reality the proposed site is about 7 km from Tagore's legacy university -- a distance unlikely to be covered in three minutes in mofussil Bengal.
As I sat watching this on TV, I thought about Tagore's vision of a world university and now Banerjee's. Since Visva Bharati is a central university and Banerjee is not in love with the powers that be there, she needs to give it competition. Even if it's only in her fantasies!