'Nationalism has been defined for us. It is what the BJP and Modi bhakts decide, not me, you or Salman Khan.'
'If you don't agree with their views, you are a Pakistani agent and an anti-national. Period. No argument. The discussion ends there, says Syed Firdaus Ashraf.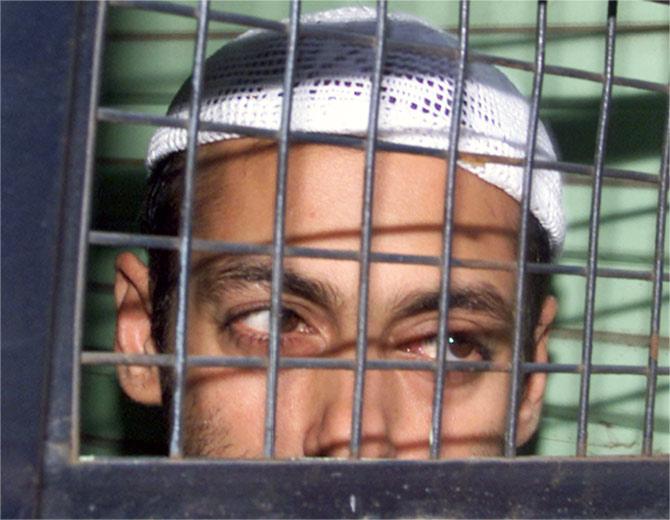 Image: A 2002 photograph of actor Salman Khan being taken to a Mumbai court in connection with a drunk driving case against him. Photograph: Roy Madhur/Reuters
When I visited America on a scholarship in 2005 to discuss its relationship with Asian countries that have large Muslim populations (I represented India, home to the second largest Muslim population in the world), especially in the post-9/11 era, I heard a catchy line from the proponents of democracy that has stayed with me.
"In a democracy we agree to disagree, which is not the case in Islamic societies."
In the American view, the reason Islamic societies had not progressed was because they had no room for dissent.
That is how Americans promote their version of democracy, by touting the line 'agree to disagree.'
This dictum clearly does not apply to the Bharatiya Janata Party, which now rules Maharashtra in a tenuous alliance with the Shiv Sena.
Here, the BJP's credo seems to be: Dump democracy! Practise mobocracy!
Superstar Salman Khan learnt this to his dismay on Sunday, July 26, morning. A few hours earlier, Khan had tweeted in support of the March 12, 1993 Mumbai blasts convict on death row, Yakub Memon, stating that he should not be hanged for the sins of his brother 'Tiger' Memon.
In a series of tweets in the wee hours of Sunday, Salman Khan called Yakub's brother 'Tiger' Memon a 'lombdi (fox)' who had gone into hiding.
What prompted Salman Khan to tweet all this at that unearthly hour no one knows, but he expressed his opinion on a subject which currently appears to have vertically divided our nation.
Whether Yakub Memon is innocent or not, I don't know.
But I know and believe that Salman Khan has every right to articulate his opinion, however unpalatable it may be.
As an Indian citizen, he has every right to express his opinion, as free speech is his Fundamental Right guaranteed by the Constitution of India.
Unfortunately, in these days of hyper-aggressive nationalism under Prime Minister Narendra Modi's 'India First' concept, one needs to be careful of what one says (as so many public personalities, including actress Shruti Seth, have discovered to their dismay).
Salman Khan seems to have forgotten this thumb rule of Indian democracy in Modi's India.
In these tumultuous times, nationalism has been defined for us. It is what the BJP and Modi bhakts decide, not me, you or Salman Khan.
If you don't agree with their view, you are a Pakistani agent and an anti-national. Period. No more argument. End of discussion.
As the BJP's Member of Parliament Sakshi Maharaj, who has emerged as the brand ambassador for Pakistan tourism, said, 'People who can't respect the Indian system and judiciary can go to Pakistan. The door is open.'
Sakshi Maharaj was reacting to Hyderabad MP Asaduddin Owaisi's comments questioning the death sentence awarded to Yakub Memon.
As long as Salman Khan was flying kites with Narendra Modi, there was no hero like him for the Modi bhakts.
Every year during the Ganpati festival he respectfully brought in Lord Ganesh for worship in his home, proving beyond doubt to every Indian Muslim that he was the one and only 'Rashtriya Mussalmaan.'
But with his Yakub/Tiger tweets the Modi bhakts wondered: How could this Rashtriya Mussalmaan have a different view from us on Yakub Memon? Or was he always a Muslim first and Indian second?
I wonder why BJP mobs went to Salman Khan's Mumbai home to protest. Why did they not protest against Owaisi outside Owaisi's party headquarters in Hyderabad?
After all, Owaisi said virtually the same thing as Salman Khan did. So why have different rules for Khan and Owaisi?
Simple. Salman Khan is a soft target.
Within a few hours, Salman Khan retracted his tweets and apologised. Owaisi has not retracted his statement on Yakub Memon, nor is it likely that he will.
In April, while covering Maharashtra's beef ban case in the Bombay high court, I heard a wonderful argument by senior counsel Aspi Chinoy, who said, 'The right to choose to eat is part of the Right to Privacy and the same forms part of the Right to Life and Liberty.'
Representing Maharashtra'S BJP-Shiv Sena government, state Advocate General Sunil Manohar declared, 'The right to eat is neither an absolute right, nor absolute freedom. Freedom is governed by laws.' (external link)
Note the argument on eating beef: 'Not absolute freedom.'
From here it is but a small leap to start believing that the Right to Free Speech is also 'not an absolute freedom.'
And if you speak against 'Us' online, then 'We' will suppress you on the Internet, and we have our mobs on the ground to suppress your Right to Free Speech.
Over the weekend I finally watched Salman Khan's latest blockbuster, Bajrangi Bhaijaan. I was least interested in seeing the film, but had to give in at my wife's insistence.
Before the film began, the national anthem began to play as is customary in movie halls in Maharashtra. Everybody stood up in respect including me. I feel it is a very good move by the Maharashtra government to introduce this rule as this is the only time in our hectic lives when we recall our national anthem, apart from on Independence Day and Republic Day.
Filled with a sense of patriotism, I wondered which minister had implemented the rule to play the national anthem in Maharashtra theatres, and that I must salute him, whoever it be.
The minister who made it mandatory to play the national anthem in Maharashtra theatres is currently under investigation for an alleged scam, even accused of money-laundering.
'Patriotism,' Samuel Johnson declared more than 200 years ago, 'is the last refuge of a scoundrel.'
That is the tragedy we confront today -- intolerant Indians, who in the name of patriotism, want to shut us up for having opinions different from theirs.