'Will the Statue of Unity and Tent City Narmada have as much of a transformational effect on the local economy as the salt desert/Tent City Dhordo did is something that only time can tell,' says Sanjeev Nayyar.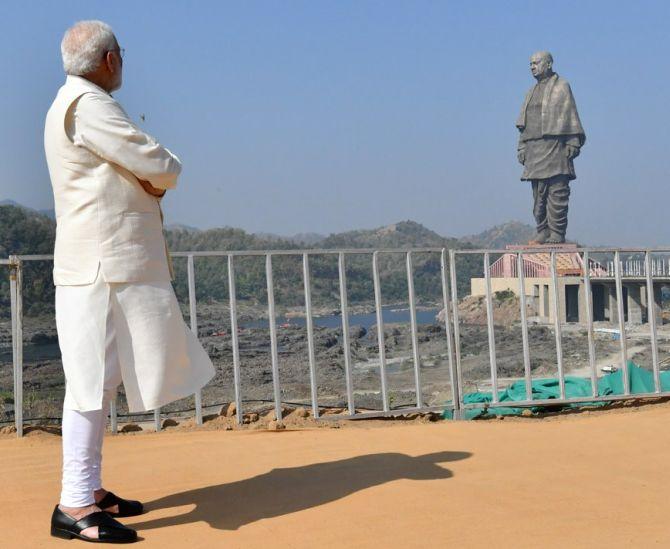 Ever since the Statue of Unity was inaugurated by Prime Minister Narendra Damodardas Modi there has been an unending stream of criticism, especially on social media -- the money spent on the statue could have been spent better, being the constant refrain.
What is being missed is that the tribal-dominated Kevatia region is being promoted as a tourist destination with the Statue of Unity.
Visitors can stay at the Tent City close by and also visit the Shoolpaneshwar temple, Rajvant palace, the Valley of Flowers, or go crocodile spotting at the Sardar Sarovar Dam, or go hiking, enjoy cultural programmes and Gujarati, other Indian and continental cuisines.
The Statue of Unity is a magnet to attract you to this backward and scenic part of Gujarat. Since Vadodara is the closest well connected city, tourists can visit Sri Aurobindo's home and see the awesome Lakshmi Vilas Palace as well.
Tent City Narmada is being positioned as a perfect nature retreat and an oasis of peace for those who want a break from hectic urban lifestyles. The tents cater to various price points with standard, luxury and deluxe ones. Those who stay overnight can enjoy cultural and entertainment activities.
When I browsed the Tent City Web site what struck me was its similarity with Tent City Dhordo that I visited in February 2018. It is worth recalling how the Rann Festival and the salt desert have become popular tourist destinations.
Eighty-six km from Bhuj and at one end of Kutch is the Salt Desert Dhordo.
'The low-lying mudflats of the White Rann fill with water during the monsoons and then dry out over the rest of the year. By December, post evaporation, the saline crust hardens to form a luminous white colour. By January, the marsh is unending white desert,' writes Abhijit Dutta on Mint.com.
Earlier, Dhordo village was hardly visited and had poor infrastructure. The main occupation of its people was animal husbandry and handicrafts. Inadequate employment forced migration. People lived relatively insulated lives.
It was in 2005 that a plan to develop the area was made. Tent City came up in 2008. To let people know of the place, the state government in 2009 organised a Chintan Shivir (a three-day brainstorming camp) for IAS officers and the state cabinet.
Next, in 2010, the BJP working committee met at the same destination. This raised the area's profile and increased awareness. Amitabh Bachchan's advertising campaign added the much-needed glamour quotient.
So, even before the start of the Rann Utsav, the area got quality roads, regular power supply and quality water.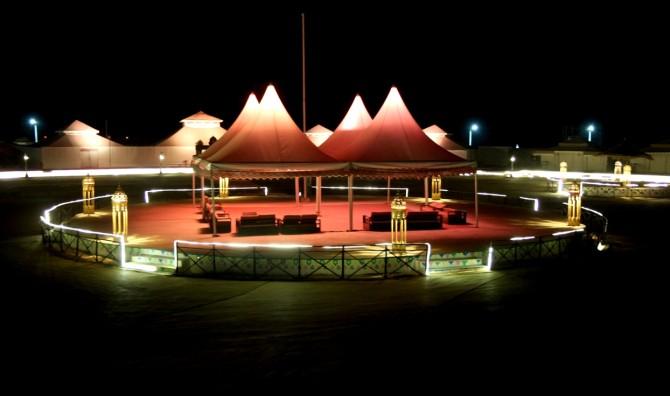 Today Rann Utsav runs for about 107 days starting every November (it is too hot at other times). A bus takes guests from the Bhuj railway station/airport to Tent City Dhordo. Tourists can chose from 1, 2, 3 night packages that cater to various price points.
According to its Web site, a host of adventure sports and recreation facilities are available. The restaurant serves good local cuisine. There is a cultural event every evening. Shops sell local handicrafts. Tent City is managed by a private company.
Guests can take a double-decker open air bus to visit the salt desert at sunrise and sunset.
During the day, conducted tours take you to Kalo Dungar (at a height of 462 metres, it is an excellent viewing and the highest point in Kutch) and crafts village Gandhi nu Gaam.
On the return to Bhuj en route, see the Kutch Museum and the Hiralaxmi Craft Park at Bhujodi, a must-see.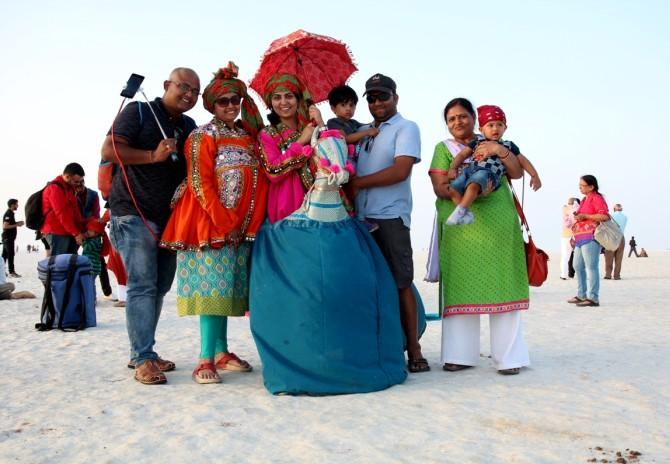 Now for some personal observations:
Barring the Tent City it is sand and sand all around. The Tent City is like a developed area in a no-go zone. Facilities in tents are good. The dining hall is huge and you can see the local women make bajre ki roti.
On the evening that I visited, the cultural programme was unimpressive.
Early mornings and evenings at the salt desert were awesome. The colour of salt was snow white. I saw tourists of various age groups. Some went on long walks, others played cricket or danced to the dholak. The atmosphere is festival-like and tourists are happy to be there.
At village Gandhi nu Gaam I met with Puna Sumar Marvada who specialises in making wood furniture, mud painting, and sells Kutchi textiles. He said the Rann Utsav was a boon.
During the peak tourist season he did not have time to even breathe. His wife cooked a nice Kutchi meal for us which I paid for. His enterprising neighbour offered me a home stay in their bhunga for Rs 1,000/a night.>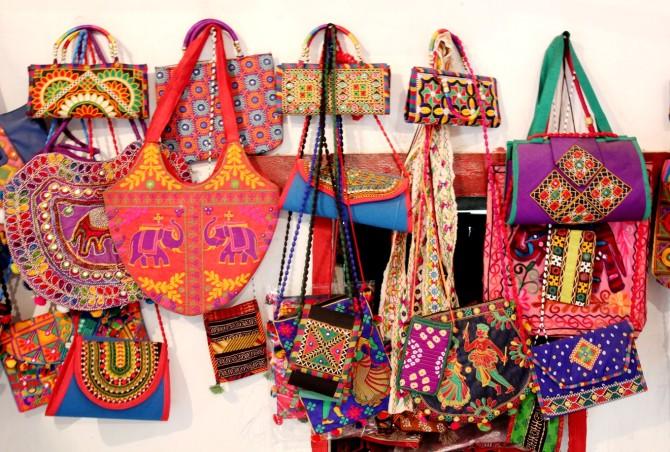 En route to Kala Dungar I visited village Dhrobana and met Narsinghbhai Sanjot. He sells bags, patch works, Kutchi handicraft, textile embroidery, etc. He too said the Rann Festival had given locals like him a platform to sell and realise a better price.
Since I visited his village and it was end of season, he grudgingly sold bags at a discount. The friend whom I gifted a bag cannot thank me enough.
Note that Marvada and Sanjot belong to the very talented and creative Meghwal community, declared as scheduled castes by the Government of India.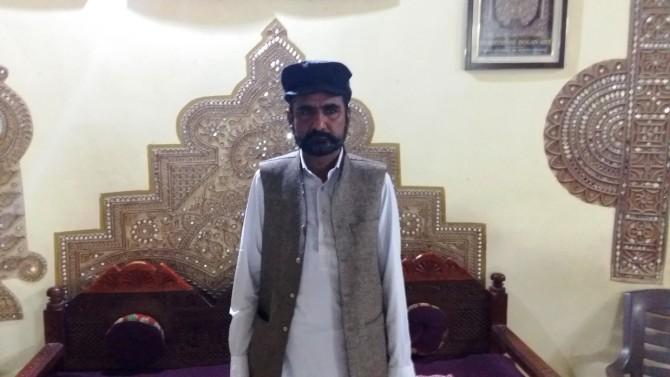 I also met with Mian Hussein, the sarpanch of Dhordo village, who said Tent City brought roads, development, electricity, wi-fi, water, tourists and resort facilities. With pride he added that Dhordo village also had a helipad.
In 2015 the government constructed 20 bhungas (traditional Kutchi mud hut with thatched roof and decorative hand-painted motifs) and gave it to the village panchayat to manage.
Madhu Kishwar, academic and founder of Manushi, a journal about women and society, wrote in 2014, 'The contract signed by the panchayat stipulates a 40-30-30 model of profit sharing -- that is, 40 per cent of the income of this resort has to be spent on village development work, 30 per cent is to be put in the government treasury by way of loan repayment and 30 per cent to be used for running the resort.
Hussein says they constituted a Dhordo Gram Vikas Trust for its management and put all the income into that account. It is a unique form of public-private partnership.
All through the drive from Hodko to Dhordo numerous resorts have come up, all traditional bhungas. Of these Shaam-E-Sarhad at Hodka is very popular with foreign and Indian tourists. It is operated and managed by the local community of Hodka village. While shopping in Hodka village I came across another resort run by locals.
Based on a 10-day visit to Kutch I can confidently say that the infrastructure development due to Rann Utsav and the government's attempts to boost tourism have benefitted the local population in a positive way. It has enhanced incomes, provided a market for artisans and livelihood to lakhs.
When a tourist reaches Bhuj, en route to Salt Desert Dhordo, one suddenly realises that the region has so much to offer.
In Bhuj a must visit is Prag Mahal. About one hour's drive is the very scenic Mandvi beach and Vijay Palace (featured in many Bollywood movies). About 15 km away is Bhujodi, a shopper's paradise for women.
Some 135 km from Bhuj is Lakhpat. A gurdwara commemorates Guru Nanak's stay en route to Mecca. Did you know that till the earthquake of 1809, the river Indus flowed to Lakhpat from where it entered into the Arabian Sea, as against flowing through Sindh?
If it were not for the government promoting the salt desert I might not have ventured into Kutch.
It is easy to us to find fault with a government decision, but it only when we visit tourist destinations, in this case Kutch, does one get a sense of the vision that drives their action.
Will the Statue of Unity and Tent City Narmada have as much of a transformational effect on the local economy as the salt desert/Tent City Dhordo did is something that only time can tell.
Sanjeev Nayyar, an independent columnist and founder of www.esamskriti.com, tweets @sanjeev1927