Xi's visit to Nyingchi, bordering Arunachal Pradesh, signals China's opening of another front to India in the eastern sector, observes Srikanth Kondapalli, the leading China expert.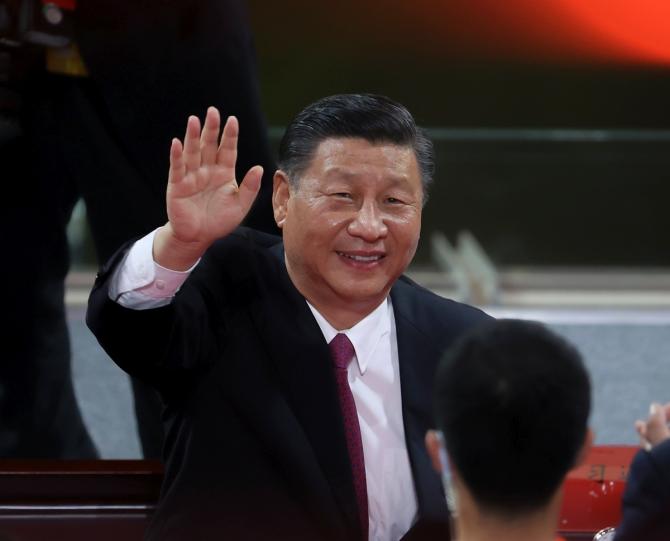 China's President Xi Jinping made a surprise visit to Tibet, but went there previously in 1998 and 2011.
Xi visited Nyingchi (opposite Arunachal Pradesh) and Lhasa on July 21-22.
His delegation included Zhang Youxia, vice-chairman of the Central Military Commission which actually controls the peripheral regions of China.
The last Chinese president to visit Tibet was Jiang Zemin in 1990.
Tibet has a special place in Chinese politics as it is said to be related to its 'core interest'.
Those who served in Tibet as party secretary saw their political fortunes improving such as for Hu Jintao who became China's most powerful leader between 2002 to 2012.
Hu Chunhua, the current vice premier and possible 6th generation leader after Xi, spent time in Tibet as party secretary.
Chen Quangguo, another party secretary for Tibet, and now serving in Xinjiang, is also slated for elevation at next year's Chinese Communist party congress.
Xi's visit comes in the wake of significant developments related to Tibet in recent times.
Firstly, Tibet is still one of the poorest regions in China, despite the celebrations related to seven decades of its 'peaceful liberation' through its army.
Tibet has the lowest per capita income among all regions of China of about $1,000 and a GDP of about $20 billion.
However, the rest of China benefits from the pumping out of Tibetan minerals like copper, zinc, lead and others from 100 sites worth $128 billion.
Besides, Tibet is the repository of water for China, South Asia and Southeast Asia and Beijing is diverting much of this water.
China already constructed 11 dams in Tibet. These infrastructure projects have resulted in extensive environmental degradation, with an estimated 23 cubic meters of glacier meltdown per annum.
If four dams have burst in the last 48 hours in China, a major disaster is only waiting to happen in Tibet.
Secondly, at the 7th Tibet Forum Meeting of the Chinese parliament at the National People's Congress on August 29 last year, Xi called for further 'Sinicization' of Tibet meaning that China would further integrate Tibet, with a further influx of Han nationals.
It called for ushering in socialism in the region -- a euphemism to convert Buddhism into party-State control.
This suggests that even after 70 years of rule in Tibet, China is still not confident about its hold over the region and reflects the fact that the Dalai Lama still has utmost reverence on the roof of the world.
The ten rounds of talks between the Dalai Lama's representatives and China's United Front Work Department from 2002 to 2010 remains suspended and inconclusive, leading to further uncertainty.
China also announced in the current 14th Five Year Plan huge allocations on Tibet to the tune of over $29 billion in infrastructure projects.
Tibet already has 118,000 km of roads, building at the rate of 4,000 km every year with the Nyingchi to Medog road, on the borders with India, completed this May.
The Tibet railway network was constructed in 2006 and China is planning the $5.8 billion 409 km railway to Nyingchi that Xi inspected.
These have significant military logistics' signalling to India in Arunachal Pradesh.
Thirdly, Xi's visit to Tibet also coincides with the armed stalemate on the borders with India in the western Aksai Chin-Ladakh regions for the past more than one-and-half years and the recent tweet by Prime Minister Narendra Damodardas Modi on greeting the Dalai Lama on his birthday early this month.
Xi's visit to Nyingchi, bordering Arunachal Pradesh, signals China's opening of another front to India in the eastern sector.
Fourthly, Xi's visit also coincides with United States Deputy Secretary of State Wendy Sherman's visit to China. This January, then US president Donald Trump signed into law the Tibet Policy Support Act which warned China of interfering with the next 15th Dalai Lama reincarnation issue and had laid down restrictions on Chinese visitors to the US through the 'reciprocal act of 2018'.
In the overall 'great-power competition' that US President Joe Biden began his strategy, relations with China are configured in a 'competitive' mould and Tibet occupied a significant place in the bilateral relations.
Biden is nudging China to conduct meaningful dialogue with the Tibetans.
Fifthly, despite the 'organised' reception for Xi in Lhasa, as the video coverage suggests, Tibet had witnessed unrest extensively.
Since 2011, nearly 150 Tibetans -- mostly Buddhist monks -- have committed self-immolation to protest China's rule over Tibet.
Previously, Tibetan protests nearly wrecked the Beijing Olympics in 2008 by organising global protests against the torch march.
The 1959 flight of the Dalai Lama is celebrated by the Tibetans by organising protests in various forms.
This suggests to the tentative control of China over Tibet that Xi wanted to gauge during his current visit.
Srikanth Kondapalli is Professor in Chinese Studies at Jawaharlal Nehru University.
Feature Presentation: Rajesh Alva/Rediff.com