Both Rajini and Kamal have to first convince the Tamil Nadu voters that even if they are entering active politics relatively late in life, they are here to stay, and are serious about politics, says N Sathiya Moorthy.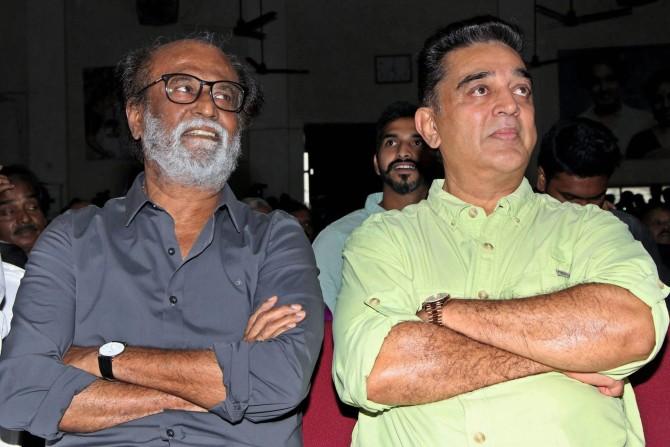 Image: Actors Rajinikanth and Kamalahaasan at the launch of Kizhakku Africavil Raju, starring the late MGR (M G Ramachandran) through motion capture technology, an animated film directed by Arul Moorthy, on the occasion of AIADMK founder M G Ramachandran's 101st birth anniversary, in Chennai on January 18, 2018. Photograph: PTI Photo.
As if awaiting the advent of the auspicious Tamil month of 'Thai' and with that the annual 'Pongal' harvest season of prosperity and plenty, Tamil filmdom's 'superstar' Rajinikanth and 'supreme star' Kamalahassan have reiterated their resolve to enter direct, electoral politics.
As if reacting to the new urgency imposed by co-star turned competitor Kamal's decision to tour the state from February 21, Rajinikanth too has declared his preparedness to face elections within six months.
Unlike Kamal, as convoluted as ever in putting his thoughts into words, Rajinikanth still seems to be holding back more than he is saying. Thus, his six-month notice can be interpreted in two ways.
One is that if and when the current court cases and political developments involving the ruling AIADMK in the state were to force fresh polls on the state, he was ready to face it. The other is that he would wait until before six months of the assembly polls, due in mid-May 2021, for launching his promised political party.
With this, Rajinikanth has once again left his participation in the 2019 parliamentary polls a continuing aspect of media speculation. In his New Year's Eve announcement on entering politics at a later date, and not commenting on politics until then, the superstar had left the possibility of entering parliamentary polls undecided. If he thus decides to enter the LS poll arena, the commencement of his six-month period would have to commence sooner than anticipated.
"Only time will tell," was Rajinikanth's reaction when asked about aligning with Kamalahaasan on the political front. He readily conceded that he "did not expect the announcement" of Kamalahaasan's tour plans, expected to culminate in launching his new party.
While Rajinikanth once again left it all to the realm of possibilities bordering on speculation for now, Kamalahaasan had a different take: "While I am a rationalist, Rajinikanth is entitled to his spiritual faith."
Both actors were maintaining silence after their initial announcements. Kamal was shooting for his pending movies in the US over the past couple of months while in Chennai, Rajini was possibly sticking to his earlier declaration of not commenting on politics until he actually entered the fray.
The two actors, especially Kamal, may have been forced into action/reaction after RSS ideologue S Gurumurthy, in his relatively new avatar as the editor of Thuglak, the magazine founded by his late friend Cho Ramaswamy, declared that the BJP should align with Rajinikanth for the upcoming polls.
While referring to the possibility of working with Kamal in politics, Rajini may have been stating his options with certain reservations, and Kamal was putting those reservations on the top of his options, too. In a way, the two were saying a lot between the lines -- to each other, to their respective fans and others as well.
Yet, neither Rajini, nor Kamal, has reacted to the hot socio-political topic of the season, centred around Vaishnaviite female poet-saint Sri Andal, after Tamil film lyricist and litterateur Vairamuthu made 'avoidable' remarks about her, which sections of the Hindu community and the Hindutva brigade found 'highly objectionable'. They would have none of Vairamuthu's 'qualified apologies', with some Vaishnavite groups, preachers and mutt heads, demanding that they would end their protest if and only if he sought 'unqualified pardon' at the Andal shrine in her native Srivilliputtur temple.
This has since triggered a war of words, where neither Vairamuthu nor the Tamil daily Dinamani, which reported his speech, are being heard, but everyone else has his or her word -- and on the streets and social media, no end.
Though at least some proponents of the anti-Vairamuthu protests seem keen on projecting his speech/write-up as a 'Dravidian attempt' to revive their anti-god, anti-Hindu (also read as 'anti-Brahmin') stance, after a lull it is now slowly but surely taking the shape of a 'pro-Tamil' protests.
So much so, Tamil litterateurs, independent of their own religious beliefs and practices, are rising in defence of Vairamuthu. Non-Hindu and 'anti-Brahmin' groups are seeking to revive forgotten 'Dravidian socio-political agenda' from a century ago, which has never had an electoral purchase, either way, though otherwise believed and propagated.
Suffice to point out that the so-called pro-Hindu votes, identified with the BJP, or the Jan Sangh parent before it, had not crossed an average two per cent. There was/is the peripheral 'nationalist' share of the 'swing votes' that used to be a high 10-15 per cent, to a reduced five per cent now. They were/are 'performance-centric' in 'relative terms', and were/are not based on religion, god or castes.
These votes had originally been with the Congress at Independence and even when the party lost the historic 1967 elections, but moved towards the AIADMK, both under MGR and then Jayalalithaa, and tilting towards the late Congress veteran G K Moopanar's Tamil Maanila Congress (TMC) in 1996. It can thus go to a Rajinikanth here, more than the BJP, if the former is accepted on his claims to 'spiritual politics'.
Independent of their own views on god and religion, and independent of the question if they would be putting high marks on the promise of 'spiritual politics' as different from confessions to 'rationalist politics', these sections of voters are for real. They have been known to have evaluated political leaders against their specific promises, viz, voter expectation when new to politics, and against their performance when in power.
Both Rajini and Kamal belong to the first class, and their deafening silence on the 'Sri Andal row', if left to linger on into future issues of the kind, could make the voter believe that they do not want to wet even their finger tip and yet want to swim and succeed in the political seas.
It is this kind of approach aimed at retaining their respective, untested 'voter base' perceived to be theirs for the asking, and seeking to expand it three or four times over (if not more), that was the cause for 'political dithering' by the likes of Moopanar and also the DMDK's actor-founder, Vijaykanth, later.
The last to gain that way was MGR, when he left the DMK. His infant AIADMK benefited from those very 'swing voters' that left the anti-Karunanidhi (not anti-DMK) Congress after the former had been in power and party veteran Kamaraj had left the scene.
Whether doing it together or going it alone, before talking politics and then policy, both Rajini and Kamal have to convince the Tamil Nadu voters that even if entering active politics at a relatively older age, they are here to stay, and are serious about politics, like MGR and Jayalalithaa before them.
More certainly, and even more immediately, they need to convince their own fans from their prime years that they are not being used only to promote the two ageing stars' upcoming movies, which refuse to set Tamil Nadu on fire as they used to.
N Sathiya Moorthy, veteran journalist and political analyst, is director, Observer Research Foundation, Chennai Chapter.