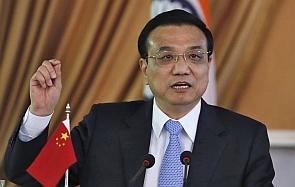 A close scrutiny of speeches and documents during Chinese premier Li Keqiang visit indicate that, while there are gains for both Beijing and New Delhi, overall China's diplomacy scored more points, says Srikanth Kondapalli.
The joint statement as well the press statements of the two premiers and the eight agreements signed between India and China on May 20 indicate an incremental progress in the bilateral relations. A close scrutiny of these speeches and documents indicate that, while there are gains for both Beijing and New Delhi, overall China's diplomacy scored more points.
Firstly, Prime Minister Manmohan Singh had stated that he had "wide-ranging and candid" discussions with his counter-part Li Keqiang. In his speech he had specifically mentioned about the Depsang Plains transgression, sharing of river waters and bridging trade imbalance.
Dr Singh frankly told Li that "The basis for continued growth and expansion of our ties is peace and tranquility on our borders". In 1988, during Rajiv Gandhi's visit to Beijing, it was first stated that the territorial dispute should not hinder progress in other bilateral relations. Since then, both evolved several legal frameworks that bind local forces in confidence building mechanisms and usher in peace and tranquility on the border.
However, the Depsang transgression last month shattered the Indian side which has to conduct various diplomatic and political maneuvers. Yet there was no concrete take away for India.
Secondly, India had been expressing concerns on the dam construction projects across the Yarlung Zangbo in Tibet. Dr Singh had stated in the Lok Sabha a couple of years ago that we should "trust the Chinese, but verify" on this issue. Later, however, he raised Indian concerns at the BRICS meeting in March to President Xi Jinping.
Currently, in an MoU China decided to provide India with information of water level, discharge and rainfall on the upper reaches of Brahmaputra. Nevertheless, this MoU is a slight upgradation in other two MoUs signed on this issue before and the main Indian argument of a treaty between lower and upper riparian states had not been agreed to by China.
Thirdly, several mechanisms are to be evolved to bridge the trade deficit with China. The joint CEO forum, Chinese investments in infrastructure projects, including in the "heavy haulage and station development" in the railway sector, industrial zones, etc.
During the last four years, India had been insisting on the market economy status in China and non-discrimination of Indian products in the Chinese market. These initiatives indicate that both countries see this as work in progress.
Fourthly, so far China had been reluctant to acknowledge Indian nuclear weapon status after the 1998 tests. Para 21 of the joint statement between Singh and Li welcomed universal disarmament, while para 20 welcomed the expansion of the civil nuclear energy programmes. After the November 2006 joint statement between the then President Hu Jintao and Dr Singh, the civilian nuclear cooperation issue was re-iterated again now.
Fifthly, the dialogue process with China on Afghanistan, Central and West Asia were mentioned as counter-terrorism issues. This has been a departure from the Cold War period when China looked at India as "an important country within South Asia". Of course, today a $2 trillion economy cannot be confined to the South Asia box.
Yet this issue is as well "work in progress" since 2006 when both agreed to work in the larger Asian region but no concrete road map was laid.
There are also areas for mutual benefit to both countries. For instance, the joint statement mentions about the possibility of exploring developmental projects in third countries, expanding ties through "sister" cities and provinces, joint campaign against trade protectionism of the western countries and reiteration of support to the process of multi-polarisation.
Specifically, for China, this visit has several positive outcomes. While the Indian government had been reluctant to upgrade the Bangladesh-China-India-Myanmar sub-regional cooperation to the track 1 level, now the joint statement suggested to the establishment of a joint study group to go into the connectivity issues in this grouping. While India was also reluctant to expand border trade through Nathu La except in the 2006 formulation of about 28 items, the joint statement agreed to consider the strengthening of trade through this post.
Also, while India had not explicitly opposed to the Chinese navy's 13 contingents in the Indian Ocean to counter piracy incidents, it has some concerns on the amphibious ships used in such operations. Yet, the joint statement conceded that both could strengthen cooperation in naval escort missions in the region. However, no mention was made of similar missions to counter piracy or other non-traditional security challenges in South China Sea or East China Sea.
Again, on the part of China, it had not conceded to the Indian suggestion of explicit endorsement of the candidature in the United Nations Security Council, re-iterating the 2009 position of China that it "supports India's aspirations to play a greater role in the United Nations including in the Security Council".
In the light of the speculation in the India and Chinese media about Li Keqiang's mission during this visit to India is to wean away India from joining the United States camp, the joint statement mentions about the Panchsheel principle of peaceful co-existence craft by China, Burma and India but mainly attributed to Zhou Enlai of creating autonomous enclaves of third world countries. Both India and China are to celebrate 2014 anniversary as the Year of Friendly Exchanges.
Srikanth Kondapalli is professor in Chinese Studies at Jawaharl Nehru University, New Delhi