Personal competence, where it should have been acknowledged and appreciated, was sacrificed for that oft heard line: Party-is-supreme.
It angered that at a time when lives are at stake amidst the pandemic, the government didn't deem continuity in leadership important for the health portfolio, observes Shyam G Menon.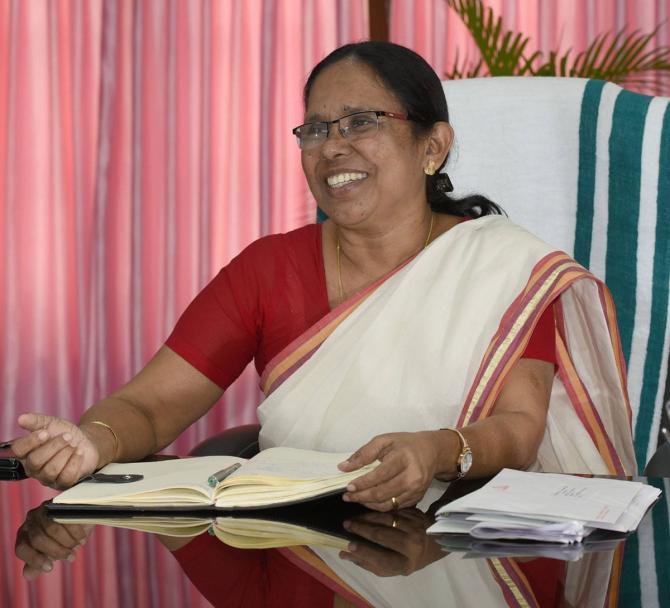 It should have been obvious to Indian governments years ago that health is a significant portfolio requiring adequate funds and good leadership.
However, neither the states nor the Centre viewed it so. Health stayed one of the less important portfolios.
Even in a state like Kerala, where public healthcare infrastructure was invested in and developed, the health portfolio was rarely among the most sought-after ones.
That changed with K K Shailaja.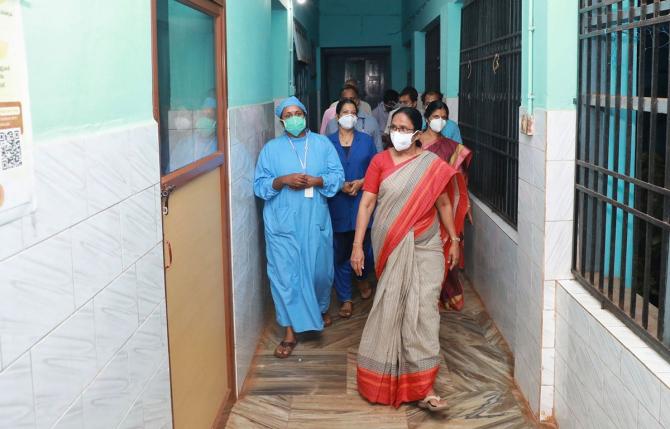 The former school teacher assumed charge as health minister in the Pinarayi Vijayan-led Left Democratic Front government in 2016.
In May 2018, there was an outbreak of Nipah virus in northern Kerala.
Ten people, including a nurse, died in the very first week driving home the seriousness of the disease. Over 2,000 people were quarantined and kept under observation.
In all, 17 people lost their lives in the health emergency, which was declared over on June 10, 2018.
Two aspects made the Nipah outbreak a milestone in recent memory.
First, the disease triggered anxiety and fear, something a new generation of Keralites hadn't experienced.
Second, the system of contract tracing, quarantining and government machinery scrambling to put together a response became valuable lesson.
Roughly two years later, India -- Kerala included -- would witness waves of the COVID-19 pandemic.
Alongside disease-specific protocols and treatment, it was the blueprint of contact tracing and quarantining all over again.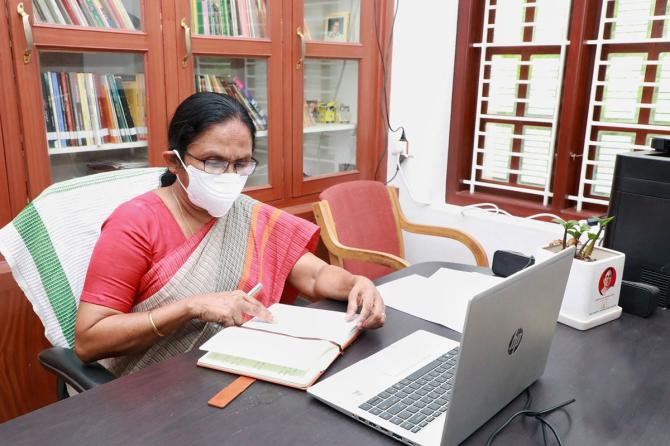 The scale of infection and loss of life in COVID-19 was many times more. Yet, as of May 2021, Kerala had somehow managed to keep its act together.
Although its cumulative case load (as per declared figures) was among the highest in India, it managed to contain the mortality rate and its healthcare apparatus while strained, didn't completely collapse.
The situation hasn't eased. The challenge posed by the pandemic continues.
A highlight of the pandemic has been the role of data in disease management and shaping public perception.
In geographies where it exploded -- like India -- selective highlighting and under reporting of data have been alleged.
Medical professionals don't spare Kerala its share of under reporting the spread of infection. But compared to several other states, its overall response has been good.
There were even instances of planning in advance for potential scenarios; ramping up the supply of medical oxygen being one.
By 2020-2021, Shailaja had become a much-respected health minister and the portfolio she held had become the most important of the day.
Doctors who interacted with her described her as someone who does her homework and listens.
Although hailing from Left politics, she seemed to nurse no ideological baggage. She was focused on finding solutions.
As the virus ripped through India, one by one, states woke up to the importance of the health portfolio.
With COVID-19, political parties realised that when you take care of people's health, you leave an indelible impression.
It is an impact more immediately felt by voters than theatrics at the border or engaging in vainglorious projects.
Indeed, in Kerala, where the LDF was returned to power in the 2021 election, it wouldn't be wrong to say that the thumping popular verdict was largely because of how the government handled COVID-19.
In the 2021 election, Shailaja, who contested from the Mattanur constituency, won with a record margin of over 60,000 votes.
A fortnight later, on May 19, when news reports said she stood excluded from the second term of the Pinarayi Vijayan government, it didn't surprise as much as it saddened and angered.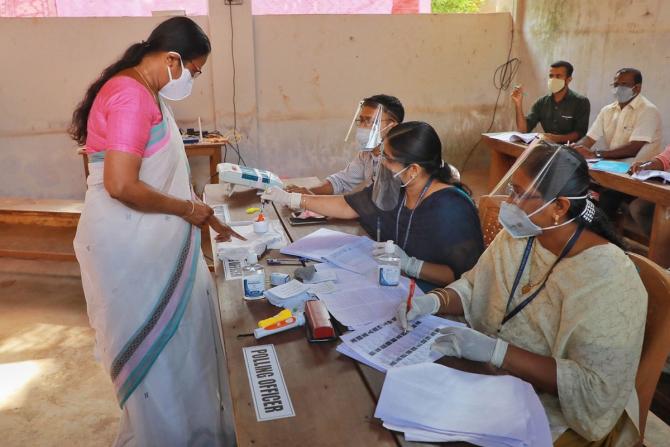 Most Keralites had assumed Shailaja would be retained. But politics regularly cuts people down to size.
To that extent, it didn't surprise that a portfolio which had become the hottest property around was no longer with a minister who did well managing it.
It saddened that personal competence, where it should have been acknowledged and appreciated, was sacrificed for that oft heard line: Party-is-supreme.
It angered that at a time when lives are at stake amidst the pandemic, the government didn't deem continuity in leadership important for the health portfolio.
Expectedly, there was backlash on social media from people resident in Kerala and those living outside.
The latter, which has family and relatives in Kerala, had found comfort in Shailaja's supervision of the health portfolio.
Those distressed by Shailaja's exclusion appeared to fall into two categories.
The first was simply aghast to see that a capable minister, who had shepherded the state through health crises, had been excluded.
The CPI-M, to which Shailaja belongs, provided its reasons for excluding not just Shailaja but several other senior ministers and paving the way for a government with totally new faces save the chief minister's. But it didn't satisfy the critics.
There were allegations of the bosses rendered insecure by Shailaja's popularity, the party repeating what it did to the late K R Gowri Amma years ago and plain male domination.
No matter what the party says or even what Shailaja says -- she requested people not to take things emotionally -- these suspicions won't go away.
Not only is the nature of Kerala politics well-known, but the incoming new faces are not without their share of political connections, the best examples therein being the chief minister's son-in-law set to become a minister while another entrant is married to a senior party functionary.
Also coming in for criticism was the administration's decision to hold a public swearing in, at a stadium, pandemic notwithstanding.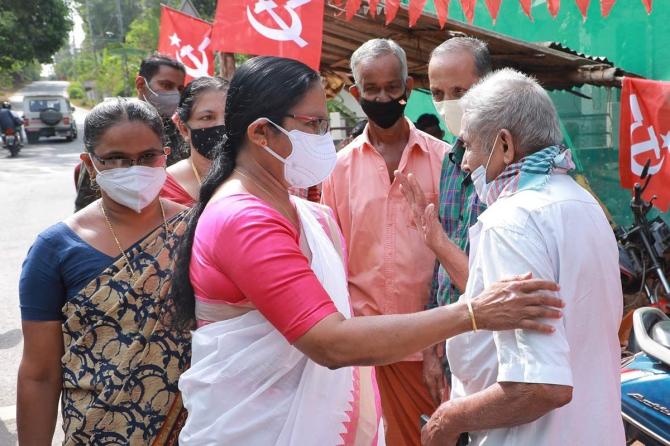 The observation of the next category of the aggrieved was more political.
It was that Shailaja's exclusion, the general unhappiness it causes and the window to LDF-imagination it offers could become fodder for the Opposition to score.
Herein, not many saw the Congress galvanised into action; they were badly defeated in the last polls.
Will this become an opportunity for the currently seatless and resource rich BJP to engineer mischief?
Or will the BJP and the Congress capitalising on Shailaja's exclusion in their own separate ways, dent the government's standing?
The public reaction to Shailaja's exit is noteworthy in that it was spontaneous and without any complaints aired by her. That is unusual in Indian politics.
At the time of writing, interviews with Shailaja hadn't revealed whether she would have liked or accepted a second stint as health minister. The question is valid.
Responses credited to her so far, however make another point, which too is relevant.
Her exclusion may have been in line with the party decision, but the fact is, portfolio matters more than the person.
After all, that was the predicament in 2016, when the former physics teacher was appointed to lead the state's health department.
She learnt on the job.
In an interview to NDTV, Shailaja recalled that she had begun as a 'fresher'. But can that be leveraged to totally discount what a person brings to a post?
While for now she is the one trusted by people to manage the health portfolio, the LDF must ensure that a new occupant to her post (assuming that is how things play out) is a competent person, who at the very least continues the previous minister's good work.
As for Shailaja; in grooming a forgotten portfolio to the stuff that defined a government, lay her contribution.
The public will remember it.
Shyam G Menon is a Mumbai-based columnist.
Feature Presentation: Ashish Narsale/Rediff.com