The Modi government finds itself in a contradiction of its own making.
It has encouraged pro-Russian, Westophobic public sentiment while setting strategic policy that's exactly the opposite, points out Shekhar Gupta.
Who are India's allies, friends or enemies/adversaries in the world today?
That Pakistan and China are adversaries is simple enough.
But it becomes tougher when it comes to allies or friends.
Then we get into the truly cluttered business of friends of adversaries and adversaries of friends.
And also, where an adversary is the closest friend of a friend who's the sworn enemy of an ally and also, at the same time, the most critical ally of an enemy.
I know, I know it is messy. Let me try to declutter.
Think China-Russia-America-China-Pakistan to begin with. There's plenty of evidence in the public domain that Russia cannot last more than a few weeks in its war with the West (via Ukraine) without China's help.
The latest trade data available from the Chinese customs department shows that business between the two has boomed in a year when China's economy has slowed down and overall trade declined.
Much of the growth is contributed by Russian exports. There's a popular view -- particularly in self-congratulatory India -- that it is our purchase of Russian oil that's driving their economy and war effort.
The Chinese contribution to the Russian economy is several times greater. No surprise.
Plus, the prospect of at least the supply of softer military merchandise is always a near-term possibility.
India's oldest ally, therefore, is truly dependent economically, politically and -- ultimately -- militarily only on one country and our most formidable long-term adversary, with nearly 60,000 troops sitting battle-ready threatening us.
That takes care of the first part of our jumbled equation: Your adversary being the closest friend of a friend.
Let's cut to the next bit. This adversary (China) is best friends with the worst enemy (Russia) of a country you now call an essential strategic ally.
We pick that description from the many joint statements issued between Indian prime ministers and American presidents.
Further on, the same adversary is also the patron, friend and master, lender of first resort and security guarantor of your most irritating immediate irritant, Pakistan.
If it is challenging to simplify this, it also underlines the complexities of the world we inhabit.
Our military dependence on Russia is deep, and will likely remain so for at least five more years.
Nobody can replace 95 per cent of tanks, 70 per cent of combat aircraft, the flagship and a majority of the flying assets of the navy overnight.
Where would you expect Russia to be positioned if, as the military people like to say, the balloon goes up on the LAC?
It would be a small mercy in that case if the Russians at least remain as neutral and disinterested as they seemed in 1962.
At least in 1962, the Soviet Union was a much bigger power, an ideological elder brother to China.
Now, the equation has reversed. Putin's wartime Russia is a courtier of China.
That's why it was fascinating to see Russian Foreign Minister Sergey Lavrov grandstand at the Raisina Dialogue in New Delhi, wowing a hall filled with admiring policy wonks by rubbing it in on his Indian hosts.
A bit like Patrick Bergi's Martin Burney in Sleeping with the Enemy telling Julia Roberts's character Laura Burney: We all forget things.
That's what reminding is for. India and Russia, he reminded his mostly fawning audience, have a treaty that says they have a 'special and privileged strategic partnership'.
'Which other country do you have such a treaty with?' he taunted his audience.
I am sure others are smarter, but at least I had to research what treaty he was talking about.
Most likely, it seems, it was what P V Narasimha Rao signed with Boris Yeltsin in 1993, as the successor of the 1971 Indo-Soviet Treaty of Peace, Friendship and Cooperation.
Since the Cold War had ended and the Soviet Union vanished, India felt pressured to maintain a special relationship with its successor State.
The critical Article 9 of the original treaty, which implied mutual security guarantees, was obviously dropped.
Of course, nobody was going to be rude enough in a New Delhi strategic gathering to remind Mr Lavrov of that.
Or of the many joint statements and agreements with the US, the only world power India has publicly described as an essential strategic ally in the past 25 years.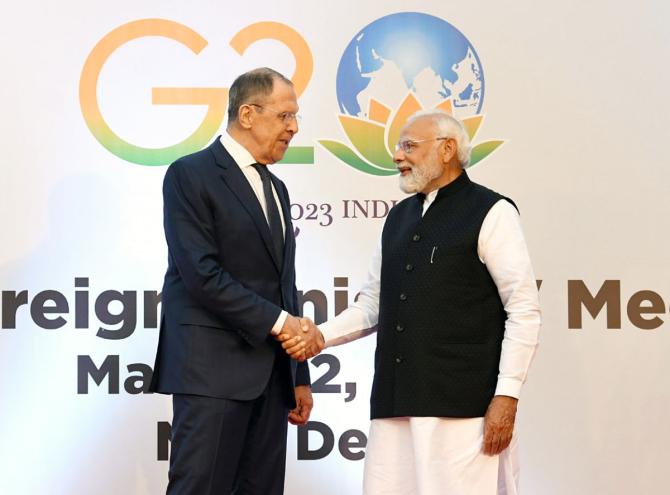 It was in the same era (the 1990s) that Mr Lavrov's then predecessor Yevgeny Primakov talked India into the three-nation Russia-India-China partnership.
That, Mr Lavrov reminded us, is now a useful forum where India and China can meet to resolve their differences without the hesitations or pressures of a bilateral.
Russia being the honest, if silent, broker. That was some reminding.
Mr Lavrov got away with many interesting claims, some of which are also routinely made in the Indian strategic debate.
The issue of the so-called Global South, for example.
Once again, a simple fact check would have provided some clarity.
Like on the voting record of the so-called Global South, which many Indian leaders and commentators have also been talking about lately.
At the last UN vote, only seven nations voted against the resolution asking Russia to stop its aggression and vacate Ukraine.
These were the usual suspects: Syria, Belarus, Nicaragua, North Korea, Eritrea, and Mali. The seventh, no surprises, was Russia.
Thirty-two, including India, abstained. And 141 voted for the resolution. That is a lot of the so-called Global South.
Which brings us back to our jumbled, 'jalebi' formulation of India's strategic universe: Russia, an inalienable friend dependent on China; Pakistan, a permanent adversary that has no other source of strength -- or money. And the US an essential strategic ally.
Pakistan's desperation is of a different order. The Gulf Arabs are wary of it and it is alienated from the West, though the British are working hard behind the scenes for some sort of rehabilitation in Washington.
If Pakistan is selling critical tank and rocket ammunition to Ukraine, it isn't a purely autonomous act, whatever its need for dollars or wheat in barter.
This is an application for forgiveness to the US for past crimes.
It is this complex strategic world that India is navigating. Behind the talk of the Global South, equidistance, and strategic autonomy, however, the business end of the strategic stuff is going on fine.
A NATO team met its Indian counterparts to explore more cooperation in the Indo-Pacific even as conflicted interests reigned at the G20.
The latest Quad statement had a paragraph on Ukraine categorically asking Russia (without naming it) to vacate its aggression with respect for Ukraine's sovereignty, territorial integrity and rules-based international order.
It also said the 'threat of use of nuclear weapons is inadmissible'.
Meanwhile, US Secretary of Commerce Gina Raimondo arrived in Delhi, and not only to play Holi at Defence Minister Rajnath Singh's home. On the agenda was a partnership on semiconductors.
This follows the progress made earlier on high-tech areas during National Security Advisor Ajit Doval's Washington visit.
The Narendra Modi government now finds itself in this deepest of contradictions of its own making.
It has let, even encouraged, the building of a public opinion that's Westophobic and pro-Russia even as the course it has set on strategic policy is exactly the opposite.
It is uncharacteristic for Mr Modi who usually believes in aligning both, his policies and public opinion.
At some point soon, a course-correction might be needed on one or the other. In my view, more likely on public opinion.
Today's contradictions are unsustainable.
By special arrangement with The Print