'Modi-Shah have understood the risks their cynical mixing of domestic political motivations with strategic national interests was soon going to become counterproductive asserts Shekhar Gupta.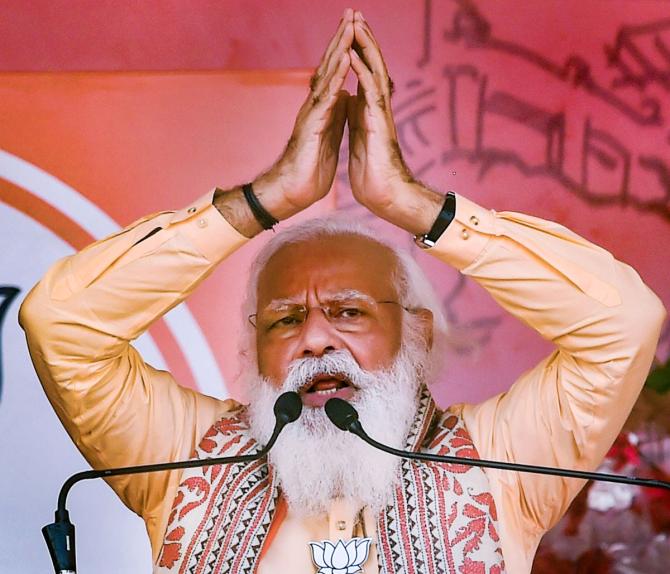 Campaigning is at its peak for the assembly elections. Are we missing something this time? In fact, it is three significant things.
We give you a few moments to guess. Prime Minister Narendra Modi and all key members of his Cabinet, especially Amit Shah, are campaigning full-time, as if the fate of their government in Delhi depended on it.
This is one thing we know about their approach to politics: No prize is too small, not even little Puducherry.
And every election must be fought as if it was the last battle. Nothing is ever left to chance.
But then we started out telling you that three important things are missing this time, and it is uncharacteristic of the BJP.
Let's answer the riddle: The three missing pitches in the Modi-Shah campaign are Pakistan, Bangladeshis and terrorism.
In fact, we could take it a step further. This is also a campaign for key states with no foreign factor featuring. Nor national security.
Please note that even in the relatively distant Karnataka election of 2018, Modi had spoken often about how his troops had stood up to China at Doklam.
And how Jawaharlal Nehru had apparently humiliated General K S Thimayya, a brilliant and brave son of Karnataka.
In Bihar in 2015, it was said that if the anti-BJP alliance won, it will be celebrated with firecrackers in Pakistan.
In the 2017 Uttar Pradesh election, the breathless spirit of the post-Uri surgical strikes guided the campaign.
In the 2019 Lok Sabha elections in West Bengal and Assam, Bangladeshi infiltrators (ghuspethiye) who were eating our roots 'like termites' and were going to be 'thrown in the Bay of Bengal' featured.
Later, in the build-up to BJP's politics in the state, the CAA-NRC combination was flaunted as a solution to all of these two states' problems.
If a Martian landed in the middle of this election campaign now, she would have good reason to believe that one challenge India does not face is national security.
And all its neighbours are decent folk and peace and tranquility prevails on the borders.
This change is best characterised by the fact that rather than employ insecurity from Bangladeshis as a ploy, Modi himself was in Dhaka last month, pretty much campaigning in West Bengal election from there, as the new brother of all Bengalis.
We welcome the change, even if it might not be permanent. Or maybe it comes with a hidden use-by date until the Uttar Pradesh election next year. But, we aren't complaining.
We had seen early signs of this and I had stuck my neck out in December to anticipate this shift.
That came following his conciliatory speech to Indian Muslims at Aligarh Muslim University which was angry, and in the forefront of the CAA-NRC protests.
He had started earlier, with his Ramlila Maidan speech a year earlier by distancing himself from the NRC, dismissing it as a scare-mongering fantasy.
I had risked saying then that Modi had figured the damage his use of the Muslim card in domestic politics was causing to India's larger strategic interests.
He couldn't afford to alienate the same Muslim (especially Gulf) countries whose national awards he would talk so proudly about.
This was before eastern Ladakh flared up. But India was already evidently a frontline State for China and Pakistan, its protectorate.
The latest shift is logical progression from there.
There could be three key reasons behind this change of mind (preferring mind over heart is deliberate).
The jubilation with which China and Pakistan moved in, searching for spaces vacated by India in Bangladesh, was alarming.
When the relationships with Nepal and Sri Lanka were already under stress, the last thing India needed was a Bengali-speaking Pakistan in the east.
It is also a large nation, with an economy leaving India behind on per capita GDP last year.
The threat of war in eastern Ladakh abated.
But the Chinese made their point. One, that India had not one but two hostile neighbours. And it wasn't about to leave the other to fend for itself as it did in 1971.
That was also an obvious impulse for restoring some sort of order on the LoC with Pakistan.
And cessation of hostile rhetoric.
And third, that exploiting sensitive, nuanced national security and foreign policy issues in domestic policy had many downsides, especially one that could boomerang.
The Chinese underlined a harsh reality in Ladakh.
That unlike with Pakistan, you couldn't be confident of ending a skirmish claiming victory.
Remember, Modi's strongman persona is built on the idea of 'ghar mein ghus ke mara (we went into their homes to thrash them).'
Our formidable defensive capability was on display in Ladakh. But it was necessary to cut its risks for domestic politics soon enough.
A sizable correction is now on. When you are restoring normalcy at all levels with Pakistan and disengaging with China, there is no insecurity to plug in an election campaign.
Because you can't risk rhetoric causing fresh distrust in the neighbourhood.
When you tweet wishing Imran Khan a quick recovery and write a note laden with diplomatic niceties on his national day, and when your army chief is saying that the threat from China has abated, you can't be raising the temperature at election rallies.
It is also an altered global environment, strategically.
The Biden administration has picked up the baton from Trump on China. It is running faster, and more purposefully with it.
It's a big gain and relief for India. His team is filled with young people of subcontinental origins who harbour great distrust about the BJP, its commitment to civil rights and its treatment of Muslims.
You want to give Biden space, not squeeze him into a corner internally. Because he has enough challenges with the radicals within his party.
Under Modi and Shah, the BJP believes in total politics.
Everything, every move, whether on the economy, society or foreign policy must lead to that one first objective: Winning all elections.
I'd risk saying now that they have understood the risks their cynical mixing of domestic political motivations with strategic national interests was soon going to become counterproductive.
One thing Modi cannot afford is to look like a loser on a national security issue.
He's decided not to risk it. It is smart politics, and better for India.
By Special Arrangement with The Print
Feature Presentation: Aslam Hunani/Rediff.com